Keychains are everyday use cost effective corporate gifts given by almost all the outlets big and small to their customers to ensure enhanced brand recall. Earlier one used to see only the metal key-chains but over the years now you have the choice of various materials like acrylic, leather, metals, plastic, silicone rubber, wood and even fabrics. Fabrics enables you to use embroidery and be different from the market by using your own shape and design keeping the specific promotional purpose in mind. Branding choices are unlimited starting with screen printing, pad printing, photo quality printing, paper insert, embossing, debossing, laser engraving, etching, customised plastic mould to multi-colour silicone rubber mould for both one or two sided keychains. The key chains can have multiple features and utilities to impress your target audience including replica of your products to ensure maximum mileage for higher brand recall. They are also available in choice of colours to suit both your house colour and brand logo.
Keyrings displayed below are available in ready stocks with minimum order quantity of 50 numbers: – Below details are with multiple features in addition with keychain and for higher quantities at lower prices please refer to our next series of everyday use cost effective corporate gifts – keychains 2 which focuses on the single function of keychains.
Keychain with Torch: –
Key chain with torch, key chain with 2 LED torch and lamp, lightbox keychain with torch and LED lamp, no. 1 keychain with torch, round flashlight style keychain with torch containing 5 LED.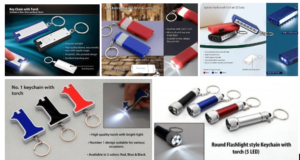 Read more