We started manufacturing mouse pads way back in 2000 and within next 5 years were pushed in to corporate gifts Bangalore by our existing customers. Their reasoning was simple that how many times will they buy mouse pads and we were left with little choice but to upgrade ourselves with total corporate gifting solutions to take care of all their needs. Today Corporate Gifts has become our destiny!
Scenery Mouse Pads
Scenery mouse pads with many designs and screen printed with the contact details of the advertiser for easy and fast recall as per below images: –

However, with the new improved mouse functions the compulsory requirement of the mouse pads came down drastically. Scenery mousepads initially came with foam and later with rubber bottom base to make it heavy with non-skid properties thereby enhancing the user's experience.
Advertising Mouse Pads
Advertising mouse pads were aggressively promoted by the IT trade industry to remind their regular computer users about them by being present 24×7 on the desk in the most cost effective manner.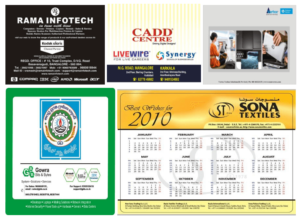 In the beginning, IT trade used scenery mouse pads with their name and address screen printed but gradually shifted to advertising their products and services for greater mileage by higher recall. As computerization became a necessity very soon all industries started distributing mouse pads with their advertisements. Some of them printed the full year calendar to increase the utility of the mouse pads. Mouse pads helped us increase our exports all over the world to the extent that we have covered almost all continents except South America and almost all hard currencies countries including developing countries.
Customised Mouse Pads
Customised mouse pads in different shapes and sizes became the norm as brands started using the cost effective medium for higher recall at very cost effective medium.
Round, square, rectangular and even odd shape mouse pads became common place to impress the recipients. You can have photo insert mouse pads where the user can insert his postcard size photograph to make it personalised.
Custom Mousepads: – Companies soon found that they can use the mouse pads from time to time for their internal team to convey the immediate priorities and bring the team together.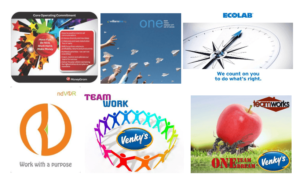 Every group, team, division can use the motivational mouse pads to bring the team together with a well-defined time bound purpose. HP has used the garage story from time to time to remind the insiders and the outsiders about their humble beginning. Tata steel used the five-year goals by distributing the same to all the stake holders. Radio Mirchi launched their Chennai operations by distributing the mouse pads at the petrol pumps during 2001. Epson used the same extensively at all IT expos and visitors used to form a queue to get free mousepad with Miss Universe Sushmita Sen's photo.
Promotional Mouse Pads:
Promotional mouse pads: – We made over 1 million mouse pads for the promotional purpose to be distributed to end users, customers, channel partners, influencers, associates, employees.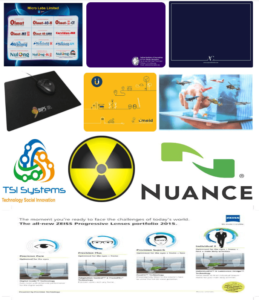 Optical mouse cursor jumps on plane and glass surfaces so you need to cut the ray with knurling lamination at the top to stop cursor from jumping to make the user's experience a satisfying one.
Fabric Mousepad With Rubber Base
Fabric mousepad with rubber base which can be folded is light weight and with anti-skid properties: – Imported mouse pad with sublimation printing to impress the recipients when budget is not the constraint.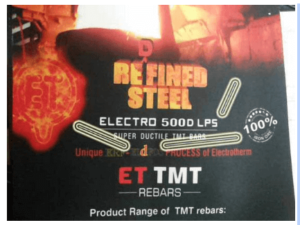 Gel Mouse Pads
Gel mouse pads which can be screen printed in a very cost effective manner for users who prefers the gel padding for extra comfort by resting their palms.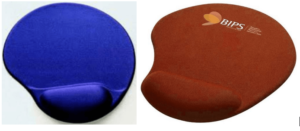 Gel Floating Mousepads
Gel floating mousepads with transparent gel pad to be given to selected few important recipients to impress them or for in house employees for that extra comfort during long hours of work.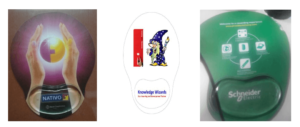 We are also known as the mouse pad people in the IT industry due to their continuous orders with us. Please feel free to forward your artwork for a finished mouse pad sample for your final approval before you place your order on us.
[ninja_forms id=1]