Pen is used by one and all and going forward we will rarely find someone who is not using it in everyday use. Keeping this utility in mind pens are the one of the highest preferred gift by all starting from a fmcg company to promote their soaps and tea to spirit companies. You have choice of plastic, metal, wood from minimum order quantity of 50 onwards with screen printing of logo and messages. Promotional metal and wooden pens gives you choice of etching or laser engraving. Some pens allow you larger branding area to print and on few designs printing is possible on clips. You even have choice of pen sets with attractive choice of gift boxes to impress your recipient.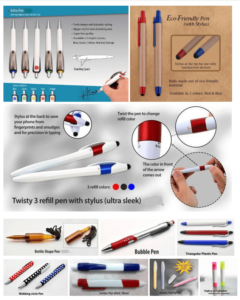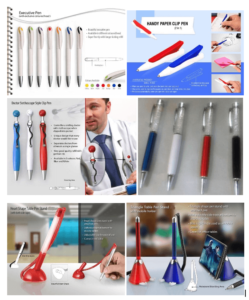 Plastic pens minimum order quantity 50 numbers: – There are times when you need limited quantity good quality plastic pens at attractive prices but with a twist to impress the limited audience with the quality, functionality, added features etc. Please check the various options available below with the product USP explained with the graphics, image and even the full text explanation to delight you. The requirement can be for graduates, executives, engineers, doctors or astronauts. You have choice of twisty 3 refill pen with stylus, combi gift pack with pencil, eco-friendly pen, bottle shape pen, shape of triangular pen, funky belt pen, handy paper clip pen, heart and triangle shape table pen stand, jumbo pen, jumbo highlighter, gel highlighter, S shape pen with mobile stand, pen with 2-way screw driver, doctor stethoscope style clip pen, platypus pen, submarine pen, wire clip and with large clip silver pens.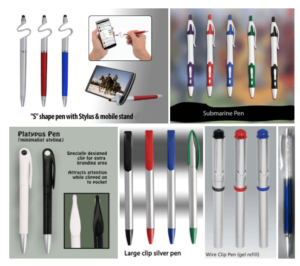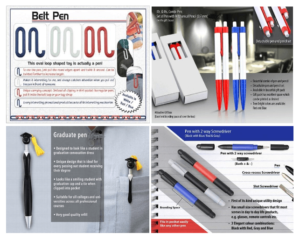 Plastic pens minimum order quantity 500 numbers: – Plastic pens in various colour combinations to suit your house colour can be selected from the images below with the corresponding part number to place your order with us. To match your brand logo, we have provided body colour, clip and the push mechanism in different colour combinations to help you get more mileage out of your promotional activities. The screen printing can be done on body of the pen either one or both sides to accommodate your message too apart from single colour logo.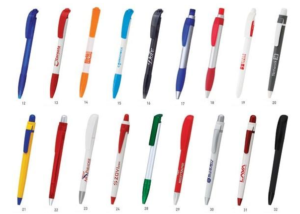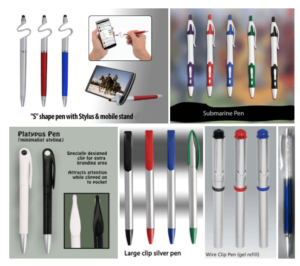 Plastic pens minimum order quantity 2000 numbers: – When your requirement is over 2000 numbers then you can also select the pens from the choices given below with printing both at clip and barrel.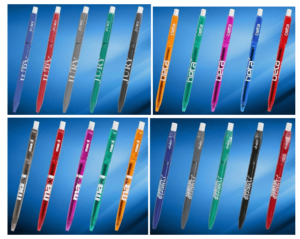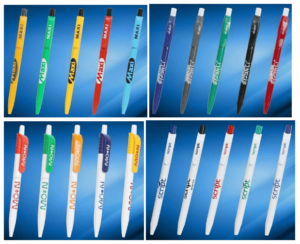 Plastic pens in blister packing for minimum order of 50000 numbers: – You can select any pen and we will arrange the blister packing with your branding on the pen and both sides of cardboard as shown below.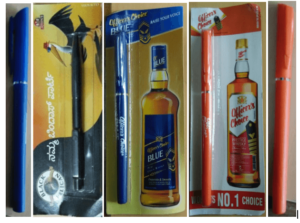 Cost effective disposable plastic pens in your brand colour with gold or silver embossing for minimum order quantity of 100000 numbers: – Please check the image below where the barrel can be with your choice of two colours with another colour cap etc.

Apart from plastics you also get pens in metal, wood, marbles, granites and even paper. Let us look at the various choices next week as continuation in this series of everyday use cost effective corporate gifts.
[ninja_forms id=1]