The earmarked budget is the most important part of selecting the best corporate gift. If all the possible choices between budget of Rs.50 to Rs.100 are available, then it is easy to choose the most relevant business gift. In this new series of our price budget blogs we have tried to do the same by segregating various promotional products as per their defined range of price points. Products are normally available ready stock as per the colors shown in the images with excellent space for logos to ensure full mileage for your branding activities.
Table Top Gifts: –
Transparent folding table clock with stand available in 4 colours with snooze alarm function and ample branding space. Batteries included and folds down to make it easy to ship it to various recipients. Useful and stylish table top as utility gift in club shape dispenser releases a single paper with every press and has 2 pen holders. Table pen stand with sliding drawers to manage all your stationeries at one place. Folding laptop stand also suitable while travelling fits all sizes and raises screen level for better air circulation and eases strain on neck and shoulders improving keyboard angle for easier and faster typing with non-slip feature as added security. Super slip and compact size with easy assembling and huge branding area makes a great choice for promotions.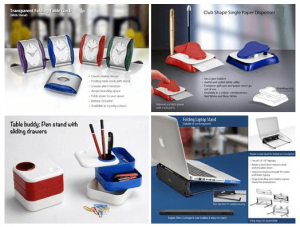 Leather finish plastic coaster set of 4 with stand in round and square shape. Folding compact scissors that fits in the space of a pen and opens automatically when cap is opened. Colorful coffee mugs with stainless steel inside for longer life with a lid. Ultra slim memo water bottle designed to fit where you need it in bag, purse, backpack, briefcase etc. This durable leak proof bottle is also freezer proof and great for school, work, gym, yoga, outdoor and camping.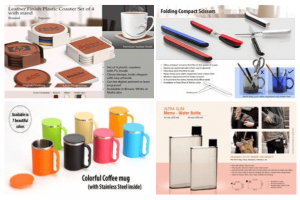 Mobile Stands with Added Features: –
Mobile stand comes with metal look stylus pen to keep your phone free from dirt and smudges mark. Very sleek for your table, keeps your phone free of scratches and in front of your eyes. Rotate the front to bring out and fold flat for easy storage and transportation to your target audience with your logo possible at both inside and outside. Compact designed mobile stand with stylus and microfiber cloth cleaner as shown in the image. Heart shaped mobile stand with earphone splitter so that two persons can enjoy the music or can connect 2 set of speakers or headphones to a notebook, phone MP3 or CD player. Grass freestyle multiple pens and mobile holder with large micro fibre cloth for cleaning screen of mobile and laptops with concealed space for paper clips, pin and other stationeries. 3 steps viewing angle adjustable mobile holder with pen stand, note pads and micro fibre cleaning cloth for both your phone and spectacles. Special Grippo mechanism with silicone ends to hold your phone and adjusts itself to match the size of phone automatically and fold flats when not in use.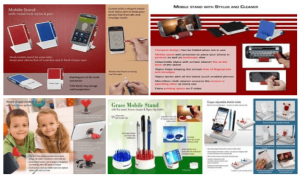 Eco-Friendly Gifts: – Spiral note book and pen both eco-friendly with stick on and post its included. Eco-friendly desk top sleek paper tray with both writing and sticky memo pads & strips.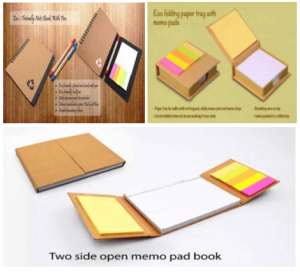 Please also check next few items as two-sided open memo pad book, eco-friendly diary with stick ons, pen & writing pad and folding paper tray with sticky strips as per the images below. Spiral weekly scheduler with space for weekly planning, memo pad and to do checklist.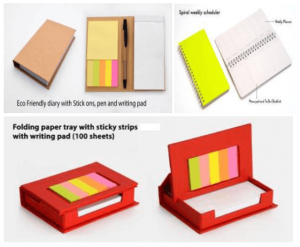 Car Chargers, Cables, Frames Etc.: –
USB stylus swivel car charger with key-chain designed for smart phones, tablets and music players etc. Same cable can be used for charging and syncing both Android and iPhone and even with light at the end to connect your device in the dark. Car temple frames with easily changeable pictures with 3D depth illusion in various exclusive styles and colors.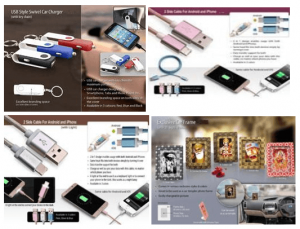 Multifunctional mobile stand supports all mobiles and tablets at home, office and car as a hand free for listening to music or GPS navigation with super strong suction, 360 degrees rotating head and 180 degrees angle adjustment. Leakproof folding glass with bottle opener perfect for carrying while travelling or for use in car as can be opened by sliding and stretching it a little more to tighten the grip. Car mobile holder with emergency hammer to break glass windows in rescue operations.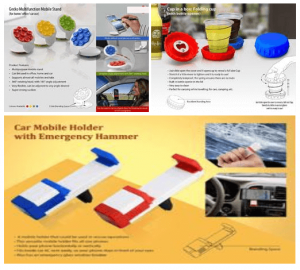 Household Gifts: –
Metallic cricket photo frame suited for game lovers. Family photo frame two photos with alarm clocks. Study desk photo frame with tumbler. Portable button free mini book light with 5 ultra-bright LED lights provides better light placement for reading, computer, other work and lamps folds flat for storage and transportation as Household Gifts.
Sturdy lightweight plastic torch with 9 powerful LEDs for super bright light with grips marks around the surface for better grip and easy to carry. Unbreakable plug me night lamp with half watt LED in your choice of colour. Kitchen slab and window cleaner with detachable spray bottle which can be filled easily with cleaning liquid to get completely dry surface after a single wipe. Round bottles specially made for fridges.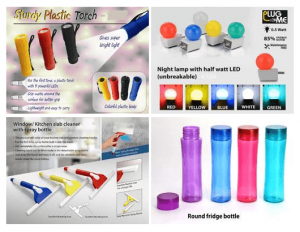 Clip lock lunch box with 2 containers with adjustable partition. Rupee symbol style money bank. Universal design 3D portable mobile screen magnifier to enjoy up to 3 times bigger images.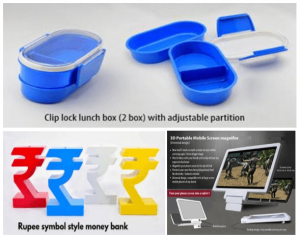 Torch, Lamps, Book Lights: –
Mini table lamp which can be detached from its base and can be clipped to book or novel to convert as miniature book light. Handy high beam torch at bottom with milky white lamp suitable for a middle-sized room with single button operation and easy carry strap. Use book light as a regular paper clip to keep you organised and just open the top to convert it into a booklight with 3 ultra-powerful LEDs. Mini torch with super bright light and beautiful rings which glows when light is turned on with easy light beam zoom in and out feature by adjusting the head.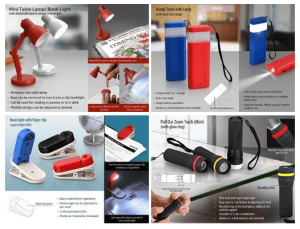 Travelling, Camping, Trekking Etc.: –
Magnetic auto loop torch with button free operation can be hanged to bag, purse and belts while travelling, camping or trekking etc. Portable exerciser as fitness stretch band for light to moderate exercise for everyone. Now travel easy every time with 3 SIM / memory card and ejector pin for iPhones securely placed in grip pad safe case with power locking function to prevent accidently opening of the case thus keeping the contents secured. Hot and cold pack with soft fabric and holding straps.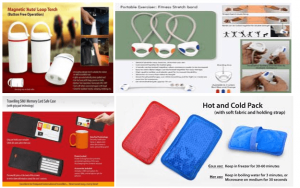 6 pieces screw driver set with hydraulic opening action in triangular shape toolkit. Ultra mini folding toolkit designed with 6 pieces sets of screwdriver bits with magnet holding the bit into place. Keychain with magnetic tool kit and 3 screwdriver heads concealed at the back and bright LED torch. Magnifier with torch and keyring.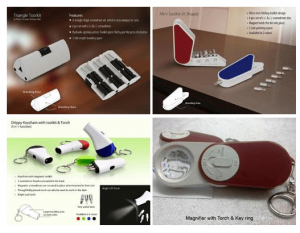 Sports Gifts: –
Sports shaker with removable filter insert for easy mixing of powder with clear marking of 600 ml liquid holding capacity with leak proof tight fitting lid with 4 locks and silicone rings with secure flip flop for easy drinking. Premium 700 ml shaker with neon coloured caps and leak proof lids with steel mixer ball. Big sudoku with 3 games. Mini sudoku game with key ring.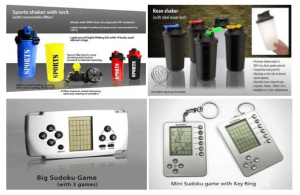 Key Chains with Torch and Openers Etc.: –
3 in 1 key chain with opener and powerful torch. Key chain with 6 LED torch and opener. Key ring torch with slider opener. Lightbox keychain with dual LED torch and bright 6 LED lamp.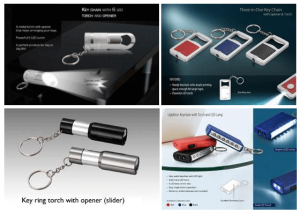 Thumb-up shape keychain with opener. Metal key chain in the shape of heart and hut or home. Metal and leather keychain.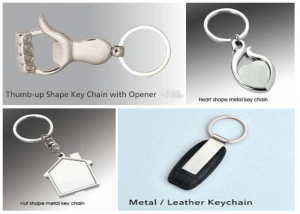 Pen and Highlighter Sets: –
4 in 1 folding pen with stylus, writing lamp and mobile stand, tablets to work in the dark too. Heavy duty 4 in 1 multipurpose pen with stylus, torch and fluorescent highlighter. 3 pieces gel highlighter set in a box. Magic logo highlight pen with stylus and LED light which glows when cap is placed at the back of the pen.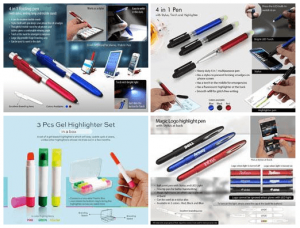 Pyramid base with revolving pen & highlighter with heavy duty magnet to help ease stress and aid in decision making. Unique triangle shape writes in the dark executive click pen with stylus in brass body. 4-piece gel highlighter set in a box for high profile executives.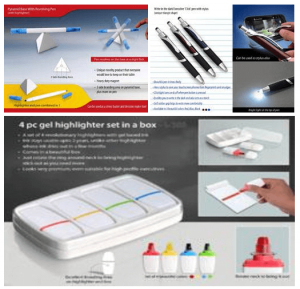 Hand Sanitizers: – Viviana hand sanitizer available in 100 ml, 50 ml and 10 ml in pen size shape. Alcohol based moisturizing with vitamin E in orange, strawberry, lemon and jasmine fragrance.

Gift sets: – 2 in 1 set round keychain with torch and metal look pen. 2 in1 set oval key chain and metal look pen, set of keychains with torch and lamp with metal look pen.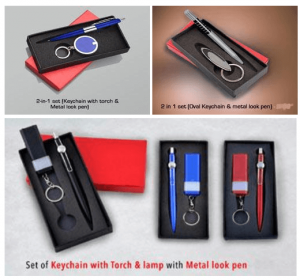 Visiting card holders: – Leatherette visiting card holder with soft fabric inside as shown below. Wooden visiting card holder.

Please check our earlier blog on gift items for budget below Rs.50 and next blog for gift items above Rs.100 in price budget corporate gifts series.
[ninja_forms id=1]