Promotional merchandise, promotional items, promotional products, promotional gifts, corporate gifts, business gifts, advertising gifts are articles of merchandise branded with a logo or slogan used in marketing and communication programs. They are given away to promote a company, corporate image, brand, or event at trade shows, conferences, and as part of marketing campaigns. Manufacturers works out an attractive price to increase trial of their products / concepts and allows co-branding of giver's logo to make it Win – Win – Win for mutual benefits. Givers are happy that because of the extra benefit to their target audience they have increased their brand recall or mind share. Receivers are happy that they got extra value from the giver.
The advantages are multi fold for all the three participants which are as follows: –
The manufacturer of the product or the brand owner or the concept provider gets newer trials along with bulk order

The giver uses his logo and message to excite his target audience to achieve his end objective of increasing mind share

The receiver gets extra value proposition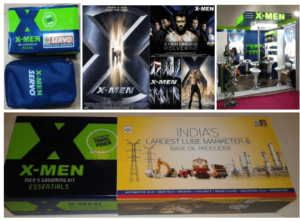 The above manufacturer of X-MEN Grooming Kits is the Indian licensee for the X-MEN series of movies. In the year 2015 we launched the new brand at various Gift Expos all over India to promote the same through our gifting channel partners spread all over the country. Idea was to launch the new products in general trade after 2 – 3 years of extensive trials through the corporate gifting channel segment. But we are happy to inform that in less than a year it was launched in general trade with television advertisements.
The current distribution verticals broadly are retail, wholesale, modern, eCommerce and Institutional sales. We have added a new vertical called corporate gifting sales channel by PROMOTING CUM DISTRIBUTING new products and concepts to various corporate gift re-sellers all over India. Please refer to the images below where we displayed 3 products at the Gift Expos in 2016 and are planning to introduce 12 such products and concepts at the Gift Expos 2017. We are constantly looking out for the new products and concepts which we can exclusively promote cum distribute through corporate gifts channels nationally.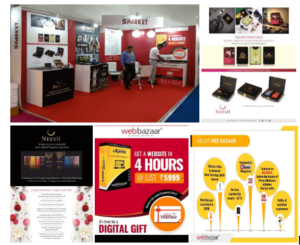 Established brands have a concern that their market operative prices in the trade should not be disturbed at any cost and we as their exclusive national PROMOTER CUM DISTRIBUTOR doubly ensure that we deal only with the focused gifting resellers. eCommerce companies have created havoc in the consumer and consumer durable market as they all are start-ups with new thinking. But we as an over three-decade old company totally understand and respect the old trade practice of maintaining the established price norms. We gifting channel resellers strongly believe in earning healthy margins for our hard work instead of losing money to grab the eyeballs or market share. Further all price sensitive products are earmarked with temper proof co-branding logos etc. to ensure there is zero value for the same in the general trade.
We suggest new and upcoming brands to focus on their core area of branding, marketing and distribution activities. We promote their products through our corporate gifting channels and support them with additional bulk orders and thereby enough trials of their concepts to create positive buzz at the market place. Imagine a retailer's positive experience where consumers come and asks for a new product commenting that they tried and liked it so much that they would like to buy it again and again. If your product is exciting then you can count on us for initial push and enough trial happening all over the country.
[ninja_forms id=1]