Now ensure your employees and business associates travel easy, every time by gifting them the best possible corporate gift.
Super slim folding laptop stand makes it easy to carry and assemble and fits all 13″ to 18″ laptops with non-slip feet for added security. Raises screen level for better air circulation while reducing neck and shoulder strain and improving keyboard angle for easier and faster typing. Promotional luggage tag in the shape of aeroplane with ample printing space on front with small window to show name and for other details by simply unfolding it with durable water-resistant strap to attach to the luggage. Carabiner with bright push button LED torch with very good light beam easy to be hanged with anything bags or clothes. Travelling SD / Sim card safe case with power locking function is excellent for frequent International travellers as it securely holds your valuable SIM & SD cards safe in place even when the drawer is open, preventing spills! Includes 3 SIM card jackets for various SIMs, and an ejector pin for iPhones.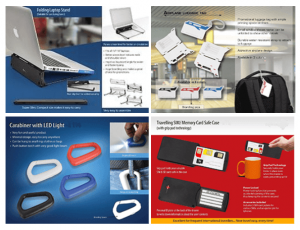 Card shape complete deluxe toolkit with flashlight that fits in a wallet comprising of a ball pen with a resistive stylus at the back with bottle cum can opener, magnifier, Philips screwdriver, scissors and dual sim card holder. 6 in 1 military key chain with toolkit and bright LED torch can be used for working in the dark containing plus (+) & minus (-) screwdrivers, a knife and a bottle opener as shown below. Compact easy to carry folding mirror with sewing kit containing 2 buttons, a safety pin, mini scissors, multicolour threads and a needle for emergencies while travelling. While travelling for everyone for light to moderate exercise fitness stretch band with convenient handles for better grip with innovative locking mechanism to increase resistance as required.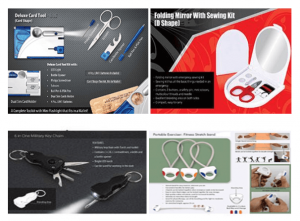 Passport holders with sim card safe case & sim card jackets with choice of wide, long and handy design for storing everything comfortably with spacious build with magnetic lock to keep your contents safe with power locking function to prevent accidental opening of the case, thus keeping the contents like sim cards, passport, 4 or 6 credit cards, boarding pass, cash etc all together and totally secured. Feather touch handy passport holder including pen zipped to keep contents safe both whether in pocket or in hand with elastic carrier at the back to carry easily. 4-layer toiletry kit for your daily needs which folds into a compact pouch and can be hanged when open, so everything is easily accessible with clear pockets to see contents easily, partitioned pockets to manage, special detachable pocket for medicines and extra pocket at the back for easy access.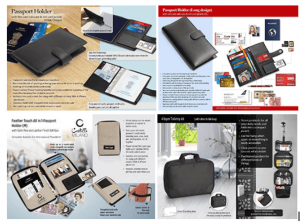 Innovative design magnetic auto loop torch great for outdoor travels, camping, trekking, etc lights up automatically when pulled out and can be hanged to bags, purses or belts as button free operation and turns off when connected again with head. Rechargeable lantern suitable for anywhere, anytime in seven steps brightness adjustment through rotary knob works for about 3-6 hours after full charge and easily changes from table lamp to lantern by simply flipping the handle 180 degrees. An innovative product especially designed keeping campers, trekkers and backpackers in mind with multiple features such as auto glow, multi toolkit, lantern, torch, lighter, dynamo mobile charger with set of handy tools like emergency knife, saw, bottle and can opener. Lighter comes concealed under a metal plate for safety, in emergency plug your phone and rotate the handle to start charging it, comes with carabiner so you can hang it to your bag, belt or tent. Lamp, torch and lighter work through in-built battery chargeable by USB.

Open the zip of ultra-compact folding leatherette travel bag made of high-quality material to convert it into a spacious travel bag compliant to cabin size with two carrying handles and an adjustable shoulder strap also detachable with 2 pockets inside the main compartment and an emergency pocket outside to keep you organized. Sturdy and strong cabin size folding overnighter bag convertible to backpack or briefcase with laptop storage which folds open completely to store clothes of up to 2-3 days use with separate pocket for dirty clothes, slippers & shoes. Just open a zip to convert into a spacious cabin size round shape folding duffel bag made of very high-quality imported denier with two compressed foam side panels for a sturdy look with one main compartment and a zipper pocket outside.

Leak proof vacuumed travel mug with beautifully designed handle for an easy grip as shown below with 420 ml capacity double walled stainless-steel finish with air-tight lid to prevent spillage and keeps the beverage warm for 4 to 6 hours. Vacuumed, double walled & insulated travel flask with 500 ml capacity retains beverage temperature for around 12 to 16 hours with half turn mechanism for pouring prevents spilling during journeys while the cover acts as a travel cup. Vacuumed, double walled & insulated travel flask with 700 ml capacity retains beverage temperature for around 24 hours with half turn mechanism for pouring prevents spilling during journeys while the cover acts as a travel cup.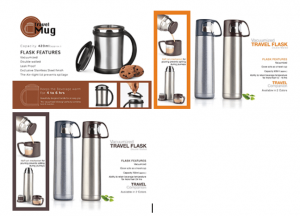 We keep adding products to our existing range so please feel free to email us for more choices.
"[ninja_forms id=1]"