Many of you keep asking us for car related corporate gifts as that connects well with your target audience so we take pleasure in creating this article to help you shortlist the best products related to car owners.
Car Shape Keychain
Car shape keychain with gunmetal finish with double side branding area as shown below. Free wheel car shape superfine quality pen as a fun desktop in 4 attractive colours with smooth wheel movement and all-round branding space. Tissue paper box customised as per your branding to remind your target audience about you. Grab a fresh tissue anytime from the opened mouth of the classy car tissue holder which can be easily fixed on the sun visor of your car with universal clip to avoid getting distracted while driving.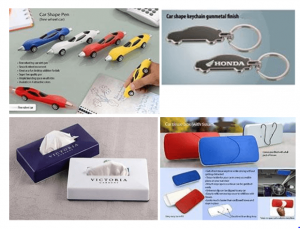 Backlit Car Charger
Backlit car charger with dual USB port designed for smartphones, tabs and music players with coloured LED ring to illuminate your logo in the dark while charging. USB style swivel car charger with keychain to charge your phones, tablets, etc. Dual USB port glow car charger designed for smartphones, tabs and music players with prominent logo imprint area which gets highlighted when charger is in use. With our dual USB wall and car charger you don't need separate chargers for home and car with circuit level protection for your devices with retractable charging pins and plug for car as shown below.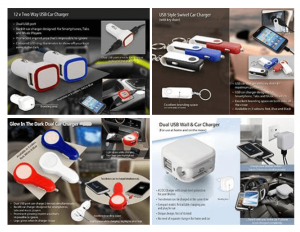 3D Depth Illusion Car Frames
3D depth illusion car frames with self-adhesive tapes comes in various exclusive styles & colours namely Golden Om, Golden Ek-Omkar, Golden Box, Silver Stars & Red Rings. Great to be used as a car photo frame with picture of your choice which is changeable with frame size of 80 mm x 100 mm and photo size of 50 mm x 72 mm. Mr. Notty mobile holder can be hanged in your car while you drive to make your life easier and has only one purpose – to hold your things perfectly whether memos, pictures, letter size paper. Can be used as a book mount or book mark and can be adjusted to any angle and can be hanged anywhere!

Instant shiner for car is economical and ready to use disposable wipes to maintain gloss and restore original finish. This product will solve all your car window cleaning hassles with spray bottle built inside the wiper to get completely dry surface after a single wipe.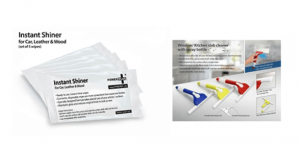 Car Heater Mug
Car heater mug of 500 ml capacity with USB charger with double wall for convenient holding to take your tea or coffee with you and keep it hot be it at car, home or office as socket converts into a USB plug, making it suitable for use with computers, power banks, or electricity. Car dustbin fits in car cup / bottle holder and even side doors of most cars with 3 level contours for a snug fit in any place with wide mouth for easy use even while driving with push to open and auto-close lid. Inverted umbrella with handsfree handle makes getting into and out of a car much easier while shielding you from the rain longer whereas inside-out design prevents water from dripping, keeping car dry.

Set of 4 Tyre Shape Coasters Set with Stand
Set of 4 tyre shape coasters set with stand, tyre thread and chrome rims. Compact folding tyre shape toolkit set with 20 pieces high quality tools including 10 pcs screwdriver bits, 1 connecter, 4 sockets, 4 precision screwdriver and 1 paper cutter. 6 in 1 keychain with new type of car glass window breaker, LED emergency torch, fold-out whistle, seat belt cutter, folding knife and screwdriver.

Hexagon shape 9 LED super bright light premium finish heavy duty magnetic metal torch with easy single button operation to attach it to car and other metallic surfaces. Hexagon shape super bright torch with lamp as magnetic plastic torch can be stuck to metal surfaces like car etc to use as lamp.

10 in 1 mini emergency car toolkit with LED torch, compass, red light flasher for emergency signalling, glass window breaker with safety lock, seat belt cutter, foldable tools for various uses like pliers, scissors, screwdriver, bottle openers and knife. Digital tyre pressure gauge with emergency lamp is another wonderful product to have in your car in case of emergencies with 8 emergency tools like seat belt cutter, bottle & can opener, plus (+) & minus (-) screwdriver, digital tyre pressure gauge, scissors, saw and knife. Emergency rescue and signal toolkit with glass hammer and seat belt cutter for breaking out of car (sharp edges covered to prevent accidents) with magnetic bright torch for doing repair work easily with blinker beacon and loud siren for signalling for help.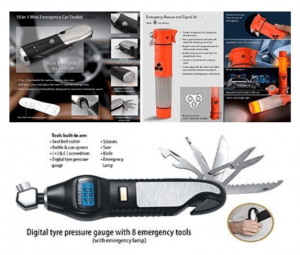 As we keep adding new products to our ever-expanding range of corporate gifts products please feel free to email us.