Indeed, a corporate gifts e-marketplace provides several benefits for corporate gift clients, resellers, and manufacturers. Here are some of the key benefits:
For CORPORATE GIFTS CLIENTS:
SUPPLIER CONSOLIDATION: Simplifies procurement by allowing clients to source gifts from existing approved vendors, reducing the need to add new suppliers.
For CORPORATE GIFTS RESELLERS:
EFFICIENT SOURCING: Provides a centralized platform for resellers to access a wide range of corporate gifts from multiple upcoming manufacturers, streamlining the sourcing process.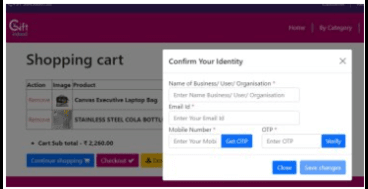 ADVANCED SEARCH: The advanced search engine simplifies the product discovery process. Resellers can quickly find gifts based on criteria like budget, category, and keywords, making it easier to cater to their clients' specific needs.
DASHBOARD INSIGHTS: Offers essential information such as MOQ, slab wise pricing, GST, MRP, and sample costs in a user-friendly dashboard for authorized resellers.
TIME EFFICIENCY: Saves time by consolidating product information and pricing in one place, reducing the time spent searching for curated products.
INSTANT PROPOSAL GENERATION: Allows resellers to quickly generate and share initial proposals as PDFs, improving communication and professionalism.
For CORPORATE GIFTS MANUFACTURERS:
COST EFFECTIVE ENTRY: Lowers entry barriers for manufacturers to enter the corporate gifts distribution segment, enabling upcoming businesses to compete effectively.
MARKET ACCESS: Provides access to a broader customer base without additional costs, expanding opportunities for sales through meaningful trials and thereby acquisition of repeat customers.
CONTROL OVER PRICING: Gives manufacturers control over product selection and pricing for approved resellers, ensuring consistent pricing across various other distribution channels.
PRODUCT CURATION: Improves user experience with organized and competitive product choices in each category and budget, reducing clutter by limiting ME TOO products.
In conclusion, a corporate gifts e-marketplace offers efficiency, transparency, and access to a wider range of choices for all stakeholders in the corporate gifts industry. It simplifies processes, reduces costs, and enhances the overall experience of sourcing and procuring corporate gifts, ultimately benefiting buyers, resellers, and manufacturers alike. "[ninja_forms id=1]"