The world is becoming a global village is the most common statement we keep hearing in our daily life to highlight the importance of the movement of goods and services across the globe. It started with online knowledge services, outsourcing of services offline of all non-core activities, and finally even physical goods. China became the manufacturing hub for hard currencies and helped even other cheap labour Countries to have a role in manufactured goods. Disruptive technologies gave rise to new business models and helped forward-looking companies to create the global procurement division. Here again the initial focus was on raw materials and slowly and steadily now it has come down to even promotional corporate gifts to standardise the products across the organization.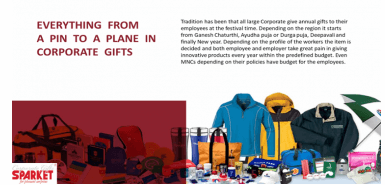 Most of the MNCs have created the global procurement division and the role is very clear to find out the best rates at each operational location and to streamline the processes so as to source the various goods from the various geographies in the most economical manner. We have been working with various procurement divisions of MNCs and are in a strong position to help them buy promotional merchandise at the most economical rates. Corporate gifts vary in nature because of the quality, quantity, logo branding, and packaging which makes it difficult for the procurement division to source directly from the factories as repeat orders are very rare. 
In the initial phase, we were helping the global procurement division to check the Indian rates and decide on the various buying indents they use to receive from various countries to place the order on the lowest CIF quote for the approved quality. 
We have an existing relationships with many corporate gift vendors from hard currencies who are buying goods from us to deliver within their respective countries or even in India or nearby countries due to overall cost-effectiveness. "[ninja_forms id=1]"