We have been closely monitoring the current situation worldwide and following the guidance from Government and local authorities to ensure we jointly have the right plans and resources in place to bounce back as many companies are going to allow their employees to work from home. IT as a leading convergence catalyst focuses on redefining the digital lifestyle of users through a wide range of innovative products to offer the employees the ease and comfort to work from home. Few work from home and learn from home IT accessories are laptop stands, wireless keyboards / mouse, multi-Port USB hubs, Bluetooth earphones for video calls / Zoom meeting, wireless chargers etc. to gift their employees in order to improve their work efficiency.
Ergo View Laptop Stand to adjust the laptop stand angle according to your convenience to get the most comfortable viewing position up to 7 customized angles for preventing back, neck and wrist pain. Design promotes a natural airflow which is ideal to keep your laptop cool, foldable and lightweight making it ultra-portable to pack up and carry along anywhere with anti-slip silicone pads with warranty of 1 year with MRP of Rs.799/- as shown below.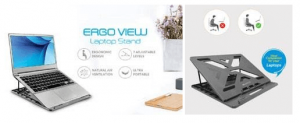 Multimedia keyboard + Mouse combo with soft feel keys Xcite Neo Keyboard & Mouse USB as spill resistant keyboard with instant one touch multimedia and internet keys access. Noiseless and smooth keystroke for supreme and quiet typing experience with UV coated keys to prevent key letters from fading away with warranty of 1-year with MRP of Rs.729/-. Primus Wireless Keyboard + Mouse as stylish keyboard with media controls with warranty of 1-year with MRP of Rs.1,199/-.

Hush Pro Air Wireless Mouse uses SenseFlow technology to ensure a seamless and lag less wireless performance and the advanced power saving features with physical on/off button provide optimal battery efficiency. Made with special silent keys that minimizes the sound of each press by up to 90% as compared to other conventional mouse with full-size ergonomic shape for maximum comfort with a fingerprint and sweat resistant surface with a dedicated DPI adjustment button to gives you your preferred cursor speed of 800, 1200 or 1600 with warranty of 1-year with MRP of Rs.749/-.

Wireless Charger Power Pro Air 300 is Qi Certified to ensure the most efficient charging speed & best safety features with foreign object detection and maximum compatibility for all smart phones. Comes with 3 power modes making it widely compatibility with 5W, 7.5W and 10W as elegant and compact slim design wireless charger built in with 3 layers of safety to protect your device against overcharging, overheating & short circuits with warranty of 1-year with MRP Rs.1,899/-. Power Pro Air 600 multi display design allows 3 ways to charge and for ultra-convenience 2 ways to view so watch your movies while in landscape mode, use it as a bedside clock in portrait mode or simply keep it in desk mode so never worry about draining your battery is available with MRP of Rs.2,219/-.

Hi-Speed 4 Port USB hub in mini size with maximum speed of data transfer up to 480 Mb per second with built in overload auto cut off features and in built USB cable for laptop / desktop with warranty of 1-year for MRP of Rs.499/-.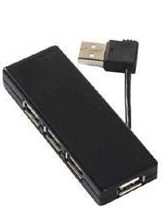 Smart Cables to increase the performance and durability of your devices as they depend on the quality of design for charging, data transfer, high fidelity video and audio. Micro USB cable and USB Type – C cable both with 1.5-meter cables and 1-year warranty with MRP of Rs. 449 and MRP of Rs. 599/- respectively as shown below.

Rapid Wall Charger with dual port 2.4A with Micro USB cable auto detects the connected device and charges it at the fastest speed of the device to fulfil the high-power demands of smartphone and tablets. It smartly detect the input current of the connected devices and maximize the charging speeds while reducing the charging time and comes with built-in safeguards to protect your expensive devices against overheating, overcharging and short-circuits with warranty of 1-year with MRP of Rs.799/-.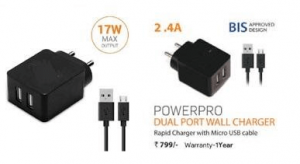 Bluetooth headsets as shown below as Urban X6 Bluetooth Earphones in blue colour with MRP of Rs. 1,199/-.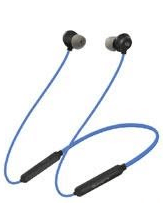 Besides this large range of cables, chargers, phone mounts, speakers, and gaming peripherals are also available as per your requirements.
"[ninja_forms id=1]"