BIO PPE as per the specification of Bio-protective cover all with shoe cover as per guideline on the rational use of personal protective equipment from DRDO HQ, Ministry of Health & Family Welfare, DGHS (Emergency Medical Relief) Novel Coronavirus Disease 2019 (COVID-19). Please select from 3-layer disposable face mask, 6-layer reusable face mask, hand gloves, head cap, face shield, goggles, protective body suits and PPEs.

Please find attached Certificate of Registration ISO9001:2015; ISO16603:2004; EN-13795; ISO13485:2016.

3 LAYER DISPOSABLE FACE MASK: –
3 layer Disposable Face Mask outer layer made of hydrophobic 100% polypropylene non-woven filter layer with Meltblown lter as barrier filter layer in the middle and soft absorbent non-woven inner layer is guaranteed to give bacterial filtration efficiency >=95%. The mask comes with ultrasonic sealing of layers to ensure perfect seal without mechanical large pore sizes in the medium for maximum protection of user. Available with latex free elastic loop with polypropylene coated metallic nose wire with built in bridge for close fit around nose contour with MRP of Rs.40/-.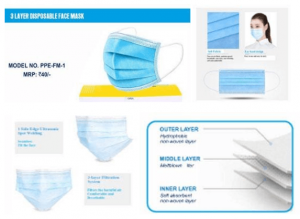 HAND GLOVES: –
Hand Gloves manufactured in a clean, hygienic and dust free environment for low bioburden with special quality natural rubber latex and with non-toxic chemicals to avoid derma allergies. Extensively leached in hot flowing water to reduce extractable protein levels and chemical residues. Pre-powdered with modified bio-absorbable corn starch to prevent wound infections and granulomas. Sterilised in-house in a validated facility as per ISO 11135:2014 anatomically shaped for comfort and micro rough textured for better instrument grip. Quality meets / exceeds International standards such as ASTM D 3577:2015, EN-455-1:2000 / EN-455-2:2015 / EN-455-3:2015, ISO 10282:2014 & IS 13422. Available with MRP of Rs.60/-.

HEAD CAP: –
Head Cap made of non-woven 95 gsm easy to fit comfortable head cap as shown below in free size with MRP of Rs.140/-.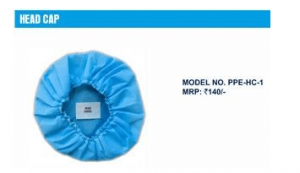 SUPERGUARD S-95 Six-Layer Face Mask: –
First layer – Air mesh material as outermost pre-filtration layer filters coarser dust particles, particulate matter, pollutant's, dust, sand, smoke from factories, bushfire & even vehicles. Anti-bacterial, anti-pollutant, anti-dust, washable & reusable makes it a cost-effective to protest your lungs. Second & fifth layer – Spun material is for droplet protection & splash resistance offering an exceptional protection for all of us. Middle layer is composed of proprietary 'microdot filtration layer' with anti-dust & anti germs protection. Third & fourth layer – World class melt blown material filters 98.9 of bacteria of 3-micron sized bacteria and 0.3-micron sized particles. 95% + Bacteria filtration efficiency (BFE) for over 3un (micron) size bacteria. Sixth layer – Inner most poly cotton soft layer is for your moisture control, fluid protection and anti-bacterial finish. Various certifications including QCS / ISO-9001 / ISO-16603 / ISO–13485 / EN-13795. Large ideal for men in 24X14cm size and medium ideal for women in 20x12cm size is available in packs of 3, 5 & 10 pieces with MRP of Rs.290/- & Rs.270/- respectively.
FACE SHIELD: –
Face Shield is made from high grade PET, which is eco-friendly material, sturdy and durable. Elastic headband eliminates pressure points and fits for different head sizes comfortably. This convenient eye protection can be worn over eyeglasses. Full face mask protects you from droplet, dust, oil, smoke, water, and so on. The superlight, washable, splash-proof face shield made of green material can be reused after cleaning. You can disinfect and wipe it for next use is available with MRP of Rs.360/-.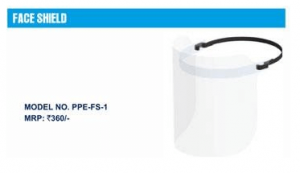 GOGGLES: –
Goggles made from high grade PET, which is eco-friendly material, sturdy and durable. Comfortable to wear and fits for different head sizes is also convenient for eye protection. The superlight, washable, splash-proof goggles made of green material can be reused after cleaning. Waterproof, dustproof, and anti-droplet goggles can be reused after cleaning and disinfecting by wiping it for next use is available with MRP of Rs.430/-.

PROTECTIVE BODY SUIT:
Protective Body Suit used for isolation of high-risk areas within ETU & Holding Centre. Disposable, single-use liquid-penetration resistant, biohazard protective coverall with hood, for use in Corona patient-isolation units suitable for stringent infection prevention and control practices and tested against viral penetration. Protective seams providing barrier equal to fabric. Made of laminated non-woven fabric with 98% Polypropylene & 2% laminated coating with PP + PE with Homo-Polymer fibre grade, melt flow index of 35 GMS / 10 minutes, decomposition temperature > 300 degree C, melting point 140 – 170 degree C, specific gravity 0.85 – 0.95, fabric GSM 53 + coating of GSM 17 = 70 GSM and to keep away from heat and direct sunlight with MRP of Rs.1,790/-.

PERSONAL PROTECTIVE EQUIPMENT KITS: –
Personal Protective Equipment kits available in free size to protect full body including eyes, nose, mouth, hands, and feet. Manufactured in a clean, hygienic and dust free environment for low bio burden while preventing chances of infection from harmful bacteria and to reduce risk of illness while protecting body from head to feet from hazardous materials. The disposable 100% water resistant fabric kit will cover your personal clothing as you wear on top of your existing attire ensuring no need for immediate change in case of contact with liquid including body fluid. Available with choice of goggles with MRP of Rs.2,390/- and with choice of face shield with MRP of Rs.2,460/- respectively as shown below.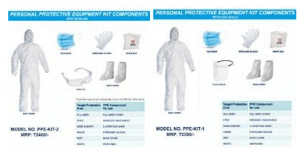 Please do get in touch with us if budget is a constraint and you would like to go for alternate products from unbranded manufacturers.
"[ninja_forms id=1]"