SWISS MILITARY LIFESTYLE PRODUCTS responds with PPE (PERSONAL PROTECTIVE EQUIPMENT) kit as safety gears for the nation as the normal operations start for safety of your employee's, for their family members, for healthcare professionals, security personnel, or anyone in need of the same. PPE kits components are full body cover, 3-layer face mask, face shield, goggles, sterilised gloves, shoe cover, and sterilised gloves waste bag. We care for you……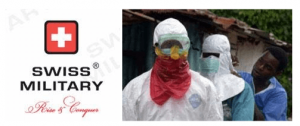 PERSONAL PROTECTIVE EQUIPMENT KIT: – available in free size in choice of 3 colours as white, light blue and ivory to protect full body including eyes, nose, mouth, hands, and feet. Manufactured in a clean, hygienic and dust free environment for low bio burden while preventing chances of infection from harmful bacteria and to reduce risk of illness while protecting body from head to feet from hazardous materials. The disposable 100% water resistant fabric kit will cover your personal clothing as you wear on top of your existing attire ensuring no need for immediate change in case of contact with liquid including body fluid. 

PERFORMANCE STANDARDS BODY COVER, SHOE COVER AND WASTE BAG: – Used for isolation of high-risk areas within ETU & Holding Centre. Disposable, single-use liquid-penetration resistant, biohazard protective cover all with hood, for use in Corona patient-isolation units suitable for stringent infection prevention and control practices and tested against viral penetration. Protective seams providing barrier equal to fabric. Made of laminated non-woven fabric with 98% Polypropylene & 2% laminated coating with PP + PE with Homo – Polymer fibre grade, melt flow index of 35 GMS / 10 minutes, decomposition temperature > 300 degree C, melting point 140 – 170 degree C, specific gravity 0.85 – 0.95, fabric GSM 53 + coating of GSM 17 = 70 GSM and to keep away from heat and direct sunlight.

PERFORMANCE STANDARDS 3 LAYER FACE MASK: – is guaranteed to give bacterial filtration efficiency >=95%. The Mask comes with Ultrasonic Sealing of layers to ensure perfect seal without mechanical large pore sizes in the medium for maximum protection of user. Built in Nose bridge for close fit around nose contour. Made from outer layer from hydrophobic non-woven, middle layer from melt blown filter and inner layer from soft absorbent non-woven layer with 100% polypropylene non-woven filter layer with barrier filter layer with latex free elastic loop and polypropylene coated metallic nose wire.

PERFORMANCE STANDARDS STERILISED GLOVES: – Manufactured in a clean, hygienic and dust free environment for low bioburden with special quality natural rubber latex and non-toxic chemicals to avoid derma allergies. Extensively leached in hot flowing water to reduce extractable protein levels and chemical residues. Pre-powdered with modified bio-absorbable corn starch to prevent wound infections and granulomas. Sterilised in-house in a validated facility as per ISO 11135:2014 anatomically shaped for comfort and micro rough textured for better instrument grip. Quality meets / exceeds International Standards such as ASTM D 3577:2015, EN-455-1:2000 / EN-455-2:2015 / EN-455-3:2015, ISO 10282: 2014 & IS 13422.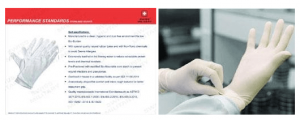 Please note that the Swiss Military branding will only be on the chest. Product specifications and data are subject to change to improve reliability, function & design etc.
"[ninja_forms id=1]"