Please go through the various selected office related products which can be given as corporate gifts to be used at the office for higher brand recall.
Computer / Laptop Cleaner: –
Available in 2 models as shown below in choice of red and blue colour with long bristle brush sliding out to clean dust from your keyboard and cloth on the other side to wipe the LCD screen clean. Also available 3 in 1 pen shape mobile cum PC cleaner with touch screen stylus to protect screen from smudges, brush to keep keyboard clean with mobile screen cleaner to protect from scratches due to dust.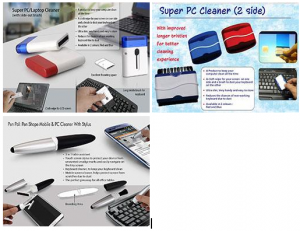 Table Tops: –
Mouse shape 4 in 1 table top gift takes care of 4 most used things namely hold cards or memos, works as pen stand, hold clips and comes with keyboard brush to help get rid of dust. Double pen holder cum paper dispenser as useful evergreen gift as pen and paper will never go out of use. Alternatively, choose round typing paper holder with double pen stand and space to store pins and paper clips. 3 in 1 table top with detachable pen, touch screen stylus and screen cleaner in choice of 5 colours as shown below.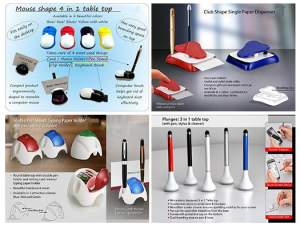 Letter Openers: –
with retractable cutter blades to cut open envelopes and remove staples with space for sticky note strips in choice of red and blue with white colour. 3 in 1 letter opener with 3.5 inches scale and magnifier with excellent branding space available in white colour.

Magnifiers: –
with clip to keep in pocket with excellent printing space on both sides for your branding activities. Ultra-thin bookmark cum paper magnifier with 3 times magnification ensuring full visibility of your logo.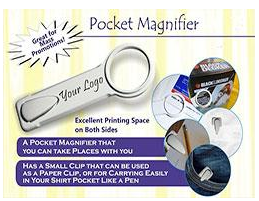 Mobile Stands: –
with pen & stylus as shown below in choice of red and blue colour with white. Choice of double pen stand, notepads with space for keeping microfiber cleaning cloth for your spectacles or mobile screens. 4 in 1 for holding multiple pens, pins & clips, with microfibre cloth for cleaning both laptop and mobile screens.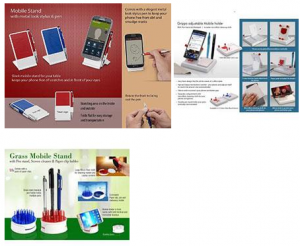 Vernier Calliper: –
cost effective and highly usable to measure 2-way diameters and depths up to 150 mm.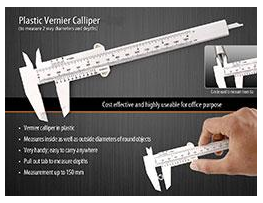 Gel Highlighter: –
with brush for keeping the keyboard dust free, screen cleaner for mobile and laptops, as 3 in 1 non-drying highlighter which can be extended by rotating the bottom knob available in choice of 6 colours as shown below.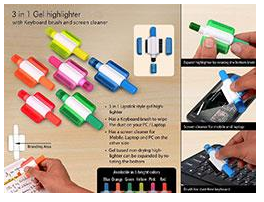 Visiting Card Holder: –
Leatherette or PU visiting card holder as shown below.
Folding Paper Cubes: –
with memo pads and tumbler to hold pens etc. available in red, blue & brown colour. Also available as 6 in 1 as complete desk set with either photo frame or calendar or 7 in 1 with sliding drawers in attractive peacock blue colour as shown below.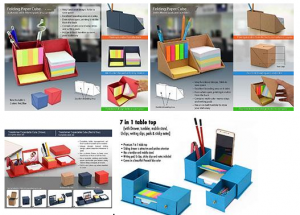 Diary & Note Books: –
Eco friendly spiral note books & diaries with pens, stick ons, post its, zipper PVC pouch, ruler and writing pads to suit various needs.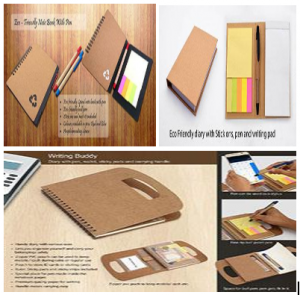 Stationery Table Top Sets: –
Complete set foldable with writing pads, sticky memo pads, memo strips and 8 pieces of useful stationeries as show below.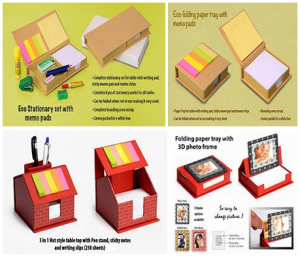 Stickers: –
Stick on book with colourful comment stickies as shown below.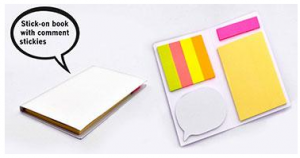 Please also contact us for images of pen stands made of wood, metal and plastics with options of revolving type with clocks, coasters and mobile holders. Name plates, money bank, clip holders, writing pads, paper weight made of acrylic, wood, plastic and metals.