In this series we have covered PC and laptop related accessories including speakers, USB fans, cables, USB chargers, power bank which are ideal corporate gifts for your consumers, customers, trade partners, business associates and even employees.
Speaker set
Speaker set with volume control and sporting a compact, stylish and space-saving design can be easily connected to the external digital audio devices like mini Notebook, PC, MP3 & CD player are designed to deliver amazing audio quality at an affordable price. Powerful 2.0 speaker set delivers high quality audio performance with a whooping 6W output with distortion-free clear output. Folding super slim laptop stand suitable for use during travel and very easy to assemble in compact size with non-slip feet for added security. Raises level of 13″-18″ size laptops for easier and faster typing with better air circulation while reducing strain on neck and shoulders. Folding table USB fan for laptops, PCs, electricity (thru adaptor) and even power banks in beautiful design with excellent airflow due to powerful motor inside with harmless blades. 3 speed portable USB fan with torch. Just place your phone on the top of Wireless speaker and it catches music through the phone's speaker for 19 hours of continuous playback.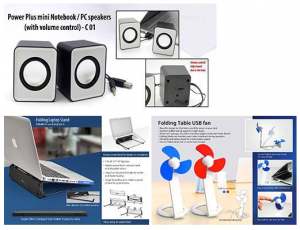 Yo-Yo Data Cable
Yo-Yo data cable works with iPhone, Android and Windows phones for your charging and data syncing needs is available in premium finish with rubberized cable and caps for connectors in tangle free design. Saves space, is easy to store with retractable wires which can be pulled to open till it reaches the desired length or maximum of 39 inches and then just pull it slightly to close back automatically. In 2 in 1 design cable same head fits into both devices simply by turning it over enabling usage with both Android and iPhones for charging as well as syncing your data. Available also with option of light at the end of the cable to use it as a keyboard light or night lamp or to connect your phone in the dark.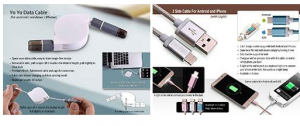 Two-way USB car backlit charger designed for smartphones, tabs and music players with dual port to charge 2 devices simultaneously with prominent imprint area that's impossible to ignore as coloured LED ring illuminate's logo even in the dark. Swivel car charger with keychain to charge your smartphones, tabs and music players etc. Glow in the dark dual backlit car charger designed for smartphones, tabs and music players etc. with USB port can charge 2 devices simultaneously prominently glowing logo that's impossible to ignore.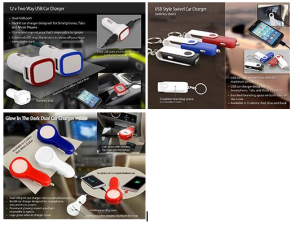 Premium Magic Box Power Banks
Premium magic box Power banks with high quality Lithium polymer battery with 10,000 mAh capacity in exclusive aluminium alloy body, high safety design, easy single button operation, power saving function, LED display of battery charging status and in-built retractable cables inside secure magnetic magic box which eliminate any need to carry wires. Desk Power bank with glow design which lights up and looks more beautiful when in use. Includes micro-USB cable to charge power bank by just placing on the base unit or charge through cables when away from the desk. Family power bank allows charging of all 3 power banks at a time or individually even without the desk base. Comes with 2 USB ports with micro-USB cables that can be used to charge devices when power banks are not charging. Triangle shape power bank of 9000 mAh capacity with micro-USB connector, in-built torch and lamp for emergency purpose suitable for charging mobile phones, media players, tablets, digital cameras and other electronic devices.

Ultra Slim Power Bank
Ultra slim power bank can be carried easily in the wallet just like a credit card with built-in cable, iPhone lightning connector, high quality Li-Polymer battery, safe and reliable with 2,500 mAh capacity. Unique sliding power bank to reveal mobile stand with micro-USB cable to charge your phone while working / watching videos. Splash power bank with torch and lamp allows charging of 3 devices at once with single switch for torch & USB charging, micro-USB cable included with Intelligent power output of each individual port. Mini power bank designed with hidden USB cable for travellers. Lift the rubber cover to unveil the micro-USB connector included in the body itself.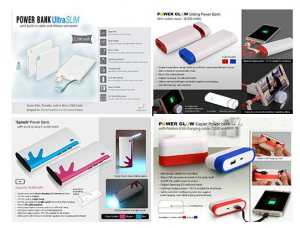 Mini Power Bank
Mini power bank lights up and looks more beautiful when in use with silicon vacuum at back to stick to your phone. Finger power bank with 4 LED power indicator, bright LED torch and micro USB connector. Metal power bank with lighter, two level torch & blinker. 3 speed portable USB fan with torch and emergency power bank.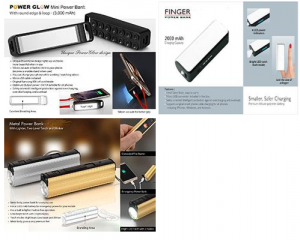 Please do let us know if you have any specific electronic item in mind as we will be able to source it for you from both not so well known and popular brands. Typically, we cover popular range under the well-known brand name itself instead of under specific product categories.
"[ninja_forms id=1]"