Our range comprises of unmatched quality of corporate candles with branding, all traditional candles, occasion candles, wax Diya's, floating candles, pattern candles, perfumed gel candles and many others made with finest raw material such as paraffin wax, thread and dyes. Please get in touch with us for wide choice of attractive colours in exclusive designs for candles which burn for longer durations providing simple lighting with added features as smokeless and dripless candles.
Reed Diffusers
Reed diffusers are a great way to add constant fragrance due to air freshener oil. The diffuser reeds soak up the air fragrance oil and disperse the scent into the air. They last until all the air fragrance oil evaporates. Diffusers work well in all such odd places where you always want it to smell nice but can't keep an eye on a candle due to risk factor. You can select from the various choices we offer at various price points depending on your budget. ARG-17 is 30 ml, ARG-01 is 50 ml, ARG-10 is 60 ml & ARG-09 is 100 ml as per images given below. Arogya, enjoy the power of nature in various choices.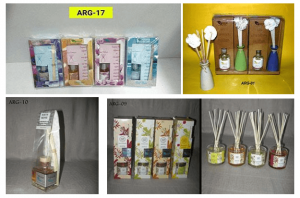 We also have higher capacity for larger areas to be more effective as shown below as model ARG-07 with 177 ml & ARG-08 with 190 ml air freshener oil. Aroma freshener oil is also available in various fragrances namely the Cool water, Jasmine, Lavender, Lemon Grass, Musk, Rose, Vanilla, Sandalwood, Divine etc.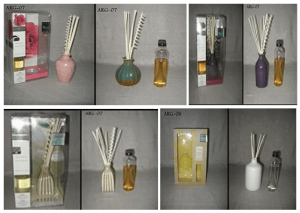 Aroma Candles: –
Aroma: – Fragrance candles consisting of prayer candles, round candles, tall candles, pillar candles, taper candles, potpourri, sola bowl fillers, car fresheners, cupboard hangers, shoe fresheners in all kind of fragrances namely Lavender, Green Tea, Jasmine, Sea Breeze, Fresh Rose Petal, Cinnamon etc.
Household Decorative Candles: –
Household Decorative Candles: – ARM-44 prayer candles (OM SAI RAM, ST. JUDE, WAHE GURU) available individually packed as shown below. ARM-101 T-Light perfume candles available 27 pieces in a jar. ARM-21 Fragrance sachet with hanger for use in cupboards. ARM-16 shoe freshner in Jasmine, Lavender, Rose, Ocean, Lemon Grass & Sandalwood.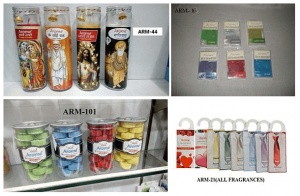 Car Freshners: –
Car freshners: – ARM-45 bottle car freshner as shown below. ARM-46 Pari car freshner as shown below. ARM-20 Car potpourri as shown below.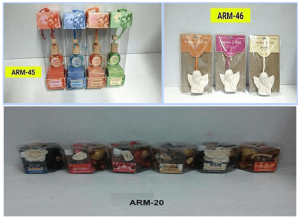 Perfume Pillar Candles: –
Perfume pillar candles: – ARM-08 perfume pillar in all fragrances in size 2.5"x2.5". ARM-18 perfume pillar set of 4 in size of 1.5"x2.75" in strawberry, lemon, green apple and orange. ARM -23 perfume pillar small size 3"x3", ARM-24 medium size 3"x4", ARM-25 big size 3"x6" in various fragrances.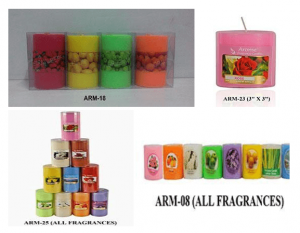 Sola Bowl Filler & Sola Potpourri: –
Sola bowl filler & Sola Potpourri: – Available readily ARM-28, ARM-29, ARM-30 & ARM-42 as shown below for your gifting requirements.
Potpourri: –
Potpourri: – ARM-13 potpourri small in all fragrances & ARM-12 potpourri in big poly pack and ARM-11 in small poly pack. Please do check once above for car freshners for choice of car potpourri.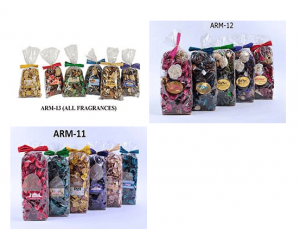 Logo branding options in cut work, punch work or even transfer of logos as shown below. Cut work on the metal as shown below with colour inside as shown below.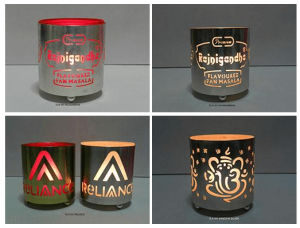 Punch work to highlight the colour on one side and similar image on the other side due to light as shown below.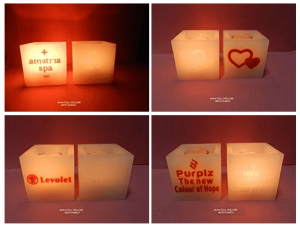 Transfer of logos can be done on the candles as shown below including candles for the republic day and Independence Day or round the year with our national flag.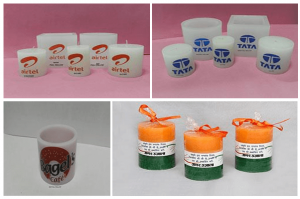 Gel candles with fluorescent colours as shown below in set of 4 or 6. Further you can have gel candles in colour of beer, whiskey, wine or brandy as shown below.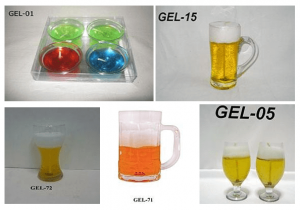 Gift sets with oil burner in single or double fragrance with candles, sticks and oils. Incense candle sets in various combinations as shown below.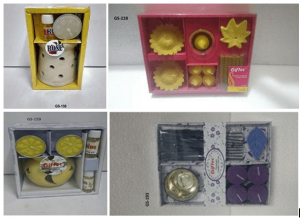 Incense candle sets in various choices as shown below.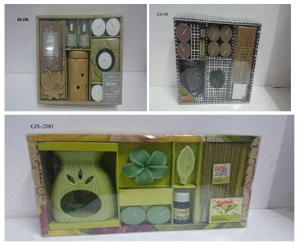 Candle set in various combinations to pick up what suits you best. Candle stand with choice of 1 and 2 pillar candles with wooden stand.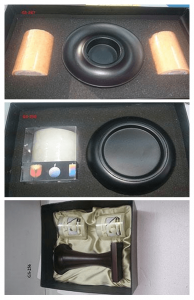 Pillar gift set with outer leather box, wooden t-holder set with two types of stands as shown below.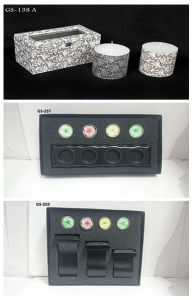 Led glass with t-lights in various shapes as shown below.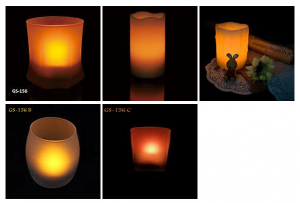 Wooden t-holder set, Ganesh ji candle set with wooden box packing and LED candle with remote.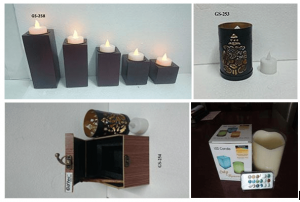 Natural wooden incense sets in various choices as shown below.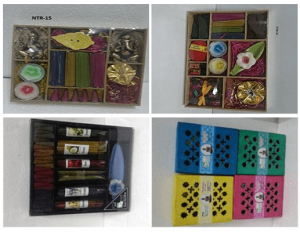 "[ninja_forms id=1]"