In this eco-friendly range of table top corporate gifts please shortlist the product of your choice and send us your artwork with quantities required. We will revert with quote and turnaround time. You can also ask us to visit you with the physical sample to decide on the order.
Folding paper cube with memo pads and tumbler in functional design which also folds to save space with excellent branding area on 6 sides containing multi-colour memo stripes and writing pads. Complete desk set cube with tumbler, visiting card holder, paper clip holder, pen holder, sticky memo stripes, notepad and photo frame to keep your loved ones in front all the time. Available in red, blue and brown which you can fold it and place cap to easily despatch to your esteemed recipients. 3 in 1 hut style table top with pen stand, sticky notes and writing slips as shown below. Premium 7 in 1 table top with drawer, tumbler, mobile stand, U-clips, writing slips, pads and sticky notes in attractive peacock blue colour as shown below.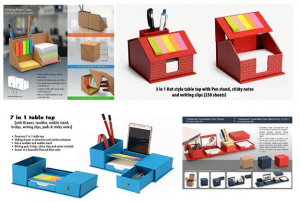 Desktop Range: –
Eco Stationery set with writing pads, sticky memo pads, memo strips and 8 pieces of stationery namely glue stick, mini stapler with pin box, pencils, eraser, sharpener and super glue with outer white packing box as shown below. Eco folding paper tray with memo pads, sticky writing pads and memo strips. Folding paper tray with sticky strips and writing pads as shown below.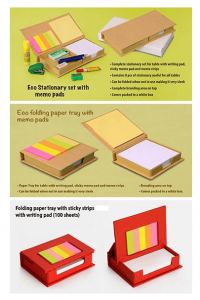 Handy Range: –
Writing buddy includes handy diary, pen, wallets, sticky pads, strips, ruler with PVC zipper pouch for mobile or cash with another smaller pouch for ID card or visiting cards to help you organize yourself and to safely carry your belongings during rains etc. Comes in premium quality paper with fine tip ball point pen which can be used as stylus and can be stored at special place for pen made in the note book pages. Eco – friendly spiral note book with pen in choice of red and blue colour with stick-ons and post-its included as shown below. Spiral weekly scheduler or weekly planner with To-Do check list and space as memo pads.
Two-side open memo book, Eco friendly diary with stick-ons, pen and writing pad and stick-on book with comment stickers as shown below.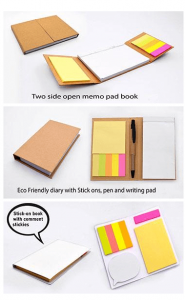 For sizable quantities we can even custom design the perfect eco-friendly table top to suit your purpose within your given budget.
"[ninja_forms id=1]"