If men are your target customers, then pamper them by giving functional and charming personalised luxury corporate gift. A talking point with friends thus further adding to exposure of your brand. Both the shaving brush and the soap will be an innovative personalised corporate gift for men.
TRIGODON SHAVING BRUSH:
TRIGODON SHAVING BRUSH: – The salient features of the shaving brush are as given below.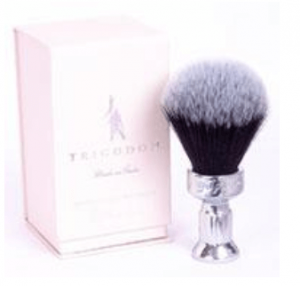 Softest shaving brush bristles available in the market.
Handle contoured to perfection to allow for a comfortable and seductive grip.
Crome plated rust-free zinc handle for lifetime experience.
Logos can be printed either on the box or engraved on the brush itself.
Shaving is a daily ritual thereby ensuring that your logo visibility will be phenomenal as Trigodon shaving brush lasts a lifetime.
TRIGODON SHAVING SOAP: –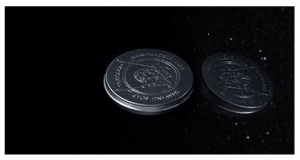 TRIGODON SHAVING SOAP: – The salient features of the shaving soap are as given below.
Rated as India's finest shaving soap reminding one of the traditional method of shaving and novelty for younger generation.
Made of virgin coconut oil and grade A unrefined shea butter for best performance.
Fragranced by 2 of the top 5 perfumers in the world to ensure the best for your esteemed clients.
A sticker or engraving of your logo can be done on the tin box to remind the recipient about your brand.
Lasts 3 times longer than regular shaving creams ensuring that the logo will be visible for longer period.
TRIGODON GIFT HAMPER: –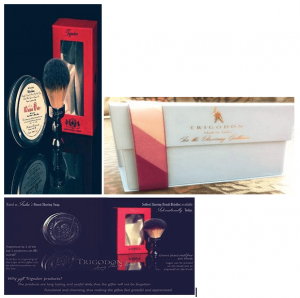 TRIGODON GIFT HAMPER: – Available as choice for either brush alone or in combination of both the brush and the soap to fit your budget. Full customisation of the box is also possible to impress the recipients and achieve your promotional objectives. Please ask for the samples to check the shaving brush finish and fragrance of the soap.
SPARKET CORPORATE GIFTS keeps introducing the latest options and choices for pleasant surprises.
"[ninja_forms id=1]"