While selecting the items please keep in mind that cost of branding, special packaging, freight and GST as applicable will be extra and the same can be quoted to you once your artwork is received with quantities and other relevant details. Please refer to our earlier series of Corporate gifts within Rs.50 budget, budget Rs.50 to Rs.100, budget Rs.100 to Rs.200 to select the best option to impress your target audience. SPARKET corporate gifts for pleasant surprises for everything from a pin to a plane.

PHOTO FRAMES & ALBUMS: –
Wonderful 3D depth illusion photo frames for frozen memories in frame size of 7.5" x 9.5"so that you can insert photo size of 5" x 7" available in pink and blue colour and can be used both as landscape or portrait. In smaller size photo frame (displayed as Pizza Hut) photo size can be 4" x 6" with option of colour printing whereas next (Givenchy) photo size required will be 6" x 8" and your logo can be engraved as shown below. Photo album in beautiful ribbon gift box with space for 100 pictures & for putting up a cover photo to highlight what the album is all about.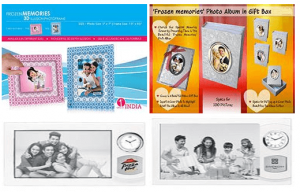 TABLE CLOCKS: –
Please select from the choice of wooden base where engraving can be done, or as pen stand where digital print or colour printing can be done. Finally, 4 in 1 table top with double side branding area with clock, mobile holder, pen stand and pad with holder as shown below.
100-year calendar with see through table alarm clock with LCD display of time, month, date, day and temperature in both Celsius and Fahrenheit. Other features are snooze and count down timer to excite your esteemed recipients while simultaneously reminding them about your brand due to prominent branding area. Can be used on table or even hung on a wall with day, date, time and temperature.

WALL CLOCKS: –
Please select the 10.5" diameter or square wall clocks in your choice of colour with option of chrome plating with sweep moments.
TROPHIES: –
Please select from the various trophies where the achievement of the recipients can be engraved as per the requirements. You can also select the winner cup desk trophy with stand made of stainless steel with height of 16 cm where the engraving can be done as shown below.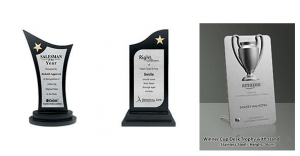 NECK TIES: –
Possible with your logo for minimum quantities of 100 numbers in gift box.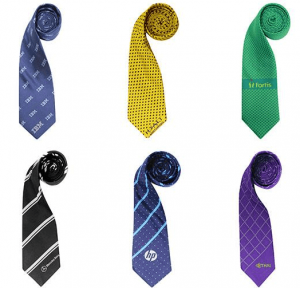 PORTABLE FAN & LED BLOW LAMP: –
3 speed portable fan with torch and emergency power bank. Blow the lamp to glow the lamp is available in 2 designs which are better than fire or candle lamps as no fire, smoke or mess as it works on batteries. Easy lantern like operation just blow on the flame to turn it on or off. Light can be adjusted to be strong like super bright LED light or like a candle when dim with 3 level side buttons or rotating the dial.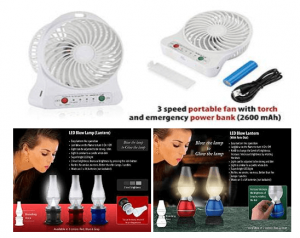 TORCH, TOOL KIT, EMERGENCY RESCUE AND SIGNAL KIT: –
Magnetic torch with slide out lamp to stick it anywhere like almirah, car bonnet, fridge etc. 10 in 1 mini tool kit with 4 LED torch, red light flasher for emergency signalling and various foldable tools like emergency saw, scissors, screwdriver both + & -, filer, wrench, bottle opener, can opener & knife. Emergency rescue and signal kit with 8 functions such as glass hammer and seat belt cutter, bright torch with magnetic base, blinker beacon with loud siren, alarm etc. Luxury double torch toolkit with magnetic antenna for your car, home and workplace with 10 features. Magnetic antenna type stick to pick fallen screws even in narrow space, 5 majorly used extra-long screwdriver bits with easy lock and release system. 2-way bright torch for regular use on one side and for working in dark on the other side. Glass breaking hammer and seat belt cutter at the back for car emergencies.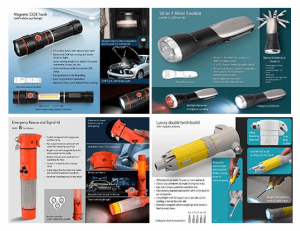 PASSPORT HOLDER: –
Travel with complete peace of mind best suited to international travellers with grip pad technology which securely holds your valuable SIM and SD card safe in place even when the drawer is open, preventing spills. Carry your sim cards, SD cards, passport, credit cards, boarding pass, cash all together safe with power locking function.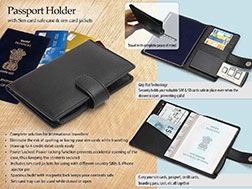 GIFT SET OF 3: –
Visiting card holder, pen and keychain in cardboard box as a giveaway gift with your logo branding in various choices as shown below. Please also see below for more combinations to impress your recipients. Black leatherette gent's wallet, visiting card holder with dog hook key ring or brown / tan gent's wallet, keyring & ball pen or black / brown money clip wallet, dog hook keychain & ball pen.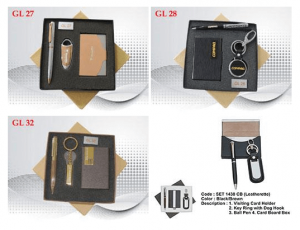 GIFT SET OF 4: –
Leatherette pocket notebook of size B7, visiting card holder, key ring with dog hook and ball pen in cardboard box as a gift with your logo embossed on all items as shown below. Choice of dateless diary and gent's wallet instead of visiting card holder as a choice is also available.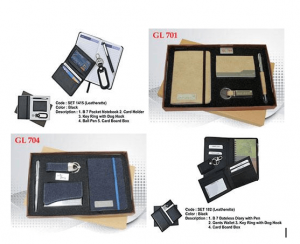 LUNCH BOXES: –
Available as shown below with 2 x 470 ml containers, 3 x 300 ml containers with 500 ml glass, 3 x 300 ml steel containers, 3 x 300 ml steel containers, 3 x 300 ml containers.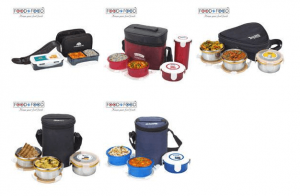 Electrical lunch box can be plugged in for hot food with 3 plastic containers. Zippy eco-friendly lunch bags come with insulated bags to keep the food warm or cold, completely spill and leak proof high quality food grade plastic containers with lid with string handle for easy carrying. Octomeal lunch box is available with options of 2 or 3 containers in 2 colours red and blue with easy carry handle with spoon enclosed. Completely leak-proof containers with lid made of high quality food grade plastic materials. You can also opt for food grade 3 steel containers to impress your gift recipients.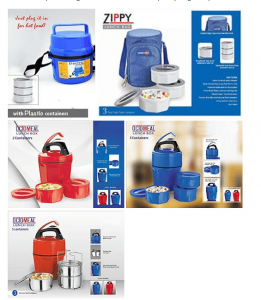 SERVING BOWL WITH WASTE COLLECTION DISH, MULTIPURPOSE AIR TIGHT CONTAINERS & SQUARE FRIDGE BOTTLES SET WITH HANDLES: –
Trio fruits & nuts double dish helps in reducing mess when you have guests as the waste can be put in the bottom dish thereby hiding the peels. Main serving dish with compartments for a variety of snacks with space for sticks or tooth picks. Made from 100% food grade melamine and dishwasher safe. Set of 3 air tight containers of 550 ml capacity each with easy lock lid is made of completely safe, nontoxic, food grade plastic fulfils all essential storage needs of yours. Set of 4 square fridge bottles with handle as shown below.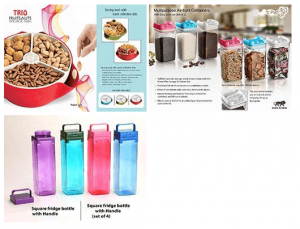 Very soon we will be adding the next budget series of corporate gifts of above Rs.300 and look forward to your feedback as to how we can make it easy for you to select the best possible choice? Please do write to us with your suggestions and feedback to help us serve you better.
"[ninja_forms id=1]"