Swiss Military is very aggressive on promotions through corporate gifts to acquire new customers and add to its existing large customer base. They have the same products available on all platforms whether retail, online or b2b unlike other known brands which discriminate with their products range available through corporate gifts. The Swiss Military understands the need to maintain respectable difference between the perceived value and buying cost of corporate by passing on the price, logo branding and logistics benefits.
The Swiss Military products range below MRP Rs. 1000 are toilet bags, travel wallets, towels, caps, socks, wristbands, LED keychain, pull out key chain set, multi tool key ring, combination lock, key lock, travel adaptor, USB multi charging cable, flexible telescopic magnet torch, waterproof mobile cases, lighters, manicure set etc.

KEYCHAINS: –
Multitool keyring is available with medium, small & Phillips screwdriver, knife, bottle opener and LED light with MRP of Rs. 490. All items comes in beautiful thick cardboard boxes as shown in the image. 3 white LEDs for ultra bright light is available in metal body with MRP of Rs.540. High quality aluminium body LED keychain is available in red and black colour with MRP of Rs.540 with white LED for ultra bright light. Pull out key chain with option of 4 rings to remove the particular ring key bunch instead of taking out the particular key every time you need to share the same. Enables you to avoid handing over the complete set of personal keys and share only the one which is required from time to time. Comes in metal body with MRP of Rs. 540.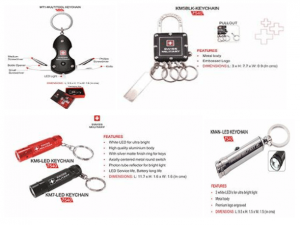 LIGHTERS: –
Lighters are available in 4 choices in gun metal finish and antique copper finish with MRP of Rs.990 in full metal body with triple jet flame and adjustable flame regulator at the bottom. Wind proof flame temperature goes up to 1200 degree centigrade and uses standard lighter oil.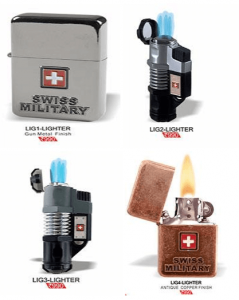 LOCKS & TORCH: –
Locks & Torch: –  available in 3 dial resettable combination luggage locks with MRP of Rs. 840 and key lock with 2 keys with MRP of Rs. 640. Compact, lightweight, portable torch with 3 powerful LED lights with 360 degrees flexible magnetized head and base, expands up to 57 cm with MRP of Rs.990. Pocket clip for ease of carrying with diamond cut pattern and all 4 batteries included.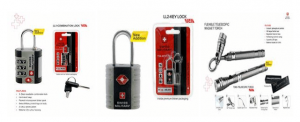 WALLETS: –
Wallets: – Made of leatherette with storage pockets for 11 cards, one id card, two pockets for currencies, 2 concealed pockets and alternatively with storage pockets for 8 cards, two pockets for currencies, 4 concealed pockets both with MRP of Rs.990. Magnetic money clip wallet with clipper which holds up to 20 notes, storage pockets for 4 cards, one id card with MRP of Rs.840.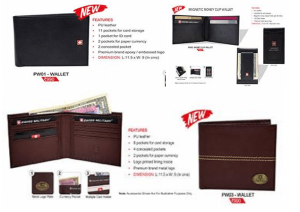 TRAVEL WALLETS / TOILET BAGS / MANICURE SET: –
Travel Wallets / Toilet Bags / Manicure Set: – Trifold design to accommodate for leisure and travelling needs, made of 100% polyester 1000D durable fabric for cleaning ease with versatile design to wear around neck, shoulder or attach to your belt. Pocket for currency / tickets / boarding pass, for passport, credit / debit card holder, pen holder and space for coins is available with MRP of Rs.890. Toilet bag made of water resistant polyester 1680D durable fabric with multiple pocket for storage convenience is available with MRP of Rs. 990. Functional design with convenient carrying handle, suspend able metal hook and pockets for tooth brush & paste, razors, blades & scissors, shaving foam, after shave, cologne / perfume, shaving brush, soap and mini towel. Handy manicure set is also available as shown below.
GYM ACCESSORIES: –
Gym Accessories: – Cap, towels, wrist band and socks can be bought separately or periodically to complete the gym set which also includes sipper with choice in 2 sizes of gym bags as part of The Oceanic Collection. Cap made of 100% polyester with MRP of Rs.790, pair of 450 gsm 100% cotton premium towels with MRP of Rs. 690, wrist band and 2 pair of cotton terry ankle length socks both with MRP of Rs.590 as shown below.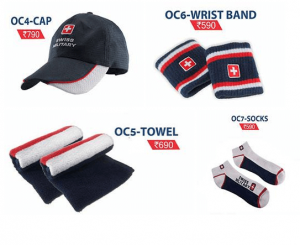 WATERPROOF MOBILE CASES: –
Waterproof Mobile Cases: – are 100% water proof phone cases ideal for use while running, working, swimming and walking to keep out the dust, sand, dirt and water. Back window allows clear photos and videos while transparent front window helps in easy use. Welded 3 pin headphone jack allows making and receiving calls while the neck strap makes it convenient to carry it around. Made of biodegradable thermoplastic polyurethane (TPU) and tested up to 5 meters depth under water are available with MRP of Rs. 640 & Rs. 740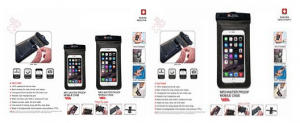 TRAVEL ADAPTOR & USB MULTI CHARGING CABLE: –
Travel Adaptor & USB Multi Charging Cable: – Compact designed 3 in 1 travel plug set includes 3 international plugs covering 150 Countries with electrical rating of 110v – 250v with MRP of Rs. 890. The below charging cable can simultaneously charge 3 devices and can transfer data with one plug at a time. The rubber coated finish body is available with MRP of Rs. 940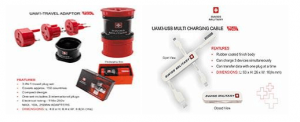 Please also refer to other 4 files covering Swiss Military range from MRP Rs.1000 to Rs.1500, Rs.1500 to Rs.2000, Rs.2000 to Rs.5000 and above Rs.5000 to make it easy for you to shortlist the best corporate gift to impress your target audience. Please feel free to call or write to us for samples of the above products.
"[ninja_forms id=1]"