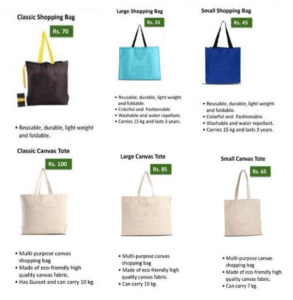 Eco-friendly range of utility bags, that are economical, foldable, fashionable and simultaneously create an ecosystem where harmoniously we all take responsibility to reduce use of plastic and save our planet. Our Bags are made from parachute fabric which is reusable, sturdy and durable resulting in reduce usage of plastic carry bags.
Shopping Bags: –
There are various types of shopping bags as shown below with their main features. Classic shopping bag, large shopping bag and small shopping bag can be reused, are light weight and foldable when not in use. Apart from being washable and water repellent our bags can safely carry over 15 kilograms of weight and will last over 3 years. Classic canvas tote, large canvas tote and small canvas tote are multipurpose canvas shopping bags made of eco-friendly high quality canvas fabric with and without gusset and can carry between 7 – 10 kilograms. Proudly display your logo on both sides as long they are in circulation for free publicity for both your products and brand. You also have choice of your house colours except in canvas.

Home Utility Bags: –
Please see the images below to select various home utility bags. Laundry bags, lingerie wash bags, garment packing bags are colourful, lightweight, durable and portable. Laundry bags are with strong bottom to keep bags erect has drawstring to close, hang, carry and they are easily washable. Soft mesh bags for thorough cleaning with zipper to keep clothes intact while washing and drying for lingerie, baby clothes, socks etc. Garment packing bags is set of 3 in different sizes to organise both clothes and accessories and to save space while travelling or at home in the wardrobe. Wardrobe hanging organiser with 6 compartments and 1 pocket hangs over closet rode and helps in organising linens, socks, inner-wear and baby clothes. Available lunch / tiffin bags insulated with EPE foam in multi-colour dual tone with space for knife, spoon, and fork holder containing 2 lunch boxes and 1 Quart. You also have choice of customising only the bag if you have distributed the tiffin boxes earlier and to manage the budget constraints.
Travel Utility Bags: –
There are various types of travel related utility bags as shown below with their salient features. Wear & wash Bag set as two separate bags to carry fresh clothes while travelling to prevents clothes from crumpling and wash bag to separately keep used and soiled clothes. Shoe Care Bag with half mesh and drawstring for extra protection of expensive shoes and to make it easy to carry another pair while travelling. Even storing at home becomes better as they are kept under cover after polishing ready to use at last minute. These bags can also be used for carrying toiletries and medicine while travelling or as car bin bag. Foldable duffle bags are durable & fashionable and possible in many colours. Just unfold and ready to use with 1 compartment and 1 pocket. Ideal for travellers and sportsmen as handy to manage last minute or unplanned shopping at the market or airports. Single Zipper foldable backpack with 1 compartment is fashionable, very durable, light weight with adjustable straps. Double zipper foldable backpack with 2 compartments apart from being durable and light weight also has adjustable straps. Backpack protector protects against rain, dust and theft and has inbuilt pouch for storing mobile and cash. Foldable, durable and fashionable with your branding are the other advantage of this innovative new products range.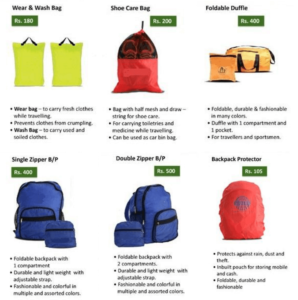 Sport Utility Bags: –
Please check below various options available as sports utility bags. Foldable gym bag apart from being fashionable, durable and lightweight has adjustable sling and carrying handles for gym and sports persons. Draw string bag looks trendy with graphics and piping with front zipper for extra storage for cyclist, runner and sportsmen. Yoga mat bag has drawstring closure with shoulder strap with adjustable sling and carrying handles for gym users.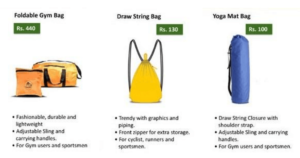 Please feel free to ask for customised solutions for all your requirements with branding in the given budget.
[ninja_forms id=1]