Car hanging fragrance is a good corporate gift as the passengers travelling in the car can't miss the bouncing dangler on the front wind screen hanging on to the rear-view mirror. The fragrance helps in the pleasant smell in the car always. The best promotional gift for automotive industry as the connection with the vehicle is supreme here. Every car servicing industry can use this promo to connect with their target audience. Authorised service centres makes it a point to give this as a gift when they return the car after the periodical services to connect with regular users. FMCG companies too find it very cost effective specially telecom and all the big brands have used this product to connect with their target audience.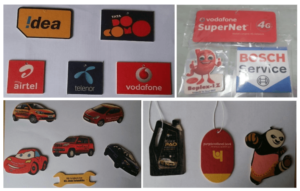 Car Hanging Paper Air Fresheners
Car hanging paper air fresheners are basically AAA grade, high-density special cotton paper with superiorly long lasting fragrance scents. They are excellent inside a Car to keep it smelling fresh 24 hours 7 days. These are extremely popular the world over and specially in North America, Europe, Australia & China. Car hanging paper gifts are very economical and advantageous for repeat business or new product promotions. All kinds of imprint, unit size, shape and fragrances can be customized as per different needs of promotional needs in accordance with minimum quantity possible within the given budget.
Salient Features of Paper Air Fresheners are as follows: –
Car hanging smells nature fresh and is green product and considered eco-friendly. The product is immensely popular globally due to its powerful & long lasting effectiveness. Exquisite fragrance blends are possible as per the taste of the buyer apart from choice of mixed fragrances for large quantities. Classical design & quality material with innovative technology which is very easy to use. Just cut open the corner to release the fragrance in the air and the size of the cut can be smaller depending on the liking and requirement of the regular commuters. The size of the cotton paper, quality of the fragrance and the size of cut in the polythene cover decided the life and effectiveness of the scent.

The same concept can be transferred to memo pads and note books as per the samples shown below.
Scented customised note pads can be made to order to impress the users of the note pads. Apart from the fragrance the water mark can be printed with perforation to make it a grand experience for both the users and receivers of the written pages. An ideal promotional gift to get in to the minds of your target audience and to increase your brands recall value. The pricing depends on the number of pages, size, customised punch die, water marks, perforation etc. The customised shape can be of a fruit, bottle, container etc. to serve the purpose of high brand recall.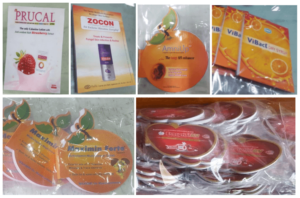 [ninja_forms id=1]