You can promote your business through cost effective medium by printing your bullet points on a single coaster to set of six. Again, you can print on both sides of a coaster to distribute whole year calendar to your target audience. You can even use it as a wedding invitation card to be different and impressive at the same time. Advantage of photo quality printing, any shape and size with varied choice of bottom base such as foam, rubber, cork, wood, steel, plastic helps you achieve your end objective within the given budget. What more you can even go for limited quantity depending on the event at very short notice. We give you protective knurling lamination to increase the life of the printed matter on the coasters to ensure you get full mileage out of your promotional activities. Please see below various promotional activities done by the others to suit the best for your product and brand.
Customised coasters with photo quality printing with bottom base of foam, rubber, cork as shown below: –
We will request you to send us your artwork and we will make you few samples to select the right bottom base for your set of coasters.
Rubber bottom base coaster set of 5 with cardboard box as shown below: –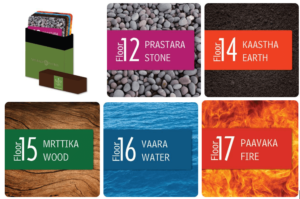 Innovative use of set of 5 coasters with unique story of each five floors for identified group of target audience was used for very high-end clients in a very cost effective manner. The story for the 18th to 22nd floor was again totally different with different colour box making it unique and personalised for each group of recipients. You can promote your multiple products and multiple brands uniting it through the coaster holder or stand as your anchor i.e. mother brand or company name.
Wooden and steel base tea coasters with laser engraving and photo quality printing as shown below: –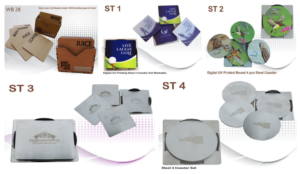 The steel base has foam to protect scratching on your expensive furniture.
Plastic drink coasters in various design and shapes with choice of print sizes with coaster holder to suit your target audience as per images shown below: –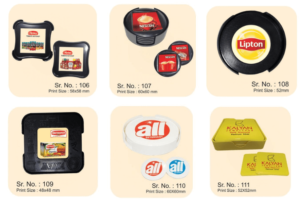 Ideal for use with all your channel partners to remind them and their visitors about your products. You can even plan to give as promotional scheme to end users on buying higher quantities then their normal offtake.
Table Coasters with added utility of bottle opener to make it handy at the bar and restaurants as per the images shown below: –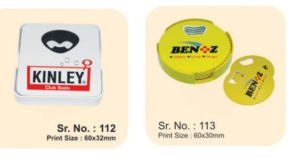 At bar the most irritating experience is that either bottle is opened and then covered to avoid looking for the waiter with the opener in the pocket or searching for him when he is busy somewhere. Overcome this by having opener with the coaster itself.
Silicone coasters in customised shape as per your artwork as per images shown below: –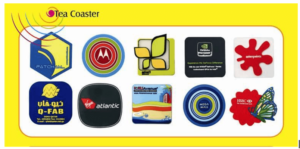 If the budget permits and quantities are not a big challenge then for premium products you can go for silicone coasters to stand out in the crowd. What more you can use fluorescent material to help coasters glow in the dark.
Revolving table top pen stand with place to keep coasters, memo pads, pens and enough branding space to keep reminding your target audience about your product and brand as per images shown below: –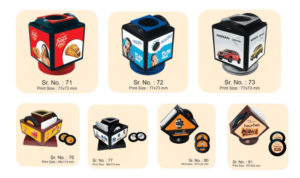 The above products help you in managing the crowd where footfalls are more at the outlet apart from restaurants.
Images of coasters used by different industries, segments, professions etc. in different materials, shape and sizes as shown below: –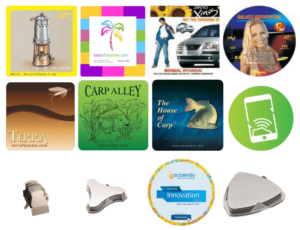 Everyone drinks either water, tea or coffee during the day at the office or offers the same to their visitors and thus need coasters handy on the desk or at the conference table. Keeping this is mind most of the companies use coasters as the promotional gifts. If you have limited budget but need to occupy the desk space and constantly remind the target audience about your products and brand, then it is high time to consider using appropriate coasters set.
[ninja_forms id=1]