Corporate gifts cover 3M air quality portfolio in India as part of solution to existing indoor and outdoor air pollution. Selection of respiratory protection for pollution hazards is typically based upon the airborne concentration of the substance that the wearer is exposed to, fit of the respirator and the hazard exposure limit of that substance. 3M™ electrostatic air conditioner filters are designed to complement the existing filtering screen of your wall mounted air conditioners to enable it to remove PM2.5 and other micro particles pollutants from the air inside your home so you can clean your air while you cool it. Remove 83% of PM2.5 particles from indoor air within an hour of application and purify your air for up to 3 months which also depends on air quality inside your home.


OUTDOOR AIR POLLUTION:
People with respiratory complications such as asthma or lung disease, who are obese or have diabetes, who have been diagnosed with a cardiovascular disease, children, teenagers and the elderly and expectant women and new mothers' benefits from wearing a respirator secured tightly to the face, with 2 head straps and a nose adjustable clip over the nose to allow for a more custom fit. 
Respirators
Respirators are designed to protect the wearer from airborne particles. Studies have shown that they are at least 95% efficient against fine particles that are about 0.1 – 0.3 microns, assuming good fit on the wearer's face. 3M 9003 respirators filters PM 2.5 particles and other micro pollutants with 3 Layers of filter with ability to filter above 90% of PM 2.5 with comfortable fit with cup shape design with aluminium nose clip with ear loop as shown below with MRP of Rs.250/- for pack of 5.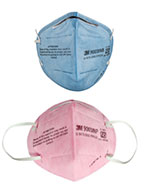 3M KN95 Respirators
3M KN95 respirators for protection against smog and car exhaust up to 95% filtration efficiency with adjustable nose clip with nose foam to filters dust mites, pollen of PM 2.5 particles including airborne germs and are available as shown below with MRP of Rs.100/-.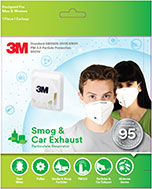 INDOOR AIR POLLUTION:
Designed with Filtrete™ brand 3-in-1 technology from 3M to pull in and trap unwanted air particles while letting clean air flow through. Compatible with split air conditioners and captures large particles like pollen, human skin, hair, road dust and pet dander including microscopic particles like PM2.5 (Particulate Matter of diameter <2.5μm), household dust, smoke particles, chemical fumes and bacteria etc. 
3M Electrostatic AC Filters:
3M electrostatic AC filters are proven to capture 83% PM 2.5 in just one hour of use and are compatible with most wall mounted air conditioner models. Purifies your air for up to 3 months depending on air quality inside your home with MRP of Rs.450/-.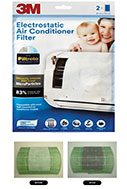 3M electrostatic AC filters – new variants in Green captures 90% of PM 2.5 particles as filtration efficiency and filters both dust & pollen with MRP of Rs.1,000/-. Red cools and clean your air by capturing up to 93% PM 2.5 particles as filtration efficiency while filtering both dust & allergen as certified asthma & allergy friendly with MRP of Rs.1,200/-. 3M is health partner – American Lung Association.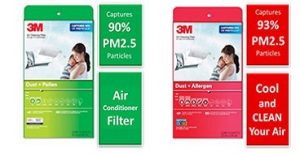 How does 3M™ air conditioner filter compare with electronic air purifiers? The efficiency of 3M™ air conditioner Filter approaches that of the top-of-the-line electronic air cleaners. Some tests indicate that in the large particle size range (1.0-10 microns), 3M™ air conditioner filters are more effective as price is a factor, too. Top electronic units' cost Rs.10,000 – Rs.20,000, require maintenance in terms of filter change and have a running electricity cost associated with them. 3M™ filters cost a fraction of this price, and generally only need attention every three months.
Room Air Purifier:
CO2 for cleaner indoor air —even if you don't have an HVAC system as the device and its filter help reduce airborne particles in the air you breathe. This stand-alone unit works well in medium-sized rooms and includes an Allergen Reduction Filter that captures mold spores, pollen, pet dander and more. From the most trusted HVAC filter brand works with filters for medium rooms, up to 160 square foot includes electronic filter life indicator with 3 fan speeds, replacement filter options with life of 6 months, for residential use only with 99.97% of airborne particles captured with 100 smoke CADR (Clean Air Delivery Rate), filters PM 2.5 particles with MRP of Rs.14,000/-. CO3 help improve your indoor air quality and is great for large rooms up to 250 square foot this stand-alone unit comes with filter which captures 99.97% of airborne particles from the air passing through the filter media with electronic soft touch controls which  include electronic filter life indicator, light dimmer, run timer, 3 fan speeds with replacement filter for residential use only with 158 smoke CADR (Clean Air Delivery Rate), filters PM 2.5 particles with MRP of Rs.20,000/-.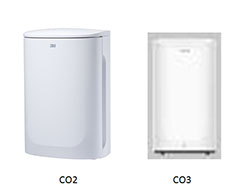 Please feel free to get in touch with us for 3M workspace solutions as MSDs are the single largest category of workplace injuries, responsible for almost 30% of all worker's compensation costs. Musculoskeletal Disorders (MSDs): injuries and disorders that affect the human body's movement or musculoskeletal system (i.e. muscles, tendons, ligaments, nerves, discs, blood vessels, etc.).
"[ninja_forms id=1]"