Cleaning made easy by Scotch-Brite for all your Utensil care, as it magically cleans any mess in Kitchen, effortlessly cleans every nook and corner for spic and span Bathrooms & ensures shining Floors & Furnitures. The wide range includes Scrub Pads for utensils care, Steel Scourers, Bottle cleaning brush, Squeezee, Sponge Wipes, Kitchen Towels, variety of Microfiber Wipes for kitchens, bathrooms, electronic appliances, eyeglasses, Floor Cloth Pochha, Mops and Gloves.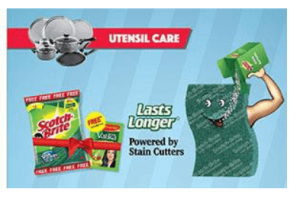 UTENSILS: –
UTENSILS: cleaning care from 3M Scotch-Brite Scrub Pad in S- shape with stain cutters for superior cleaning as it has uniformly distributed ALOX across all layers which effortlessly cut through stubborn stains to give superior cleaning of utensils. Available in trial, small, regular, large, value and super saver pack to help you select the best to connect and give with your product as free with MRP of Rs.8/- onwards for the small pack. Also available Scoth-Brite Thick Pad with 1.5 thicker in both small and large size as stronger option.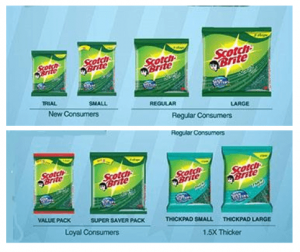 Scotch-Brite Scrub Sponge for use with dishwash active gel as it stays firm with thick superior sponge backing which gives adequate backing to your palms and stays firm even after repeated use. Bow-tie shape sponge for better grip also helps in holding gel soap better while special adhesive ensures the stickiness lasts and stays firm even after repeated uses. Select Scrub Sponge from the choice of small, large and 2s pack for easy dishwashing. Un-stain your kitchen with Scotch-Brite Power Scrub with superior quality steel loops for easy cleaning of tough stains on multiple surfaces like kitchen tiles, sinks & slabs with high quality sponge for better grip with ultrasonic sealing for extra durability with MRP of Rs.50/-.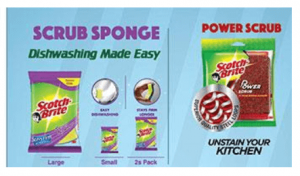 Scotch-Brite Platinum Pad ensures rapid action as it cleans faster to save time designed in a unique wine glass shape which gives comfortable grip to clean better. The next gen pad is a superior product in a royal purple colour made by unique 3M technology as it cleans utensils in lesser strokes than normal scrub pads while saving time and making user smart home manager. Available in small and in packs of 2s and 3s with MRP of Rs.60/- for the pack of 3. Scotch-Brite Non-Scratch for Light Duty non-stick cookware for gentle care of delicate cookware as it has micro granules which helps to give scratch-free effective and gentle cleaning to non-stick cookware, delicate crockery, glassware, melamine and microwave oven with MRP of Rs.35/-. Also available Scotch-Brite Scrub-Net Sponge for non-scratch tough cleaning of the utensils.

Scotch-Brite Antibacterial Scrub Pad in S shape with fragrance of neem is safe from bacteria and offers superior cleaning available in small, regular, large and supersaver pack to help you select the best to connect and give with your product as free. Choose antibacterial scrub pad and say goodbye to slime as Antibacterial Scrub Pad resist bacteria is non-slimy and lasts long with no odour. Whereas regular scrub pads grow bacteria over time, become slimy, wears out faster and has odour.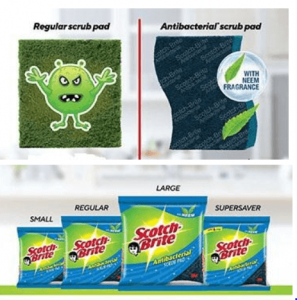 Scotch-Brite Super Strong fights tough stains through powerful actions and available in small, large and pack of 2s. Scotch-Brite Stainless-Steel Scrub for tough cleaning for tough stains as steel combi scrubbers.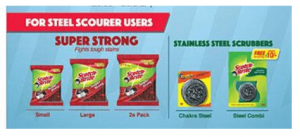 FLOOR, BATHROOM & KITCHEN: –
Scotch-Brite Bathroom Scrubber Brush for clean tiles and corners comes in unique scrubber shape in green colour which cleans grouts easily and effectively. Made of unwoven synthetic fibre which is easy to hold with ergonomic handle which cleans tough stains due to evenly spread ALOX particles on scrubber for MRP of Rs.130/-. Scotch-Brite Tough Scrubber Brush in red colour for outdoor cleaning of tough stains on tiles and corners for MRP of Rs.140/-. Scotch-Brite Kitchen Sink Brush also ideal for wash basin and kitchen tiles as it reaches all nooks and corners with refillable head. Scotch-Brite Bottle Cleaner to scrub fast and easy for effective bottle cleaning without scratching.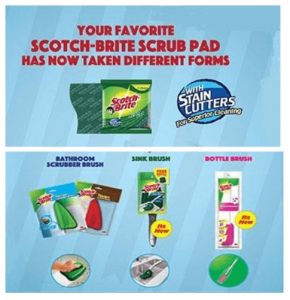 Scotch-Brite Squeegee is great for both bath and shower doors with streak free cleaning with comfortable grip for MRP of Rs.300/-. Now even the Squeegee Economy is available at a lower price with good grip. Ask for our bathroom and floor Squeegee. 

Scotch-Brite Sponge Wipes cleans any mess in one wipe thereby ensuring no more water stains with 10x absorption capacity for spill free kitchen counters, shiny appliances & spotless glass tops. Multi-purpose Cellulose based wipes are easy to use, soft, pliable, lint free, durable and 100% biodegradable available in both small & large size and in super saver, mega saver & value packs apart from trendy wipes for your esteemed recipients. Scotch-Brite Premium Kitchen Towels made of cotton with unique comb structure which lifts and traps dirt for easy cleaning of kitchen counters and tables.
Scotch-Brite Microfibre Kitchen Wipe with waffle structure picks and holds dirt and food residue giving a perfect clean in one wipe, while capillary action ensures better absorption with lint and scratch free cleaning lasting for more than 100 washes ideal for use on kitchen slabs, dining table & kitchen sinks with MRP of Rs.179/-. Microfibre Scrubby Kitchen Wipe with tough monofilament which helps to scrub and lift off dirt, grime and dried stains as microfibres lift and trap dust and dirt with lint and scratch free cleaning lasting for more than 100 washes ideal for use on gas stove, kitchen tiles, chimney & kitchen cabinets with MRP of Rs.169/-. Microfibre Bathroom Wipe with tough monofilament which helps to scrub and clean soap scum, while capillary action ensures better absorption with lint and scratch free cleaning lasting for more than 100 washes ideal for use on bathroom sink, mirror & shower cubicle with MRP of Rs.169/-. Microfibre Multipurpose Wipe absorbs water through advanced capillary action as fine fibres lifts and traps dust with lint free and scratch free cleaning lasting for more than 100 washes ideal for use on kitchen appliances, furniture and windowpanes with MRP of Rs.169/- for 2 numbers in a pack. Microfibre Polishing Wipe with fine fibres lifts and traps dust giving a streak free clean surface with lint free and scratch free cleaning lasting for more than 100 washes ideal for use on electronic appliances such as laptops & smart phones, eyeglasses and mirrors with MRP of Rs.149/-.

Scotch-Brite Floor Cloth Pochha with unique tri-clean corner which removes tough stains i.e. effective corner cleaning with scrubby edge 2x lasts longer due to superior weave and the overall performance of the cloth enhances after 3 washes. Cotton Mop with triangular head for cleaning corners with looped threads which lasts longer. Microfibre Strip Mop traps dirt efficiently due to microfibre strips with better water absorption for easy cleaning with triangular head for easy corner cleaning. Footlock Mop with looped cotton threads which last longer than ordinary mops with unique foot lock mechanism for easy locking and unlocking with unique scrubby head which easily removes even the toughest stains. Butterfly Mop with superior squeezing action plus handle locking mechanism. Flat Mop with micro fibre to sweep and swab in one go as it lifts and traps dirt, is washable and reusable. Spin Mop with powerful wringer with easy hand push to spin dry with easy lock mechanism and soft fibres to absorb water faster. Broom lasts longer with no dust from the broom, water resistant, easy hair and dust dislodge, flexible and reaches corners as 3M uses flat fibre for fine dust removal with less back strain due to long handle which can be removed to use as duster with MRP of Rs.350/-.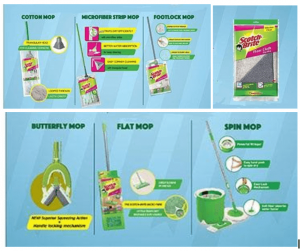 Scotch-Brite Kitchen Gloves with extra-long cuffs, inner cotton linings, high quality eco-friendly rubber with lemon fragrance. Other key products from the Scoth-Brite range includes Heavy Duty Gloves, Soap Dispensing Dishwand, Household Scrubber Brush, Handy Scrubber Brush and Lint Roller for removing lint, dust and pet hairs from anywhere.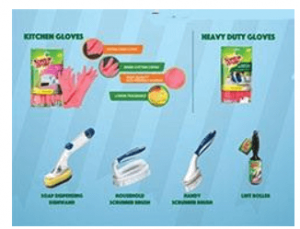 From the sink to the shower and the tub to the tile 3M Command™ bath products have solutions to keep you organized in style. Available Toothbrush Holder, Large Towel Hook, Shower Caddy Hanger, Soap Dish, Shower Caddy and Corner Caddy. Please do get in touch with us for other 3M products such as Hooks, Clips, Photo Frame Strips, Post-it, Glue Sticks, various Tapes with Dispensers and wide range of Scissors.
"[ninja_forms id=1]"