Portable mini fan runs on 2AAA batteries with removable silicone blades with magnetic attachments. 2 in 1 portable desktop fan with built in 2200 mAh power bank with ergonomic fan blades in 13.4 c 13 x 3.9 cm size. USB hub pen stand with 3 output USBs data & charger with plug in USB drives as stationer cum mobile holder cum amplifier popularly called Etub. 2 in 1 tiny clip torch as mini pen light by clipping on most pens or for reading books with flexible lamp adjustable up to 180 degrees to carry with you.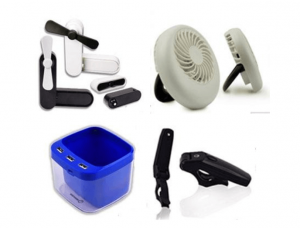 Blue Tooth Speakers: –
Small but powerful mini waterproof Bluetooth speakers made of durable metal in sleek and ergonomic design with built in rechargeable battery with communication distance of 10 meters available in silver and gold colours. Audio input for devices without Bluetooth function also supports MP 3 file stored in TF card apart from Bluetooth, aux & radio modes with output of 3W in size 5.5 x 5.5 x 4.7 cm. Portable, rugged hanging Bluetooth speaker with inbuilt microphone for hands free speaking with carabiner for ease of carrying with inbuilt rechargeable battery in size of 11 x 9 x 3 cm. Imported items as Wooden Bluetooth speakers for wireless music streaming with 6W with Aux input, memory card slot in size 11 x 11 x 10 cm.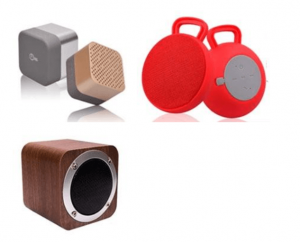 Splash Proof Bluetooth Speaker
with suction cup to stick onto any flat surface both at indoors or outdoors with rechargeable battery and built in microphone for handsfree speaker phone as portable, rugged, weatherproof, light weight and easy to carry in size of 8 x 8 x 4.5 cm. Bluetooth speaker with clock with alarm, FM radio, USB port to charge mobile, tablet with memory card slot and versatile modes for switching between wireless music streaming via Bluetooth, Micro SD card, USB flash drive with output of 3W in size of 12.5 x 8 x 8 cm.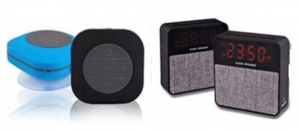 Bluetooth Earphone Sets, Stereo Headsets, Headphones:
– Bluetooth earphones with HD clarity sound, super bass, built in microphone in sleek, small & ergonomic design with 90 mAh battery backup with magnetic lock and cable secure the buds around the neck when not in use. Bluetooth earphone set with built in microphones in trendy travel case with charging cables. Stereo Bluetooth headset with flexible neck strap with hands free calling with built in microphone and volume control with rechargeable Polymer Lithium-ion battery. Bluetooth headphones compatible with most mobiles, laptops & tablets, supports FM radio, TF card, with HD clarity sound with super bass and battery life of over 6 hours.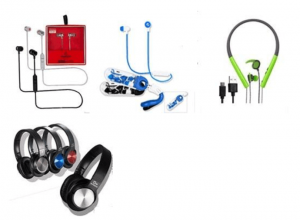 Umbrellas, Folding Shopping Bag, Travel Toiletry Pouch: –
Fashion umbrella in wine bottle case for easy folding and carrying for protection from both sun and rain in black, blue and white colours in size 5 x 5 x 30 cm. In water repellent and resistant to dirt and stains material in matching hard plastic case that looks like wine bottle with ample branding space on both umbrella and bottle. Also available lightweight, compact, portable windproof micro pocket umbrella with telescopic folding and rust-free aluminium ribs in water repellent and resistant to dirt and stains material with wrist strapped in deluxe zippered carrying case with matching blue or green trim in size 7.5 x 18.5 x 4.5 cm. Made from high quality nylon as lightweight and durable eco-friendly reusable folding shopping bag with water resistant properties. Travel toiletry case with hanging hook attached in premium denim finish with multiple water-resistant pockets including breathable compartments.

Travel Pillow, Shawl, Blanket as 3 in 1, Foldable Memory Foam Neck Pillow, Travel Digital Pouch, Tablet Organizer Sleeve: –
The washable foam neck pillow ergonomically designed with raised back for extra comfort to your neck can be squeeze into backpacks by folding it in the attached carrier bag allowing rest and sleep in any sitting position in car, train, bus or aircraft. Travel digital case with multi compartment and see through mesh with interior elastic bands to hold the gadgets in place with soft silicone zipper pullers in premium denim finish. Tablet sleeve designed to hold items firmly in place is ideal for organizing your digital devices as it fits any iPad or tablets up to 10 inches and compliments your laptop bag or travel case.

Coffee Mug with Cookies, Bamboo Mugs with Cover, 2 in 1 Sports Bottle with Space for Mobile Phones:-
Ceramic tea mug eliminates the need for a saucer with space for 180 ml beverage and 3 to 4 cookies. Bamboo mugs made of bamboo fibre material are eco-friendly, reusable and biodegradable apart from perfect for sports, travel, hike, yoga etc. with both silicone lid and cushioned silicone hand grips in capacity of 350 ml. 2 in 1 mobile holder cum sports bottle holds both smart phones and mini tablets designed to prevent rolling while watching with capacity of 600 ml.

Power Bank Book, Premium Note Books & Premium USB Notes: –
Executive organiser diary in hard bound leather feel PU cover in A5 size as power bank book with refillable 96 sheets of 80 gsm with 4000 mAh power bank and 16 GB USB pen drive with all 3 types of connectors with magnetic closure and inside slide pockets. Premium notebooks as executive organiser diary in leather feel in A5 size with refillable 100 sheets of 80 gsm with name card holder, magnetic closure and inside slide pockets. Premium USB notes as executive note book with USB in hard bound PU cover in A5 size with 96 sheets with magnetic closure, pen loop, and ribbon bookmark with metal plate.

Key Finder, Travel Adaptors with Case and with USBs: –
Key finder or find any other items easily by activating the sound function as on with build in red LED torch and a key ring. Universal travel adaptor with protective outer case compatible with over 150 Countries worldwide available with option of even 2 USB ports.

LCD Alarm Clocks, Photo Frame clock, Aluminium Photo Frames: –
Photo frame as multifunctional digital clock with temperature, calendar and alarm in elegant design and size of 18 x 2 x 18 cm. Elegant photo frame of size 4 inches x 4 inches with dual LCD displays showing day and date and other one showing time and temperature with alarm and snooze functions in size 14.5 x 2 x 20.4 cm. Hinged collage aluminium photo frame holds four photos of 2 inches x 3 inches in overall size of 15 x 13 x 0.8 cm.

We keep adding products every now and then so please feel free to speak to us for our latest additions.
"[ninja_forms id=1]"