Highlighters are the best corporate gifts for the executives, professionals and business associates as it reminds the recipients about you periodically due to your branding on the highlighters and container boxes whether liquid, gel or fluorescent types with various other useful combined features such as pens, keyboard brush, screen cleaners, stylus, torch etc.
Fluorescent Gel Highlighter: – Just rotate the bottom ring to bring the highlighter out is available in 2 colours pink and yellow as shown below.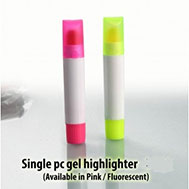 2 in 1 Pen with Highlighter: – Pyramid stand as unique novelty product that everyone would love to keep on their table with revolving pen & highlighter which revolves on the base at a slight flick with heavy duty magnet can be used both as a stress buster and decision maker too!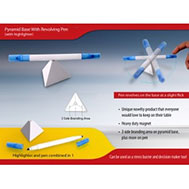 3 in 1 Gel Highlighter with Brush and Screen Cleaner: – 3 in 1 lipstick style non-drying gel highlighter can be expanded by rotating the bottom is available in 6 colours green, blue, yellow, pink, orange and red with Keyboard brush to wipe the dust from your PC or laptop and even with screen cleaner for your mobile, laptop and PCs.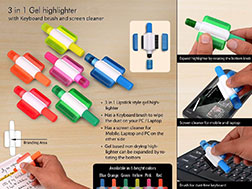 4 in 1 Pen with Stylus, Torch & Highlighter: – Heavy duty 4 in 1 multipurpose pen with smooth refill for glitch free writing, with stylus to prevent forming smudges on phone screen, torch in the middle for emergencies and fluorescent highlighter at the back in choice of 3 colours.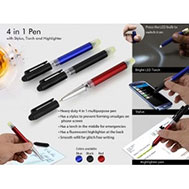 Set of 3 Big Gel Highlighters: – A set of 3 revolutionary gel based big highlighters which will stay usable up to 2 years by rotating the bottom to bring the highlighter out unlike other highlighters whose ink dries out in a few months.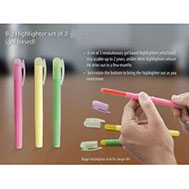 Set of 3 Liquid Highlighters: – A unique table accessory that beautifies your desk as set of 3 chrome plated liquid highlighters in shiny metal finish while serving the purpose of a useful stationery product.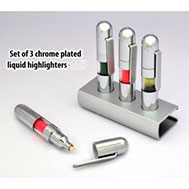 Set of 3 pieces gel highlighter set in a plastic box: – Just rotate the bottom ring to bring the gel-based pink, yellow and green colour highlighters which will stay usable up to 2 years.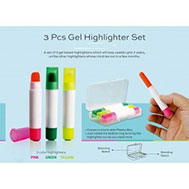 Set of 4 gel highlighters in a box: – A set of 4 revolutionary highlighters with gel-based ink comes in a beautiful box looking very premium thus suitable for high profile executives stays usable up to 2 years by just rotating the ring around neck to bring highlighter stick out.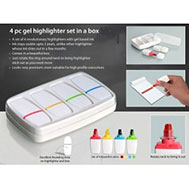 Please feel free to write to us for various choices among the branded highlighters too.
"[ninja_forms id=1]"