We constantly look for newer and latest products to help you select the best for your esteemed recipients and therefore take immense pleasure in submitting the latest blog on keyrings and look forward to your comments and suggestions to make it more relevant for all users.
Rotating Key Rings: –
Rotating Key rings with both sides branding options are available in heart, tulip, round, hut and barrel shapes as shown below. All the rotating metal key ring are with gunmetal finish for elegant look after engraving.


UV Checker Key Ring: –
UV Checker Key Ring with 4 level sun indicators as low, medium, high & extreme to keep you safe by checking the strength of UV light before you step out to protect both skin & eyes from the effects of harmful UV light. Best gift for skin care companies.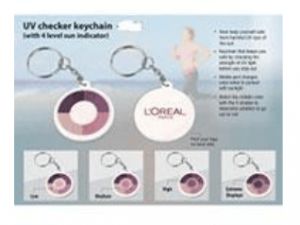 Plastic Key Rings with Metal Plates: –
Rectangle and square shape plastic keyring with metal plate on both sides for impressive light golden colour branding on both sides after laser engraving as shown below.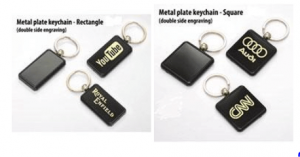 Gunmetal Keyrings: –
Car shape keyring gunmetal finish with double side branding area. Keyring with mobile stand and bottle opener as triple action keyring.

Hanging Keyrings: –
big loop keyring hangs easily to belts and bags and comes with handy bottle opener. Loop n lock keyring hangs easily to belts and bags so pull out the loop and attach it to keep your keys smartly as shown below.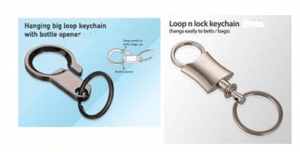 Metal with PU & Leather: –
Beautiful metal with PU keyring with soft fabric feel but looks like leather. Beautiful PU strip keyring with hut at the top with branding area on both sides. Beautiful metal keyring with leather finish, with metal plate for logo branding.

PU Based Gunmetal Finished Keyrings: –
Round, oval, barrel and rectangle shape metal keyrings with PU base in gunmetal finish to make your logo stand out.

Highlighted Keyrings: –
with both sides branding area available in shape of droplet, barrel, square, heart and a girl as shown below. Highlighted unique designed metal keyrings with gunmetal finish for elegant look after engraving to make your logo stand out.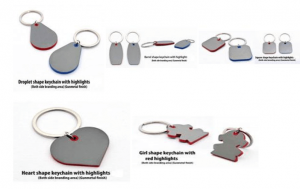 Metal Keyrings: –
One side long oval shape silver finish keyring with single side branding area. Heart and hut shape metal Keyrings as shown below. Uniquely designed thumb up keyring with smartly placed bottle opener. Metal crown shape keyring comes with bottle opener.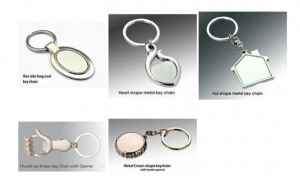 Please refer to our earlier blogs for more choices on keychains or email us so that we can immediately forward the same to your email id.
"[ninja_forms id=1]"