LED magnifiers 3x with 5 LEDs at the back works on just 2xAA batteries that lets you view clearly even in improper light with easy single button operation. 3 in 1 LED magnifier with UV light in square shape for ease of viewing and for checking currency. Mini magnifier with LED illuminator for reading in low light conditions. Magna LED magnifier also works as emergency lamps with 0.5-watt LED light useful for students, engineers, doctors, astrologers, antique collectors and long sighted. These are the lifestyle products as corporate gifts egg-shaped salt & pepper shaker, Plastic bag sealer, toothpaste squeezer, kitchen slab cleaner with spray bottle , Shoe shiner with horn, Mobile accessories, Mobile stand, Mobile finger grip, Mini book light, Travel accessories, Torches, Torches with lamps, Radium and rechargeable torches, Coaster set with stand, Travel bags, Folding duffel bag , Health related products, Car accessories, Fidget spinner, etc.

Life Style Products: –
Inverted umbrella with handsfree handle makes it easy to hold bags or use mobile while keeping outside dry while self-standing design enables it to dry in very little space. Blow the LED lamp with no fire, no smoke and no mess unlike candles or fire lamps with 3 levels of brightness. Food-grade stainless steel cocktail shaker with 15 recipes with accurate ingredient proportions just by rotating the dial to your favourite drink and it shows you the recipe instantly. Remove dust and lint off your clothes by rolling the reusable mini lint over your clothes. Unbreakable, leakproof and easy to carry folding wonder vase which is thin as paper yet strong and durable and looks like expensive glassware once you fill it with water.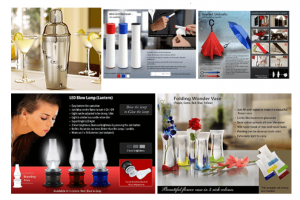 Beautiful egg-shaped salt & pepper shaker set with stand. Dice shaped salt and pepper set. Cricket ball shape telephone looks just like a cricket ball with pulse and tone dialling function comes with RJ11 cable. Universal battery tester to tests all kinds of batteries AA (pencil cells), AAA, 9V batteries, and all kinds of button cells to know if they are alive or dead.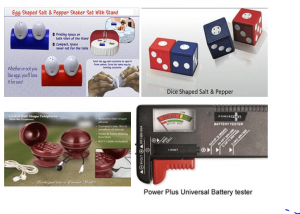 Plastic Bag Sealer
for sealing any plastic bags by making the bag airtight to keep the food fresh longer with creative stapler design with a snap locker mechanism which is convenient and easy to use. Easy toothpaste squeezer made of PS material to get the last drop from your tube by squeezing. Window & kitchen slab cleaner with spray bottle to spray and wipe the stains simultaneously. Night lamp with half watt LED is powerful and unbreakable with zero maintenance. Shoe shiner with horn at the back for easily wearing shoes and easy to carry while travelling with cap to protect the liquid from drying out.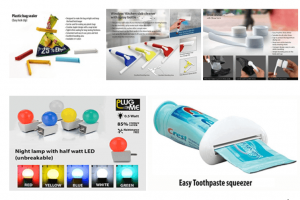 Mobile Accessories: –
Heart shape vacuum mobile stand with earphone splitter can be used to connect 2 sets of speakers or headphones to a notebook, phone, MP3 player or CD player to share music with your friends & loved ones. Silicon vacuum mobile stand with earphone holder can be used to make the phone stand in portrait & landscape mode. Mr. Notty as flexible mobile holder purpose is to hold your things perfectly by adjusting to any angle and hanging anywhere! 3D portable mobile screen magnifier to enjoy up to 3 times bigger image with screen size of 10.8 cm x 16.8 cm.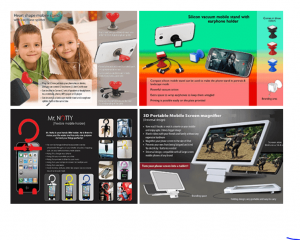 Mobile Stand: –
Jack Stylus with mobile stand with touchscreen stylus to keep plugged into the earphone jack. Mobile & Tablet stand with stylus and pen. Silicon mobile wallet with curly stand for carrying cash, visiting cards, credit cards, metro card, parking tickets, etc. Multi Mobile band with multipurpose removable pocket protects your screen from all sides can be used for cash, cards, slips, etc. Mobile charging stand can hold phones, mp3 players, iPods, PDAs of any size.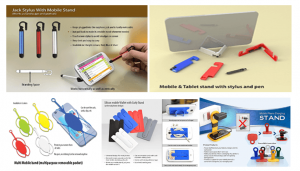 Mobile Finger Grip: –
Pop up mobile with double pop out in slim expandable mobile stand offers a secure grip so that you can text with one hand, snap better photos and stop phone drops. Sliding mobile finger loop stand can be used while talking, watching videos or gaming for a better grip on your phone by sliding from bottom up to make a loop. Rotating mobile finger ring with mobile stand rotates to adjust the angle of your finger suitable for both phones and tablets. Mobile sanitizer kit with 50ml liquid and microfibre cloth for cleaning, sanitizing and disinfecting your phone, laptop, keyboard and other gadgets.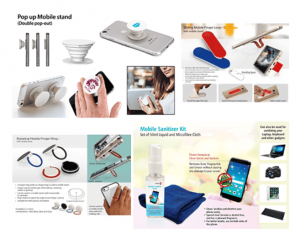 Mini Book Light: –
with 5 ultra-bright LED light as a very handy and compact book reading light which lights up automatically as soon as it is opened. Book light paper clip with 3 ultra-powerful LEDs at top opening as shown below. Easy to fit clip cup holder to save the table space for more important things while preventing accidental knocking over of your cup.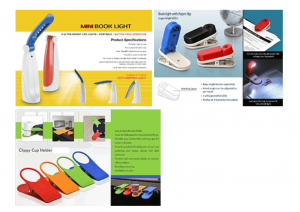 Travel Accessories: – Airplane Luggage Tag
with durable water-resistant strap with ample printing space on front with small window showing name which can be unfolded to show other details. Travelling SD/Sim card safe case includes 3 SIM card jackets and an ejector pin for iPhones which securely holds your valuable cards with power locking function preventing accidental opening of the case, thus keeping the contents secured. Passport Holder with sim card safe case & sim card jackets in wide design for storing everything comfortably, spacious build with magnetic lock keeps your contents safe as complete solution for International travellers! Passport Holder with sim card safe case & sim card jackets in long design for storing everything comfortably your sim cards, passport, credit cards, boarding pass, visa, cash, pen, photographs, etc all together. Carabiner with LED light with battery as push button torch with very good light beam can be hung to clothes, bags or anything.
Torches: – Magnetic Auto Loop Torch
works as button free operation suitable for indoor as well as outdoor use can be hung with bags, purses or belts great for outdoor travels, camping, trekking, etc. Jumbo focus torch with zoom in & out function in metal finish made of very high-quality plastics with very high light beam. Hexagon metal torch with 9 LED super bright light with heavy duty magnets at the side to attach it to car, fridge, and other metallic surfaces in premium finish metal body. Pull out zoom mini torch with glow ring and super bright light.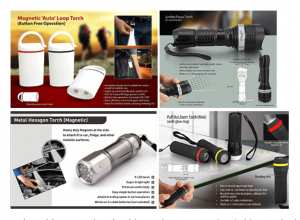 Torches with Lamps: – Handy Torch with Lamp
with easy carry strap has a high beam torch at bottom with milky white lamp suitable for a mid-sized room and is ideal for homes, offices, picnics and outdoor use. Hexa plastic torch with lamp with heavy magnet on the back makes the lamp more useful and can be stuck to metal surfaces like car, fridge, almirahs, etc to use lamp. Mini Lantern with focus 3 torch modes is perfect for camping and working in the dark by hanging anywhere with the built-in handle with 3 light modes as dim light, bright light and blinker. Handy flashlight with folding table lamp with 5 LED lamp which folds when not in use with high beam flashlight with 7 LEDs.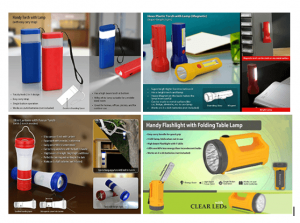 Radium and Rechargeable Torches: –
Dolphin bright LED radium torch that glows in the dark, so you can find it easily. Blaze rechargeable lead-acid high capacity battery torch with 3 LED lamp with built-in retractable socket for charging ensures wire free design with special reflector with high temperature resistant plastic for extra durability. Acme foldable rechargeable powerful 1-watt LED torch with 9 LED table lamp with high power LEDs give high brightness, long life & more focused beam. 7 step rechargeable lantern can be hanged easily and works for about 3-6 hours after full charge with enough light for entire room.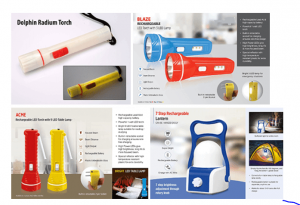 Coaster Set With Stand: –
Realistic design with tyre thread and chrome rims as tyre shape coaster set of 4 pieces with stand. Leather finish Plastic coaster set of 4 with stand in round and square shape with PU inside can be digital printed or laser engraved available in brown, white or multicolour. Power glow 3 in 1 coaster with logo highlight and bottle opener as pressure sensitive surface highlights your brand whenever drink is placed on it.

Travel Bags: –
4-layer toiletry kit stores products and can be hung when open, so everything is easily accessible and folds into a compact pouch. Folding leatherette travel bag with two carrying handles and an adjustable detachable shoulder strap with 2 pockets inside the main compartment and an emergency pocket outside. Overnighter bag with laptop storage & convertible to backpack or briefcase. Folds open completely to store clothes of up to 2-3 days use with separate pocket for dirty clothes, slippers & shoes. Folding duffel bag made of very high-quality imported denier. Ultra-compact when folded and very easy to carry which can be converted into a spacious duffel bag as and when need arises.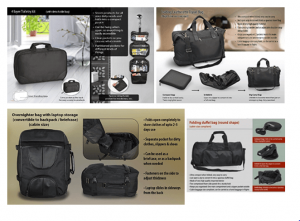 Health Related:-
Fitness Stretch band as portable exerciser with convenient handles for better grip and use while travelling for light to moderate exercise. Hot and cold pack with soft fabric and holding strap for ease of use. For cold use keep in freezer for 30 – 60 minutes & for hot use keep in boiling water for 3 minutes, or in microwave on medium for 30 seconds. Blizzard sports shaker bottle with mixer handle with supplement basket a revolutionary way of making protein and other shakes. No need to shake the bottle, use the blizzard maker handle to mix up your drinks. Water bottle with pill box as seven compartment pill organisers for each day of the week.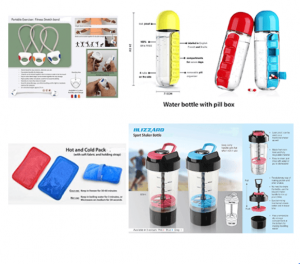 Car Accessories: – Car Tissue Box
on your sun visor to easily get a fresh tissue anytime while driving without getting distracted. Instant shiner for car, leather & wood in ready to use 5 wipes. Car trash holder or dustbin fits in car cup or bottle holder with 3 level contours for a snug fit in any place including side doors of most cars with wide mouth for easy use even while driving. Also works as a car storage box just push to open with auto-close lid.

Fidget Spinner: –
As fast spinning football fidget spinner with soft PVC weights with football design on the edges as perfect toy for fidgetier durable enough to ensure longevity and smooth rotation. The 360 spinner helps you find new perspectives as you put your brain to use, whether studying, brainstorming, researching, etc. Cricket ball Fidget spinner great for anxiety, ADHD, autism, quit smoking, staying awake on long car drives, etc. Fidget spinner with double bottle opener is fun to play with carabiner to easily attach to bags and belts. Perfect gift for restaurants and bars for use by waiters and bartenders to entertain.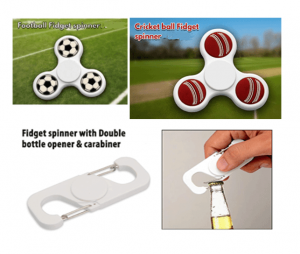 "[ninja_forms id=1]"