We understand that the business benefits that can accrue from giving corporate gift are manifold from creating goodwill, fostering new relationship, promoting company business and act as an effective important tool in marketing communication. Keeping this in mind we offer you wide range from leading fine jeweler manufacturers recognized for their refined jewellery craftsmanship producing high craftsmanship jewellery in premium quality from budget of Rs. 500 to Rs. 33,000. Committed towards bringing all essential corporate gifting elements at single point of source through the vision to be the world's leading Corporate Gifting aggregator that enables your valued consumers, customers, partners, associates and employees to achieve mutual growth and success.

24 Karat Golden Moments
24 Karat Golden moments will turn your photos into stunning purest gold decorated with scenic gold designs with space to add your own caption underneath is a unique way to remember a special occasion (see comparison below between a regular photo and gold photo). Owning this creation is like possessing a unique masterpiece whether as your esteemed customer, employee, trade partner or business associates.

Photo Frame Price Range Rs. 9,000/- to Rs. 33,000: –
Photo frame price range Rs. 9,000/- to Rs. 33,000: These golden moments due to luxury of its expressions will take your recipients breath away while simultaneously adding magic due to its distinct elegance which will be truly cherished for years and will be a sheer joy to look at for time immortal. You have three choices of external frame sizes 8"x10", 12"x14" & 16"x20" with photo print size of 6"x4", 6"x8" & 8"x12" with MRP of Rs. 8,733/-, Rs. 16,509/- & Rs. 32,592/- respectively. We will need your high-resolution images with wordings of your choice which will be printed after your final approval of the soft copy. The frame is possible in both landscape or portrait size and can be used again either as wall hanging or table top. Duly bubble wrapped and packed in a cardboard box with easy carry bag duly sealed in a protective film to prevent any transit damages.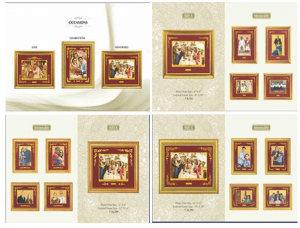 Some of the distinguished recipients of golden photo frames are shown below such as Shri Narendra Modi, Shri Prithviraj Chavan and Ms. Mughda Godse.

Photo Frame Price range Rs. 11,000/- to Rs. 13,000
Price range Rs. 11,000/- to Rs. 13,000 pen holders, mobile holder and visiting card holders. Ideal for gifting to the CEOs, directors and top most officers to display proudly on their desk.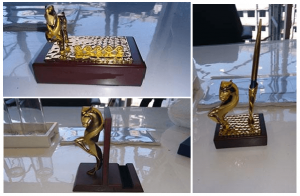 Photo Frame Price range Rs. 2,000/- to Rs. 6,000
Price range Rs. 2,000/- to Rs. 6,000 Pure gold sheet art with 24 Karat – 99.9% in various sizes to suit your gifting budget for various stake holders. Ganesha is available in four sizes of 5×5", 95x85x85mm, 5.5×5.5" & 7×6 inch sizes for MRP of Rs. 2,199/-, Rs. 2,696, Rs. 3,495 & Rs. 5,961 respectively. Balaji available in 135x135x80 mm size for Rs. 3,693/-, Laxmi Ganesha available in 5×8.5 inches size for Rs. 4,296/-, rose as per image below of 11.25" for Rs. 4,656/-, Radhakrishna in size of 6×6 inches for Rs. 4,953/- and Gautam Buddha of 220x140x130mm size for Rs.5,169/-.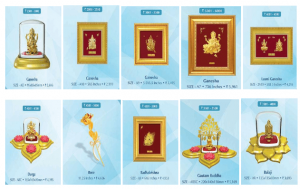 Photo Frame Price range Rs. 500/- to Rs. 1,500
Price range Rs. 500/- to Rs. 1,500 pure 24 Karat Gold encased precious panchdhatu coins with 99.9% purity as Ganesha of size 25mm for MRP Rs. 462/-, Laxmi of size 32mm for Rs. 651/-, Laxmi Ganesha of size 41x28mm for Rs. 876/- and Laxmi, Ganesha & Saraswati of size 60x28mm for Rs. 1,209/-

We would be delighted to hear from your end if you need any more information or clarification regarding our above product and services. Looking forward towards working with you with your high end gifting requirements whether jewellery, electronics, show pieces or consumer durables. 
"[ninja_forms id=1]"