Buying within the estimated budget is the most important part of selecting the most suitable corporate gift. When all the possible corporate gifts choices between budget of Rs.100 to Rs.200 are available on one page, then it is easy to choose the most relevant promotional product. In this new series of our slab wise price budget blogs we have tried to do the same by segregating various corporate gifts as per their defined range of price points. Most of the products are normally available ready stock as per the choice of colours shown in the images with excellent branding space to ensure full mileage for your promotional activities.

Photo Frames: –
Various choice of photo frames in portrait and landscape to keep on the table. First time wonderful 3D depth illusion photo frames of size 6" x 7" for frozen memories can be used as landscape or portrait with photo size of 3.5" x 5". Also available choice of frame size 6.5" x 8.5" with photo size of 4" x 6" in blue and pink colours. Wall hanging Ganesh with space for your logo branding.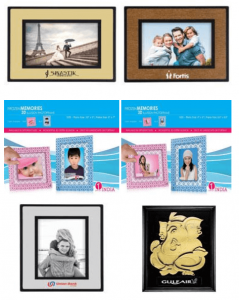 Wall Clocks
Wall clocks with or without Ganesh in various shapes, size, colours, finishing to suit your gifting purpose with excellent branding and warranty. You can select from usual numerical, roman and other signs at various price points.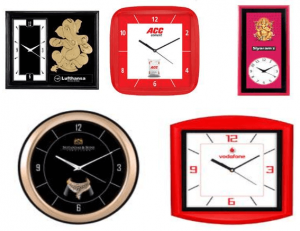 We have displayed some images of our clock moulds to give you an idea but can change the colour of plastic and dial as per your customized requirements.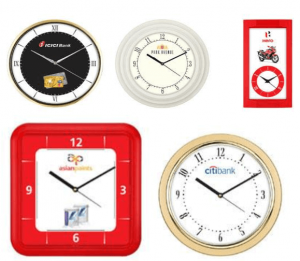 Wall & Table Clocks: –
Wall & Table clocks dual purpose wall clock cum table clock. Wave table & wall clock can be hung on wall or used on desk with date, time and temperature as per image below. Lifetime calendar with clock option.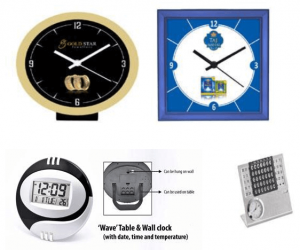 Alarm Clocks: –
Tata Sky table clock with alarm. Easy to store 3 in 1 folding alarm clock with photo frame and mirror ideal gift for jewellery shops.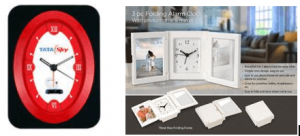 Miscellaneous Table Clocks: –
Miscellaneous Table Clocks Paper weight cum table clock. Table clock with options of revolving ads. Table clock with pad, mobile & pen holder with branding possible on 5 sides including dial and the bottom.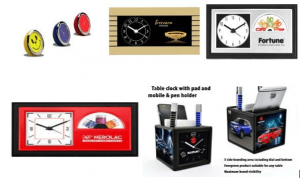 Table Tops: –
Table tops as Wooden pen stands with mobile holder. Folding table USB fan with excellent airflow due to powerful motor inside works with laptops, pcs, power banks and electricity while taking very little space on your desk. Compact size looks just like a cricket ball shape telephone with microphone and earphone with both pulse and tone dialing function can fit in smallest of places.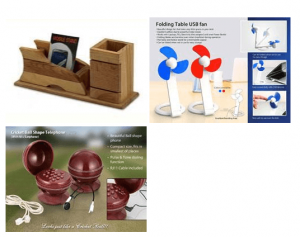 Car Accessories: –
12 volts 2-way USB backlit car charger with coloured LED rings to illuminate your logo for smart phones, tablets and music players. Available swivel car charger with key-chain option as shown below. Premium easy single button operation hexagon shape metal body 9 LED torch with super bright light & heavy-duty magnets at the sides to attach it to car, fridge and other metallic surfaces.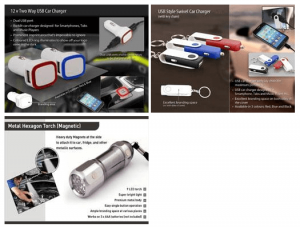 Laptop & Mobile Accessories: –
To take care of your charging and data syncing needs while also saving space another choice is round keychain with multi connector folding data cable for android, windows and iPhone 5. Premium finish easy to store tangle free designed retractable wire of 39 inches with rubberized cable and caps for connectors with branding space on both sides. Swiss knife style multi connector data cable with USB 'C' type port with semi flexible cable for sturdy use.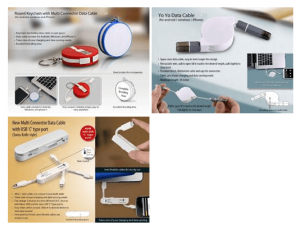 Wrist Watches: –
please select the very best from the wide range of wrist watches with the matching strap with logo branding done on the dial for continuous brand recall.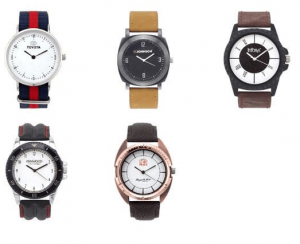 Couple Set also available with choice of pocket watches with carabiner and chain.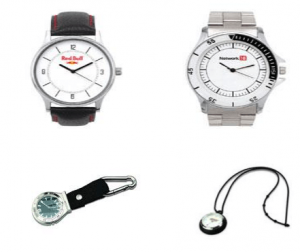 Desk Tops: –
4 in 1 deske top with branding on both sides with clock, mobile and memo pad holder & pen stand. Table clock with memo writing pad and as pen holder. Complete desk set packed in a box in cube shape available in brown, black and red colour with option of photo frame, tumbler, visiting card holder, paper clip holder, pen holder, sticky memo stripes and notepad.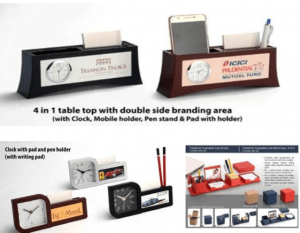 Folding paper tray with 3D photo frame. Folding paper tray with sticky strips and writing pads. 3 in 1 hut style table top with pen stand, sticky notes and memo slips.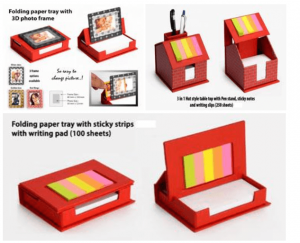 Diaries, Notebooks & Passport Covers: –
Leatherette black colour B7 size Dairies, pocket notebook. Available multicolour A5 size notebook without dates with pen as per the colours shown below. Black B7 size diary without dates with pen and slots for keeping credit cards. Handy executive notebook with PVC wallet to keep mobile etc, various ready sticky choices and pen with option of customizing cover page. Passport cover with provision for tickets and cards.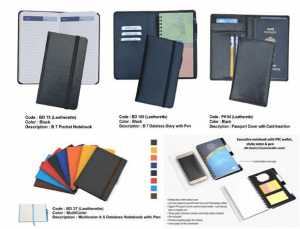 Metal Table Tops: –
Metal Table Tops as paper weight cum pen holder. Star shape paper weight cum pen holder. Capsule shape visiting card holder. Magnetic decision maker. Round paper weight cum pen holder.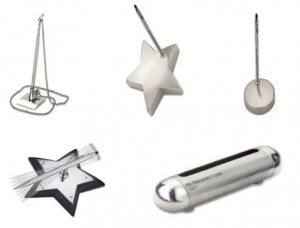 Golf pen set as shown in the image below. Table flags can be displayed proudly round the year. Racing car on the desk of your target audience.
Steel Coasters Set with Stand: –
Table coasters set of 6 available in various shapes like cup, square, triangle with holder as shown below.
Leatherette Gent's Wallets
Leatherette Gent's wallets in brown and tan colour. RFID protected brown gent's wallet when you need to be extra secured. Black and brown gent's wallets in different patterns as per the below images.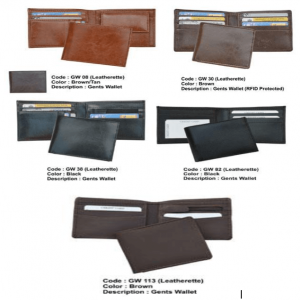 More choice of wallets in camel colour as per the images shown below. Money clip wallets in black and brown colours. Gift set in cardboard box with black wallet & key ring with dog hook or ball pen & black keyring with dog hook. Logo embossing can be done inside the wallet so that recipients are reminded about your brand whenever they use it.
Please also refer to our earlier blogs on corporate gifts budget range of below Rs.50 and between Rs.50 to Rs.100. Next we will cover choice of promotional products above Rs.200 to make it easy for you to select the right corporate gift for your esteemed audience.
"[ninja_forms id=1]"