Jute Bags are biodegradable, Eco-friendly and is immediately recognized and appreciated by one and all when received as corporate gift. We offer you very unique, exclusive and stylish bags for all purpose with elegant designs and quality. Jute bags can be customized as per your requirement with your branding. Jute is one of the most versatile natural golden fibers that has been used in raw materials for packaging. Jute product range includes jute carry bags, jute shopping bags, jute hand crafted files and folders, jute gift items, jute wine bags, jute gift hampers, jute goody bags, jute sling bags, jute cosmetics hamper, jute bags to carry small plants, jute conference bags, jute pouches, jute Christmas bags, jute beach bags, jute corporate bags, jute cosmetic bags, jute designer bags, jute laptop bags, jute promotional bags, calico bags, cotton pencil case etc. Food grade jute bags can also be used for packaging food items with your colorful logo branding.


Jute Canvas Bags: –
Canvas is the finest available jute product which is closely woven with best grades of fibre for protection from weather. Jute has many distinct advantage over other synthetics fibres. The handle can be selected from the various choices such as jute and cotton self handles, cotton webbed handle, cotton padded handles, cotton tape handles, cotton rope handles with eyelets or without eyelets, cane handles, leather handles. Few cane handle types are mini "D" cane handle, "D" cane handle, 5″, 5.5″ & 7″ bobby cane handle, square cane handle, ring cane handle, 3″ & 5″ apple cane handle, 7″ single joint cane handle, oval cane handle etc.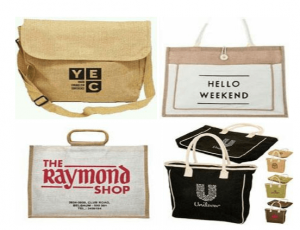 Jute Shopping Bags: –
Jute carry Bags are made from hessian and sacking fabric with designer handles, choice of straps, with and without chains in different shapes and dimensions as per your requirements.  They are used specially for promoting your brand and marketing your premium products.  They can be bleached and decorated with different customised designs.  Promotional bags are generally imprinted with your logo and used as sample carry bags to promote cosmetics, wine, goody bags as items for sale as gift hampers.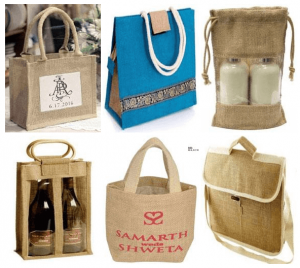 As a natural fibre jute has many inherent advantages like high tensile strength, moderate heat and fire resistance, lustre, long staple lengths and low extensibility apart from protecting the environment and maintaining the ecological balance. Jute is not only the cheapest but also the strongest of all-natural fibres and is considered as fibre of the future.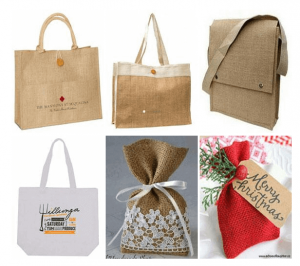 Please write to us with your requirements to impress your target audience with the eco-friendly business gift for all occasions.
[ninja_forms id=1]