We are excited to introduce the best utility gift you can consider for promoting your various products to growing children. The eco friendly pencil lets you with a very strong intention of making kids to focus on environment and develop their interest on growing organic plantation. The patented pencil confirming to European standard contains at one end organic seeds in biodegradable capsule. The vegetable organic seeds are tomato, chilli, brinjal, lady's finger and cluster beans. Whereas the flower organic seeds are sunflower, balsam, zinnia, verbena and cocks comb.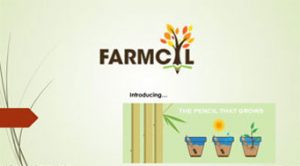 Pencil Which Grows
It writes like normal pencil with HB lead and name of the organic vegetable or flower seed printed on each pencil. Planting mark line indicates how much to insert inside the sand for best results. The seeds are enclosed inside a capsule which is completely degradable and starts to decompose and let the seed nurture into a sprout within 3-4 days of planting of the pencil inside the sand.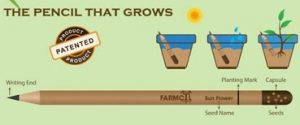 Pencil Planting Instructions:
Let the pencil be used till it becomes short and thereafter plant it sideways into the sand till the planting mark. Do not plant it straight and deep into the soil. Also ensure that the soil in the pot is loosely filled. Place the pot under sunlight and water it regularly so that capsule will dissolve and get exposed. You will notice after 5 to 7 days the seeds germinating and forming sprout. After 10 to 12 days the sprout grows in to a plant. Please check the images above and below for more clarity.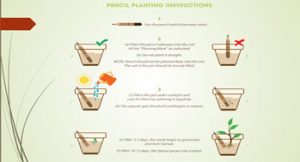 Packaging Options: –
Each box contains 8 assorted pencils with eraser and sharpener with instructions to ensure children can themselves use it. The pencils are equal combinations of both vegetable and flower seeds. We can customise your logo on the pencils and even on the boxes to ensure that you get full mileage out of your promotional activities. Each master carton contains 150 such boxes. We can do other customised packings as per your requirements.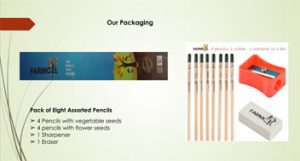 Eco Friendly: –
Let us impress upon small children the importance of organic farming and ecology preservation. This concept inculcates the habit of nurturing nature among tender kids. All good deeds should be started at tender age to carry forward as a task and good habit for the children.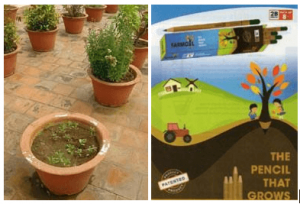 Unique Gifts: –
Every brand continuously looks for the unique gifting product to enter the minds and hearts of their target audience. As corporate gifts aggregators our sourcing team keeps looking for the ideal products to help you increase your sales through utility promotional gifts. Please feel free to write to us for your other unique requirements.