Kangaro Group is known in the market from 1958 for staplers, stapler pins, paper punches, pin removers, scissors and cello tape dispensers at various price points to suit all budgets. We would like to offer the full stationery range as corporate gifts for promotion of your various products with your logo branding for higher brand recall. An ideal business gift with high utility at desk for years to come for both the users and their visitors. Stationery gift sets are available in various colors namely white, green, blue, red, yellow, orange, light blue, light green & black in box and blister pack with your logo branding. We can customize the various combinations starting from 1 to 5 or more to ensure you get full mileage within your given budget.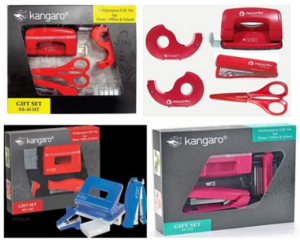 Kangaro Stationery gift set of 4 containing stapler, punching machine, staple pins & pin remover as shown below with customised branding and gift box ia available in white, green, blue, red, black, orange, light blue,
light Green & yellow color. You can take the combinations as readily available or as required.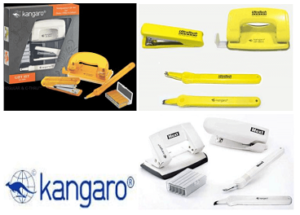 Kangaro stationery set of 5 containing stapler with pins, punching machine, pin remover with cello tape dispenser in blue, green, orange, red & black color. You can opt for scissors in gift pack box with your logo branding as premium stationery gift set. You have choice of various box packing as gift sets with your logo branding to impress the recipients.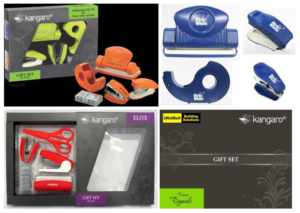 Stationery logo table tops with stapler, cello tape and flag or scissors available in color combinations of white with orange, green with white & red with white. For personal office stationery gifts select set of 3 as scissor, paper punch and stapler or any other combinations. You can select from the set of 2 as sturdy stapler and punch machine or trendy stapler & punch perforation machine depending on the target audience. Other stationery choices are scissors and gun tackers.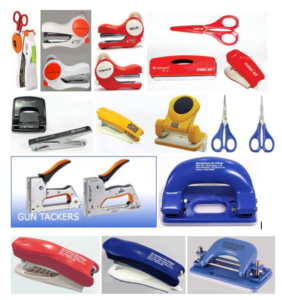 Single value blister pack available as easily foldable scissor for travel purposes, scissor with & without safety cover, trendy less effort stapler with built in remover for easy disposing the pins, paper punch and cello tape. Single value pack available in box are small stapler with key chain, pocket stapler with your logo, stapler punch combo, 360-degree stapler for ease of use in odd cases and staple removers.
Blister packs available as set of 2, 3, 4 & 5 value packs: – Pack of 2 with small stapler key chain and pin box or trendy staplers with pins. Blister pack of 3 with stapler, paper punch and pins in see through stationery set. Blister stationery value pack set of 4 containing staplers with pins, remover & punching machine. Blister trendy stationery set of 5 value pack containing stapler, paper punch, pins, cello tape and pin remover.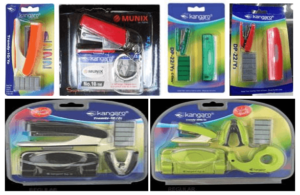 Please do revert back with your promotional objectives in mind so that we can help you select the best combinations of the stationery as corporate gifts for pleasant surprises.
[ninja_forms id=1]