Promotional Football in three sizes: – Football as promotional range in full size 5 in diameter of 8.65 inches can be customised as per your artwork with gift box as per images shown below. The promotional quality football is also available in size 3 with 7.5 inches' diameter. You also have choice of smaller size 1 in 45 centimeters in diameter of 5.75 inches with gift box to make it easy to distribute to your target segment. Promotional mini football in size 39 centimeters in diameter of 5 inches is also available with customized artwork and gift box. You also have choice of real leather football in genuine cow hide leather in full size 5. Apart from that you can go for retro look football in our antique range made of artificial leather again in full size 5. The full promotional football range will help you select the best sports merchandise to connect with the target audience and promote both your products / services and brand. Finally, you can also select from miniature football key-rings as shown below with further choice of miniature retro antique football keychain.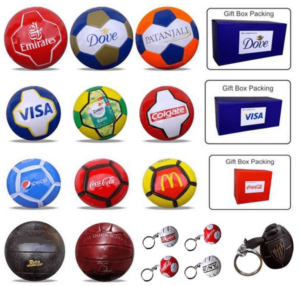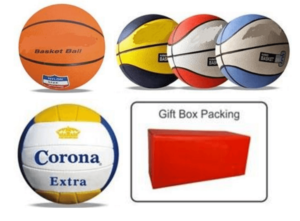 Promotional Basket ball and Volleyball range: –
Basket ball size 7 in rubber which is full size with diameter of 9.5 inches can be customised as per your artwork and can be specially packed in gift boxes with your brand logo. The smaller size 3 in rubber is also available in diameter of 7.5 inches as shown below. Volleyball is available in official size and weight with 8.25 inches diameter which again can be customized as per your artwork and can be delivered in gift boxes for faster distribution. Please see below the Volleyball with Corona branding and gift box.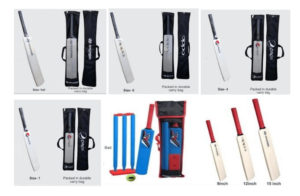 Promotional Cricket Bat Range: –
Full size wooden willow bat packed in durable with polyester or nylon full carry bag cover branded with your logo as per the images shown below. You also have choice of size 6, 4 and 1. Further you can go for promotional plastic cricket set with size 1 plastic cricket bat, complete set of stumps, cricket or tennis ball packed in clam shell packing with your branding. Promotional miniature plastic cricket bats are also available in size of 9, 12 and 15 inches.
Promotional Cricket & Tennis Ball with Your Multicolored Branding: –

Imagine your branded tennis ball being used by your target audience or kept on their table or in the showcase as a memento. You will get the same delivered in gift boxes with your branding. You also have choice of picking up miniature cricket leather ball size 0 with gift box packing with your branding. The miniature ball can also be used as key chains.

Sports Mementoes: –
Miniature cricket bat 12 inches with miniature cricket ball both on wooden base with your branding to increase the brand recall. You also have choice of regular size cricket ball or miniature cricket leather ball with wooden base with your branding for your esteemed clients as shown below.
Promotional Badminton Set: –
Please see below choice of complete badminton set with carry bag which includes 2 steel badminton rackets, 2 nylon shuttle cocks packed in a bag branded as per your customized artwork for maximum mileage out of your promotional activities. You also have choice of a single steel badminton racket packed in a handy poly carry bag.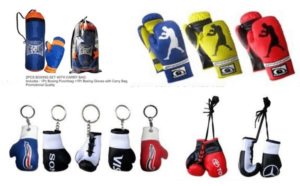 Promotional Boxing Range: –
Two pieces boxing set includes boxing punchbag with pair of boxing gloves with carry bag as shown below. Next you have choice of free size promotional boxing gloves set. For the game lovers, we also have miniature range boxing glove key ring and boxing glove pair as hanging car dangler.
Please feel free to revert with your customized order to promote both the sports and higher brand recall.
[ninja_forms id=1]