The plants we are using in terrarium are hardy and need least maintenance.  Aesthetic appeal is only relevant. Beautification, some connect to nature and feel good factor are only usefulness There are many medicinal and air purifying plants which can be provided but not in such small containers.
Fast, fabulous and fun, Terrariums – The Miniature Gardens, add zing to any table, office space and also form perfect gift for your loved ones. Terrariums are an indoor plant decoration in a seal-able or open glass container with plants and soil media inside them. These mini gardens help you create strong connection with nature and its vastness.
The plants create a micro climate, complete with oxygen and carbon dioxide generation, condensation and humidity. They are a delight for the lazy gardener. Filled with succulents, cacti, gravel, colored sands, pebbles and handcrafted artifacts, they are priced according to the size and shape of the container.
Terrariums need less water. So water them using a spray bottle, twice a week. And expose them to sunlight whenever possible, but don't put them in direct sunlight for long.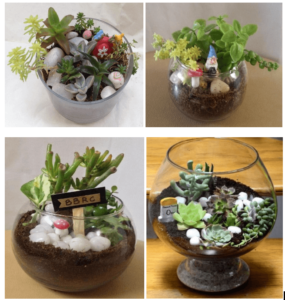 Ceramic Aloe Vera Pot: –
Vertical hanging Borosil, 4 inches' glass, terracotta, roly-poly, 5 inches square, 6 inches' plants displayed below are hanging Borosil, neck cut with branding, bucket & more.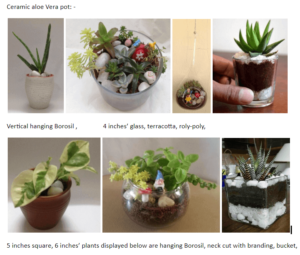 7 inches plant in wine glass is another option to connect with 8 inches' bowl, 10 inches bowl as shown below can be decorated to sit on the table of your audience.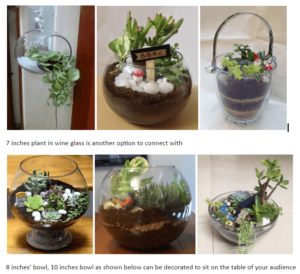 Please feel free to ask for connect with your product or company so that we can suggest you the relevant plant to convey your message to your target audience.
[ninja_forms id=1]