The best corporate gifts for the new year is a genuine leather or leatherette bound cover with provision for refilling it with diary, planner, notebooks or even writing pads. Depending on the budget and the target audience you can shortlist pure leather or attractive looking leatherette with the name of the person embossed at the front to make it personalised. Your company logo can be embossed inside to constantly remind the recipient about you. If the quantity is rather large, then you can go ahead with inserting customised pages in the beginning or at the end. Depending on your business the refill can have monthly inserts at the beginning of every month to remind the user about you and your range of products. Each page can be water marked with your logo, slogans, quotes to impress the user. The option remains with you to send each user the refill at the end of each year or leave on them to buy it from their regular stationers. Various readymade choices are given below at attractive prices with no minimum quantity conditions till stocks last.
Genuine leather premium notebook with Swarovski Pen in black and brown colour as per images given below: –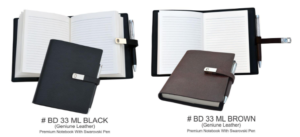 Multicolour dateless notebook A5 size with choice of 200 or 296 pages and even in designer choice of tan colour as per images given below: –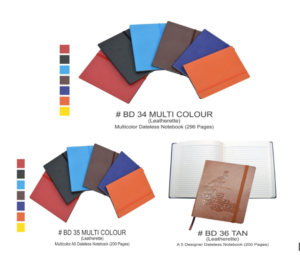 Premium notebook with Swarovski Pen in black and tan colour and choice of A5 five subject notebook with pen attached as per images given below: –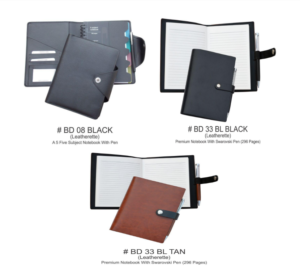 Executive business organizer with and without date in multi-color and specific tan color with Swarovski pen and choice of regular pen as per images given below: –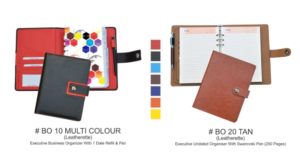 Multicolour A5 size dateless diaries with choice of 2 sections with pen, also available with wire-O and choice of elastic band for easy manoeuvrability as per images shown below: –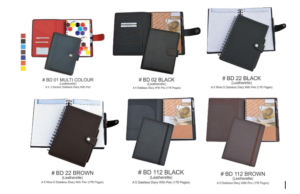 Multiple dateless diaries with pen in choice of brown and black colour, 168 or 204 pages, B5 or B7 size and button or elastic mechanism as per images shown below: –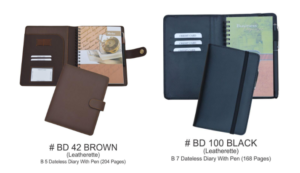 Customised diaries to match your house color etc.: –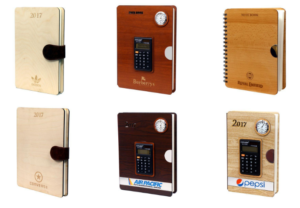 However, if you are the type who prefers to add customisation beyond just logo and names then please feel free to email us with what you have in mind. You can select from the choice of plastic and metal pen with a place to hold it to make it handier for the receiver. The durable top cover can be designed keeping your users in mind and to match your house colour by selecting from available swatches and if required mixed colours can be used to make it more versatile. You can also decide to add calculator, clock, pockets, sleeves and even a zip to make it secure while moving around. The size can be from a typical diary size to A4, A5, A8 or full scape with handle too to make it a handy carry case. If you have higher budget then you can even ask for specialised diaries for the engineers, architects with wooden tops to impress both the user and all the other people they meet around the year.