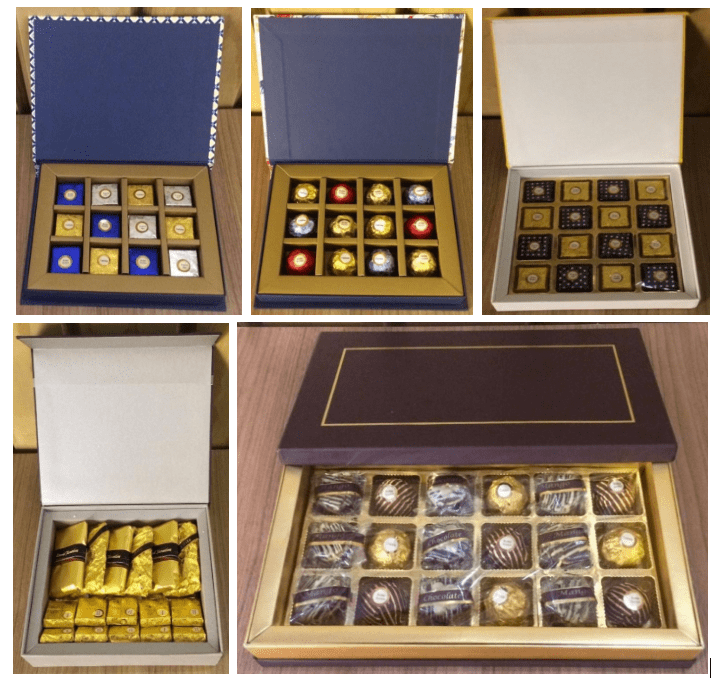 In India the festival starts from Ganesh Chaturthi and continues up to the beginning of New calendar year! Companies fixed a particular festival for distributing gifts depending on their roots, locations and client base to celebrate the joys of the festival. In eastern India Durga puja is the main festival whereas in Kerala the same turns into Onam during August or September depending on the calendar. However, in Eastern India Holi is also the occasion when companies distribute festival gifts. Now a day we get good enquiries from all companies for celebration of Id and Ramazan too proving awareness and further creation of a united face of India. In Karnataka most of the companies prefer to gift to employees during Ayudha Pooja which also coincides with Durga Puja. Diwali/Deepavali is celebrated all over India but Hindi belt prefers to give gifts around this occasion and is spread all over Indian states.
The gifts are mainly given to corporate employees, customers, associates and well-wishers! Earlier practice of distributing traditional sweets has changed into new practice of dark Belgian chocolates due to multiple factors. Presentation, heightened acceptance and consumption of chocolates over a prolonged period of time due to longer shelf life of the product has increased the demand and distribution of the product.
Another exciting factor is that you can decide on various combinations to arrive at the various budgets for different set of receivers to maintain the uniformity of gifts but at various price points. The shape, taste, size and contents can be changed as per the taste of the recipients. Even the packaging and wrapper can be designed to get the maximum mileage out of the branding and awareness creating activities.
The imprinting of logos helps in giving the identity of the companies and helps in silently reminding the target audience about your products and enhanced brand recall. Few suggestions for branding activities is given below for your understanding of the various choices at varying price points.
In this series of festival gifts every week we will cover one product range to give you insights into what all can be done with one product range say chocolates. And every week we will cover one such product range to help you shortlist and decide the most ideal festival gifts for this season. In chocolates you can add up idol of the Ganesha and Luxmi or Ganesha alone if that will excite your recipients. You can even add the variety of chocolates by adding crackles, nutties, chocolate coated biscuits etc. images of which are shown below for your understanding of the products range better.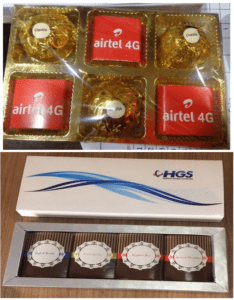 The shelf life of the products can be from 2 weeks to 3 months depending on the contents and your requirements as per your budget for enhancing the experience of your recipients this festival. Please feel free to come back with your queries and concerns so that the same can be tackled. Our expertise is consistent quality irrespective of the very large quantities of boxes and timely delivery due to excellent process at the factory for the appreciation from you and your customers.