When we receive a gift from our business associates our first reaction is of pleasant surprise and keeping this insight and experience in mind long back we decided on our logo with the following tagline Sparket Corporate Gifts for Pleasant Surprises.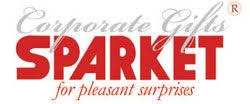 Over the years this slogan has become our promise to all our employees, consumers, customers, partners, vendors and all other related business associates. We have been asking this question whenever we are confused or at the crossroads to determine the next course of action for all of us at Sparket. It can be with respect to either pricing, deliveries, promises and even deciding whether to pick up the order at the given prices or to say no as the overall experience at the end must be great for all involved. To the best of our abilities and with the given business limitation we try to live up to the promise of for pleasant surprises.
We have learned over the years to ask four questions to determine next course of action for all of us as team at Sparket!
Is it good for the colleagues which also means the team?
Is it good for the customer?
Is it good for the Company i.e. Sparket?
Is it good for the community?
And if the team at the front feels that they are satisfied with the answers then they can just decide to go ahead and execute as they are empowered to serve to the best of their abilities!
We will be completing 30 years of our operations on October 29, 2016 and are very happy that we are constantly growing because all involved understand that we are a committed professional team. In spite of working in the fragmented gifting business industry our team is capable of solving the various new business challenges and can execute even most difficult tasks because of working as an empowered liberated team. The team not only provides the best of the chosen products and brand new concepts but are also capable of sourcing and executing various odd requirements of the customers to their total satisfaction due to increased bandwidth as one unified team.
However, nothing like a constructive feedback from the customers, vendors, principals and employees to keep improving and taking corrective actions. There are times when we have failed with the delivery commitments but then always we have tried to ensure that our intentions remain pure. Even few times have goofed up due to various understandable reasons but have always ensured that our intentions remain pure and thus could explain to our customers the reasons for the shortcoming and next course of action planned to solve the crisis.
We understand that our challenge is many products, manufacturers, operating standards and that every customization is different and the operating format keeps changing but our natural guidance has been good intentions and purity in our dealings with all our customers. This has built the confidence of the employees in the company which has further increased the confidence of our vendors in us and thereby blanket dependable trust of the customers in the team of Sparket which ultimately ensures that we remain true to our promise of pleasant surprises at all times as corporate gift insurance.
[ninja_forms id=1]