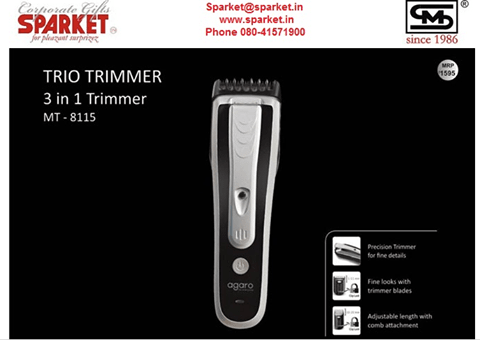 3 in 1 Trio Trimmer is an ideal gift for the young gentleman who will appreciate it as a utility gift and use it round the year early morning while getting ready. The gift is ideally short listed when target audience is predominantly male between the age of 25 to 50 years. Good for employees, young professional clients and young consumers of your products whom you would like to excite by offering the above gift.
The salient features of the 3 in 1 Trio Trimmer is as follows:-
Precision trimmer for fine details
Fine looks with trimmer blades
Adjustable length with comb attachment
What is a 3 in 1 Trio Trimmer?
If one likes to keep the beard then he needs to manage it by maintaining the fine look with precision details.
How to Use Three in One Trio Trimmer?
You have two choices either rush to a saloon every time which can be very expensive, troublesome and time consuming or carry a trimmer with you to maintain your beard.
Specifications of 3 in 1 Trio Trimmer
Handy set easy to carry in your toilet bag and with you as you travel all over.
Available Price Range
The MRP of the product is Rs.1,595 but on bulk buying it will be offered at an attractive price depending on the exact branding, customized packaging and quantities.
Minimum Order at Sparket Corporate Gifts Centers for Wholesale Price:
Minimum order of 50 will be appreciated and in special cases smaller lot can be entertained by us.
How you will benefit from Sparket Corporate Gifts
We will try to understand your objective of gifting and products already shortlisted by your team and help you further fine tuning the requirement within your given budget and time frame. To help you achieve the parameters set by your team we will show you physical samples with finished look to zero down on the gift. Once you and the team are confident that everything is in order then you can place your order comfortably and can start focusing on other challenges to achieve your allied objectives.
For More Custom Gifts Visit: http://www.ocpindia.com/
Visit & Buy Online from Sparket E-Commerce Website: http://www.sparket.biz/