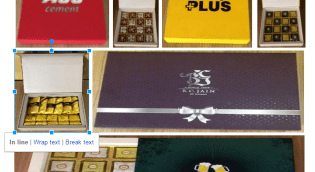 The old tradition of distributing sweets is slowly dying as more and more companies are opting for customised Belgian dark chocolates. The advantage is multi fold as the Belgian customized chocolates corporate gift can be preserved and eaten over a three-month period. The various flavours and stuffing of dry fruits inside the chocolate takes care of gifting at all budgets as you can reduce or increase the number and weight of the chocolates to arrive at the sanctioned budget. Please see below various packaging and branding options to pleasantly surprised the recipients.
The shape of the chocolate can be square, oval or customised and the wrapper can be customised too to connect with the target audience and pass on the desired message. We can even customised the particular flavour or do stuffing with particular fruits to connect with your celebration theme.
The packing can start with 4, 6, 8, 10, 12, 16, 18 and various candles, idols etc. can be added depending on your preference and budgets. We are also designing the festival gift hampers in trays or bamboo basket as per your various desired budgets to achieve the end purpose.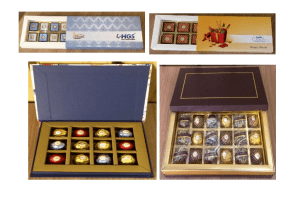 Apart from festival times and New Year chocolates can be given on birthdays, anniversaries, completion of services of 5 or 10 years or celebration times and even to connect with your end consumers, customers, employees, partners and associates. For example, Vodafone Delhi distributed 2000 chocolates to their customers who moved out due to portability of individual phone numbers. Vodafone distributed boxes with the individual's mobile number say 98100 12345 made of chocolates and printed message "we missed you" to touch the emotional cord! We delivered each box during last July to individual customers through our logistics partners. Good chances are that whenever the subscriber is once again thinking of switching he will consider Vodafone as first choice!.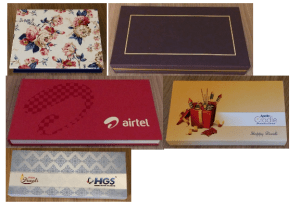 Customised chocolates have become a cottage industry for housewives to keep themselves busy by manufacturing the same at home. But the challenge is for large corporate where their requirement is huge and needs to be delivered in a short time span with consistent quality and timely delivery as festival dates are fixed. Our strength is that over the years we have mastered the art of producing, packing and delivering within the committed time line with assured quality due to good processes and trained manpower in place. The major challenge we face is with regard to customised expensive boxes as that takes a long time to make and thus would request you to place your order well in advance. Though cardboard boxes are not a challenge and large order deliveries can be done at shorter notices too.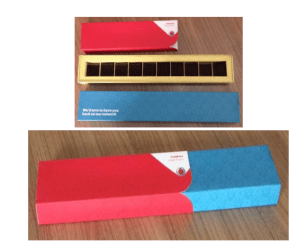 We have clients who take 100 to 200 boxes every month for birthdays and anniversaries to distribute during that particular month to their employees. Airtel gave the above 4G wrapped chocolates to all their existing 4G customers thanking them for being with Airtel and thereby effectively blocking the movement of their competitive brands! Similarly, Micro Labs distributed the below box to doctors at the conference to celebrate the occasion.
We have over 200 large corporate customers and out of them over 50 have already placed their orders for chocolates with us. We can cater to your all India requirements and look forward to your inquiries during the upcoming festival and would like you to taste our samples before deciding on any other chocolate vendor. Once you taste our chocolates then you and your team will understand the difference between the various choices available in the market and will be in a stronger position to take a final call on where to place your valued order. After all you are spending money and distributing chocolates to convey best wishes and pleasantly surprise your recipients!