Happy to announce launch of GIFT INDEED marketplace for manufacturers and resellers on Saturday December 17, 2022 at Ebisu Palace & Studio, Bangalore, India in the presence of title sponsors of BANG2022 Startup & Launch Pad Arena – We Founder Circle (WFC) and invstt team along with other seasoned investors namely CA Gaurav VK Singhvi, Neeraj Tyagi & Parag Dhol.
Our presence as corporate gifts seller on the first page of organic search invariably ends up in receiving more calls from hungry sellers (than buyers) to promote their unique products to corporate.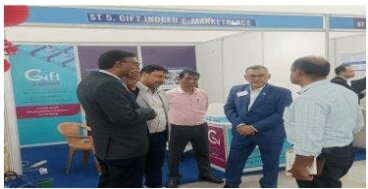 The seller includes upcoming eCommerce products, brands, manufacturers, importers, distributors to showcase their products as unique gifts for more awareness with trials to generate demand through repeat consumers. One need to simply search to shortlist these unique products through multiple filters like category, budget, keywords etc.
The Mission is 'To bring smiles back into the act of gift giving through a functional & memorable platform' that aims to recapture the joy of receiving a gift, much like we felt when we were children. Gift giving should not be a compliance or mandatory activity but as something that evokes an emotional response- appreciation, love & thoughtfulness.
The Vision is 'To blaze a trail as a unifying presence for gift resellers, brand owners and corporates' by creating an ever-evolving platform that is seen as the place to be for those involved in the corporate gift giving. The platform is defined by utility, ease of use, efficiency, and customer service.
Tagline 'Spark a Smile' as that is the first reaction when one receives a gift!
"[ninja_forms id=1]"