A health and wellness focused brand EVOCUS H2O is a 100% natural premium alkaline water with 8.5+ pH, 70+ natural minerals, zero sugar, zero carbs, zero colour and zero caffeine with superior hydration, better detoxification, improved metabolism, heightened alertness, reduced acidity & acid reflux in easy to carry packed bottles in partnership with GTX Technologies, USA with presence in South-East Asia, South Africa, Gulf countries, Australia and New Zealand.

EVOCUS is India's first black alkaline water, a revolutionary, new-age, multifunctional nutrient water, that gets its unique black colour from nature's 70+ natural minerals, sourced from the depth of the earth. 100% natural black water delivered to you, untouched by human hand, bottled in a fully automated, sterile and a state-of-the-art, BRC certified plant.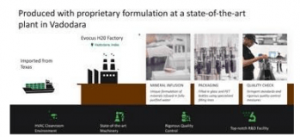 EVOCUS provides with superior hydration, better detoxification, improved metabolism and heightened alertness, all through the day, day after day. EVOCUS is a feel-good factor, health signature, style statement and game changing water with a difference available at all major airports, modern trade, 5-star hotels, MNCs apart from high end general trade in around 20 cities. Emphasize is more upon digital means of promotion like social media, premium music festivals, B2B events, global F&B events, sports events and auto shows.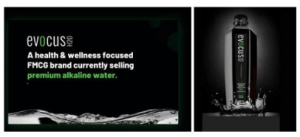 Immediate benefits of EVOCUS H2O are that it replenishes energy while reducing acidity with superior hydration. Long term benefits are detoxification while boosting immunity and metabolism with heightened alertness.

The black alkaline water enriched with 70+ minerals with superior hydration, better detoxification, improved metabolism, heightened alertness, reduced acidity & acid reflux is available in 250 ml & 500 ml PET bottles with MRP of ₹60/- and ₹100/-. Also available in 330 ml glass bottle with MRP of ₹150/-.
Positioned as a premium healthy water for drinking, cooking, green tea, coffee spa and to develop unique alcohol, cocktails, mocktails or to carry along with you to yoga, gym, sports and during travelling and even at wedding and parties. Targeted at mid-to-high income urban individuals such as professionals, homemakers, business owners, students, millennials and active youth.
Unique minerals sourced and extracted from earth's crust from rare deposits and thus product created under guidance of Mineral Extraction Refinement Texas, USA which provides scientific know-how and technical expertise for product development and thereafter exported to India. Certified by WHO-GMP, ISO 9001:2015, ISO 22000:2005, HACCP & ISOQAR.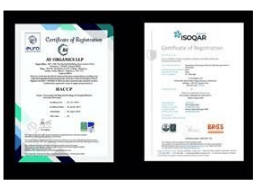 To name a few testimonials received from Pooja Makhija the celebrity nutritionist, Ambica Anand the NDTV anchor, Yasmin Karachiwala the celebrity fitness expert, Ankita Rai the lifestyle influencer, Sonam Bajwa the Indian model and the twin sisters who are Arjuna awardee as mountaineers.
Please do get in touch with us for your promotion requirements to impress the recipients and to get in the minds and the heart of your target audience.
"[ninja_forms id=1]"