Pioneer and current market leader of "Ready-to-Eat" non-chip / non-ethnic snacks manufactured in multi-facility operation can produce a wide variety of having different shapes, textures and tastes. The core business of VFSL is the manufacturing of extruded and pelleted, extruded and expanded, tortilla chips, sauce & dips, ready mixes, ready meals, pastas, jellies & custards etc. Choose from PEPPY Cheese Balls, Tomato Discs, Multi Pops, Corn Rings & 3D Bites or Piknik Tomato Chilli & Puffs or SENOR PEPITO TORTILLA CHIPS Jalapeno, Piri Piri, Tikka Masala, Herby Salsa & Nacho or Simba Ring-A-ring, Onion Rings & Chip Stix or PEPPY ka zaika Ready Mix or VFSL Pasta.
BUHLER-Switzerland, Heinz Schaaf Nahrungmittel-Extrusions Technik-Germany and Pavan – Italy are well known international manufacturers of food processing equipment. The production facilities in multiple locations such as Thane, Bhiwandi, Puducherry, and Gwalior are ISO 22000: 2005, ISO 9000 and HALAL certified. With an all India presence and distribution strength of over 1100 stockists spread across the country currently the products are being sold in more than 3.5 lacs counters.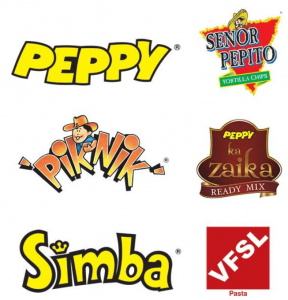 PEPPY CHEESE BALLS: –
An eternal favourite with all snack lovers irrespective of age satisfies a craving so cheesy and delightfully sinful without being unhealthy with 30% less oil than regular potato chips. Made from whole corn and using an elaborate extrusion process balls are coated with a lip licking cheese flavour. Their unique USP, a melt-in-the mouth feel, makes gorging on Peppy Cheese Balls, such an out-of-the world experience. Peppy Cheese Balls are baked and not fried with no onion & garlic and are available with MRP of Rs.50/-, Rs.30/-, Rs.15/-, Rs.10/- and Rs.5/-.
PEPPY MULTI POPS – ACHAARI CHATKAA: –
For guilt free snacking with a completely new twist to it. Baked and not fried option with a goodness of a multigrain mix topped with traditional pickle flavour makes it an extremely tempting offering. Along with the baked multigrain offering, this snack also packs in the advantage of being a dairy and gluten free with MRP of Rs.50/-.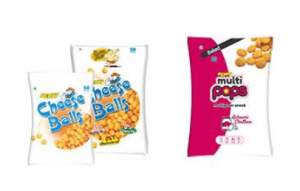 PEPPY TOMATO DISCS: –
One of the earliest ready-to-eat snacks launched in India are everybody's favourite. Made from a combination of wheat, soya and tapioca are protein enriched crisps and guarantee taste & health in every bite with 25% less oil than regular potato chips and are available with MRP of Rs.50/-, Rs.30/-, Rs.15/-, Rs.10/- and Rs.5/-.
PEPPY 3D BITES-SAMOSA FLAVOUR: –
A pellet-based snack in a brilliant way to sort your hunger pangs with MRP of Rs.5/-.
PEPPY 3D BITES-TIKKA MASALA FLAVOUR: –
A pellet-based snack in a traditional sensational taste that makes you want more of it with MRP of Rs.5/-.
PEPPY RINGS: – is corn based extruded product with Mexican chilli flavour with MRP of Rs.5/-.

PIKNIK TOMATO CHILLI: –
These mouth-watering tomato chilli sticks are healthier and crispier thereby favourite of one and all made from wheat, edible starches, potato flour & all-natural ground spices. Piknik is sweet, spicy and fulfils every fantasy of your taste buds with 25% less oil than potato chips ensuring that you don't put on those extra kilos, making it fit for consumption at your convenience with MRP of Rs.50/-, Rs.30/-, Rs.15/-, Rs.10/- and Rs.5/-.
PIKNIK PUFFS-RED HOT: –
The Red Hot would satisfy die hard spice fans as designed by experienced in-house flavour specialists keeping in mind customers' expectations for a tasty and crunchy snack with MRP of Rs.5/-.
PIKNIK PUFFS-CHILLI CHEESE: –
A traditional puffed extruded snack with flavours that will suit all taste buds as it brings about the mild spiciness with a burst of cheese with MRP of Rs.5/-.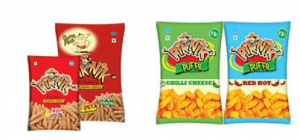 SENOR PEPITO JALAPENO FLAVOUR: –
The earliest tortilla chips to be launched in India is made from whole corn in triangular shape in the authentic Mexican way and has a fat content of around 30% less than potato chips. It tastes best when served with Senor Pepito salsa sauce with MRP of Rs.100/- & Rs.50/-.
SENOR PEPITO PIRI-PIRI FLAVOUR: –
Tortilla chips with hot chilli pIri piri has an amazing flavour with MRP of Rs.50/-.
SENOR PEPITO TIKKA MASALA FLAVOUR: –
The Tortilla chips-based snack in a sensational taste that makes you want more of it with MRP of Rs.50/-.
SENOR PEPITO HERBY SALSA FLAVOUR: –
The Tortilla chips based with Mexican herbs & tomato puree, gives a very good taste with MRP of Rs.50/-.
SENOR PEPITO NACHO FLAVOUR: –
Tastes amazing as made in the traditional Mexican way as the best corn is ground into a soft dough then shaped, lightly toasted and quickly fried before being seasoned with delicious Nacho flavour with MRP of Rs.100/-.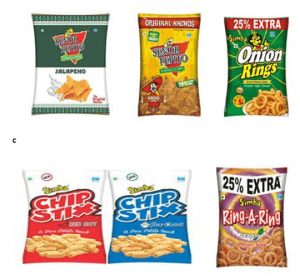 PEPPY KA ZAIKA READY MIX: –
Indian snacks are prepared using the best ingredients under the stringent quality control procedures, to retain the authentic flavour of home-cooked food. Ready to be served in as little as 10 minutes, a wide variety of delicious, wholesome Indian snacks to choose from. The choicest range of popular of home-cooked food items so that you will always have something to prepare in a matter of minutes to satisfy your hunger and tease your taste buds. Available Idli, Dosa, Vada, Sambar, Rasam, Upma, Poha, Dhokla, Khaman Dhokla, Gulab Jamun, Sheera and Kheer within MRP of Rs.60/- to Rs.100/-.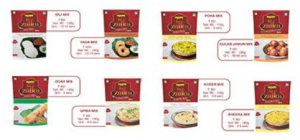 VFSL PASTA: –
Continuing with tradition of choosing the best primary ingredients and delivering pristine products we do aim to set standards for our pasta production. Quality is perceived in the blink of an eye and one look at our products will feel the purity of our products. All products available in 1kg & 5kg.
PEPPY INSTA: –
Jelly is a perfect dessert which can be had by itself or in combination with Peppy Insta flavoured Custards as 100% vegetarian and gelatine free sets at room temperature with choice of Strawberry Jelly & Raspberry Jelly, Strawberry Custard & Vanilla Custard. PEPPY KA ZAIKA READY MEALS: – are 100% vegetarian and contains no preservatives, no added colour, flavour and MSG, are trans-fat and cholesterol free. Our state of the art kitchen and master chefs ensure that the goodness and freshness is maintained in a special 4 layer retort pouch to give you that fresh home cooked taste in Aloo Matar, Chhole, Dal Makhani, Dal Tadka, Navratan Korma, Paneer Makhani, Pav Bhaji, Rajma and Veg Kolhapuri. PEPPY INSTA SPICE MIXES: – instant gravy mixes are gluten free, suitable for vegans and contain NO MSG or chemicals prepared using refined edible vegetable oil to make fresh and delicious dishes in Biryani, Paneer Makhani, Chhole Masala, Jalfrezi, Butter Chicken, Tikka Masala, Goan Curry, Rogan Josh.
"[ninja_forms id=1]"