To save time and make it easy for you to shortlist the best possible corporate gifts we have made various files with varying budgets. Please do check our earlier files which are as follows: – Corporate gifts within Rs.50 budget, corporate gifts budget Rs.50 to Rs.100, corporate gifts budget Rs.100 to Rs.200 and corporate gifts budget Rs.200 to Rs.300. The prices are without branding which depends on your artwork, GST as applicable and freight on actuals. Please do send us your shortlisted products so that we can send you the physical samples for your final selections.  

Mementos, plaques & certificates: –
Please select the memento, plaque & certificates with or without clocks to impress the recipients. Choice of either printing, engraving or inserting printed certificates.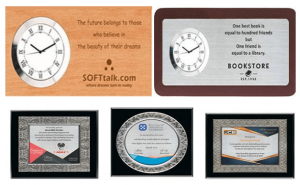 Table tops: –
We have provided you few choices of the desk top gifts and can send you more such choices at your doorstep once you shortlist that you would like to go for the one as shown below.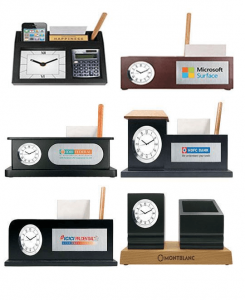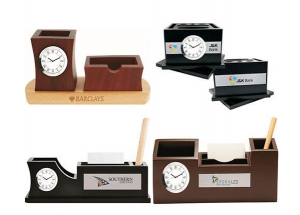 Wall clocks: –
Please let us visit you with the various physical wall clock samples if you have narrowed down below item for your esteemed recipients.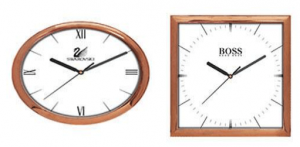 Photo Frames with Clocks: –
Photo frames with clocks makes it personalise for your target audience with utility options to keep on his or her table. Bubble clock photo frame design with 3 beautiful LCD circles showing date, time and temperatures with count down timer and 9 music alarm modes. Heart style 3D illusion clock with dual photo frame on both sides with 2 photos with size of 54 x 54 mm in red colour as shown below.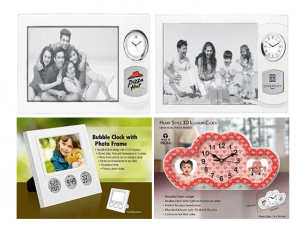 Gents & Ladies Pair Watches: –
Please select the model so that we can show you the box packing and branding options to make it the perfect gift for the couples.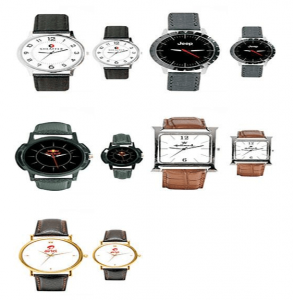 Desk Clocks: –
Sand timer clock with auto flip display allowing it to be used from both sides with seconds represented as particles of sand with large buttons and falling sand. Exclusive grey silver metal table clock.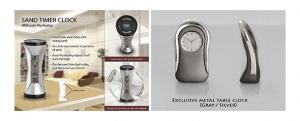 Digital Desk Clocks with Large Displays: –
Innovative new display with flipping effect called flip display clock with touch light, snooze, alarm on & off function, humidity, temperature display and time adjustment dial works on 2 x AA batteries. Large display clock with both table and wall options with features of calendar, backlight, humidity and temperature. Choice of automatic night time sensor with 3 x AA batteries with power switch mode when USB is inserted, 100 years calendar with date and month display and function of 0 – 50 degrees temperature display. Vista backlight clock with convinient backlight function for use at night, with temperature 0 to 50 degree display, countdown timer for upto 24 hours, with birthday reminder function by playing birthday song, 100 year calendar and choice of 9 alarm music with option of special mute button. Large sensor clock with backlight and temperature which turns on mildly automatically based on ambient light works on both 3 x AAA batteries and USB. Temperature display functions from 0 to 50 degrees, 100 year calendar which displays date & month, touch controlled backlight through touch sensor with smart power switch mode when USB cable is inserted.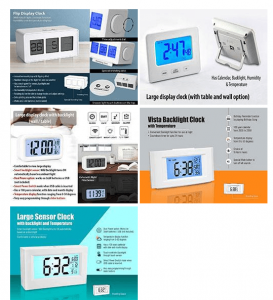 Wireless Speaker & TypeShape Toolkit: –
Wireless stereo speaker with single button operation just place any phone on the top to make it work as it catched music through the phone's speakers. Upto 19 hours of continous playback on 3 x AA batteries. Compact tyre shape toolkit set with 20 pieces as shown below.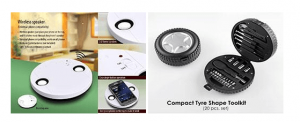 Gift Sets of 2, 3, 4 & 5: –
A5 diary, visiting card holder, pen and keychain in a gift box in various shapes and colours as shown below.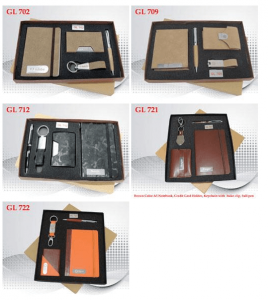 You have choice of replacing visiting card holders with table clock as paper weight or multiple card holder as shown below or even adding life time calendar as set of 5 gifts with screen printing, engraving or photo quality printing.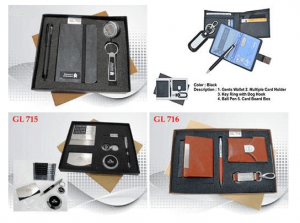 Gift set of 3 with multiple card holder, key ring with dog hook and ball pen or choose with money clip wallet in stead of card holder or gents wallet with card holder and keyring or just the wallet and the belt.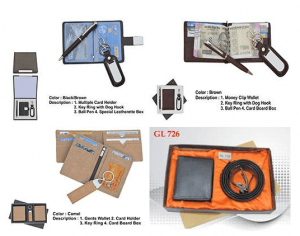 Electric Lunch boxes: –
Electric model with 3 steel containers to warm your food at the lunch time. Microwave usable food grade 2 container lunch box with half turn locking mechanism in blue and red colour with insulated plastics to keep food hot or cold for long hours. Refrigerator friendly with detachable carry strap as shown in second image. 4 food grade plastic container with air tight lid and locks for spill and leak proof called Zippy delight lunch box with insulated outer bag to keep food warm or cold for long duration with zipper pocket inside for keeping spoons etc.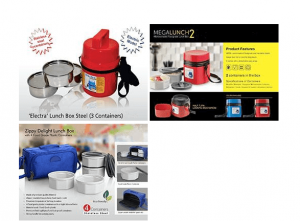 Household Gifts: –
Salt and pepper set, cocktail shaker made of food grade stainless steel to make sure that the appreciation of the gift is achieved with your logo branding. Please ask for more choices if your gifting purpose is to involve the whole family.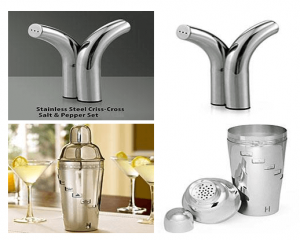 Gents & Ladies Wallet Sets: –
in black, brown and tan colour in different designs with your embossed logo inside to silently remind the recipient about you but not hampering the slightest chances of receiver not using it due to subtle branding. Choice of couple set is also available to fulfill your corporate gifting need.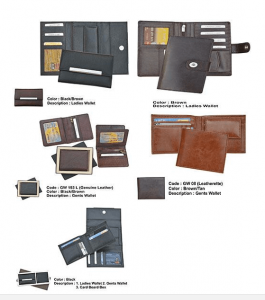 Pen Sets: –
Please select from the various combinations of the pen sets to achieve your objective of impressing your esteemed clients with your branding on the box and names of individual recipients on the single or two pens.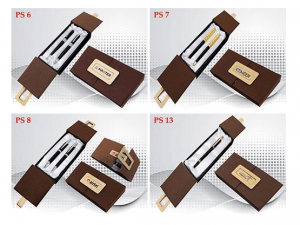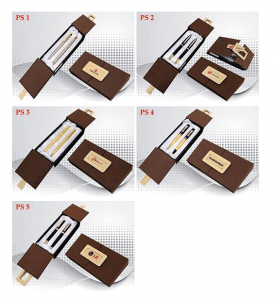 Please keep looking out for our next series of articles on budget beyond Rs.400. Do write to us with your budget and items you have in mind with quantities to suggest various options and source it for you as our aim remains SPARKET Corporate Gifts for pleasant surprises.
"[ninja_forms id=1]"