Stainless steel range of cade in steel including tableware, kitchenware, cookware, home décor, office accessories, puja thali and barware. The advantage of stainless steel as a gift is that for years to come it will be used by the recipients and you will be part of their everyday life.
Puja Thalis: –
Human beings are emotional and best way to touch and impress them is to offer a puja thali during Deepawali and win hearts and mind of all recipients. Depending on the budget you can decide on a small or big thali.


Gift sets: –
Depending on the occasion and budget you can decide to give stainless steel gift sets to impress the employees, associates and well wishers on annual day, festival time or as return gift. You can select from choice of set of pudding bowls, soup bowls, dessert bowls, fruit bowl etc.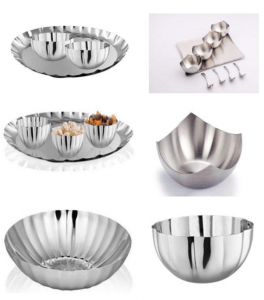 Beverages Range: –
starts from drinking water to cup of tea, coffee or milk in the steel mug with friends and relatives. The choices as shown below are jug with 2 to 4 to 6 glasses, cup and saucer set. You can decide to run the scheme for channel partners with lower qualifying options and as they stretch themselves to keep collecting more and more to make your scheme a grand winner apart from winning themselves.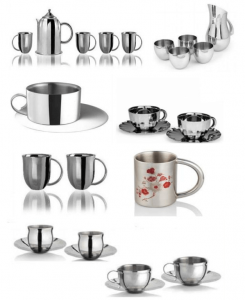 Dining Range: –
From olden times Indian households are crazy about stainless steel items and FMCG companies have ensured that they provide everything in steel starting from spoon, to bowl, to dinner plate to glasses, mugs to increase trial of their products to increase new sales. Not only consumers even the channel partners love to take home the stainless-steel dinner sets to home to excite families and their close relatives.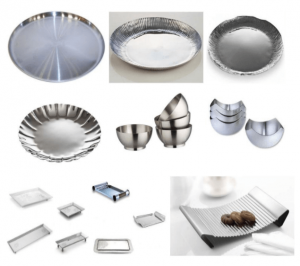 Bar Range: –
the set consist of stainless steel ice box, thong, stirrer, napkin holder, peg measure with shaker as cocktail accessories set, beer mugs and ashtray. The branding can be done as laser etching or screen printing to ensure that your product logo stands out. Ideal gift for senior executives to add to their personal bar and to remember you every evening.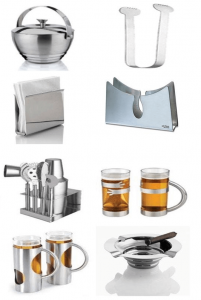 Table Top: –
Stainless steel life time table calendar with clock and space for your branding to sit on the desk of your target audience to keep reminding them about your products and services. Coaster sets, pen sets, mobile holders, photo frames etc.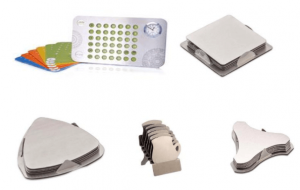 Please revert with your customised requirements so that we can suggest you choices within your given budget to pleasantly surprise your esteemed recipients.
"[ninja_forms id=1]"