The GOQii wellness ecosystem consists of a wearable fitness tracker with certified personal coach for every user and a MBBS / MD doctor for consultation with a Karma platform to fulfil a social cause. The wearable fitness band collects users' activity data and shares it with a designated coach. Users get to keep the device which is sate of the art fitness band which is much more than just a tracker and only pays a subscription fee for personalized coaching.
To keep yourself continuously motivated, connect with both your qualified personal coach and doctor who notifies you with target oriented approach on daily goals to ensure good habits. If required also consult with a doctor for health summary while accessing to all your health and diagnostic data in one place which is very useful for reference and maintaining your medical history. Individuals can choose a social cause from a wide range and thereby impact lives of others too.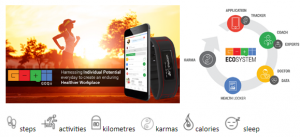 Features of the GOQii Fitness Tracker: –
Step count, kilometer count, the active time, calorie count, karma points, date & time, discrete alarm, water resistant, 2 weeks battery life, auto sleep tracking, integrated USB for charging and call / text / WhatsApp / email notifications.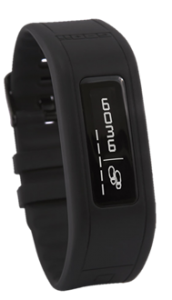 The App: –
Voice / chat with the coach, water / food intake logs,  doctor consultation through the app, health risk assessment – get a health score, social media networking page for employees, health locker– storage of health/medical records, reminders on exercises, water / food / medication intake, etc. quality / tracking of sleep (segregation of deep sleep from the disturbed sleep) tabs on physical activity ranging from cycling, jogging, yoga, meditation, stairs, weights, hike, elliptical, sports, etc.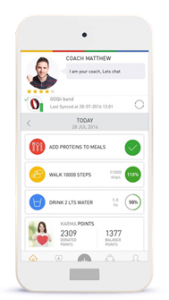 Qualified, Specialized, Experienced Coaches: –
Our coaches include nutritionists, personal trainers, and wellness experts with varying specialties that range from weight management, endurance and strength training, marathon training, yoga, stress management, illness control and more.
GOQii Certification Process: –
Rigorous 3 Week training program to establish credentials & readiness while ensuring quality 1:1 personal engagement with all employees.

Bachelors in Physiotherapy, Masters in food science and nutrition, Post Graduates in Applied Nutrition, Certified in antenatal and postnatal exercises, Certified in Naturopathy and sports nutrition
Lifestyle doctor is a qualified physician MBBS / MD who will be available on the platform for a medical consult. Your doctor works with your personal coach to analyse and design the right path for you. Consultation via call, share medical history and get right medical advice, take health risk assessment and get a health score, manage emotional health
The Health Locker: –
With health locker users can now keep track of all their health records in one place and available to them online through the app. The new diagnostics feature will allow users to book tests via app, have the samples collected from home and get the results directly into their health locker. Enter all your vital health data, access it from anywhere, track your history based on past and current data, click images of your prescriptions and upload into the locker, click images of your recent tests and store them.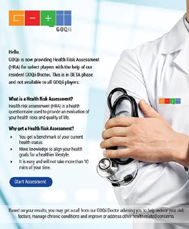 Please feel free to ask for the demonstration of the fitness tracker at your premises as per the convenience of you and your team members.
[ninja_forms id=1]