We are leading suppliers of copper utensils which is highly beneficial for health and use 100% pure copper to design entire range of products. Copper reflects the legacy of a 400-year old metal craft. It is the outcome of a creative collaboration to evolve a contemporary range of copper products that cater to the present while retaining intact, the heritage craft process.  The highly skilled artisans through their craft and design give choice to ultra-modern consumers who believe in both handcrafted goods and their natural properties for healthy living. Designing metal ware products especially using copper in various categories like kitchen essentials, serve ware etc.
Leave water in copper water bottle for 8 hours overnight and drink 2 glasses in the morning on an empty stomach. The benefits of drinking 2 glasses of copper charged water every morning are as follows: –
Kills bacteria,

fungi and viruses as copper is a natural antimicrobial.

Remedy for arthritis and joint pains –

Copper's anti – inflammatory properties help in relieving aches and pains caused due to inflamed joints like in the case of arthritis and rheumatoid arthritis.

Helps the digestive system –

Copper stimulates the rhythmic contraction and relaxation of the stomach that helps food get digested, cleanse and detox your stomach, regulate the working of your liver and kidneys, aids in the elimination of waste and absorption of nutrients.

Stimulates your brain –

Copper helps in the synthesis of phospholipids that are essential for the formation of myelin sheaths that acts like a conductive agent – helping the flow of impulses.

Enhances skin health and complexion –

Copper is the main component in the production of melanin – a pigment that mitigates the colour of your eyes, hair and skin.

Helps maintain cardiovascular health –

Copper helps lower cholesterol and triglyceride levels. Copper helps prevent the accumulation of plaque and has the documented effect of dilating blood vessels to allow for the better flow of blood to the heart.
Copper Bottles
Copper bottles are available in joint less, hammered, stainless steel chrome and with designs as per images shown below in various sizes of 600 ml, 850 ml and 1000 ml capacity. You also have choice of copper thermos.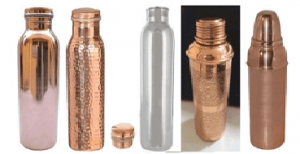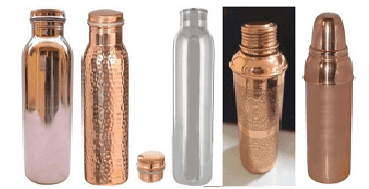 Copper Glasses & Mugs
Copper glasses & mugs are again available in hammered type, with design done on stainless steel glasses with capacity of 300 ml. Copper mugs hammered types are available with capacity of 400 ml.

Copper Jugs
Copper jugs are available with choice of designs, hammered type, with stainless steel outside and even plain copper jug.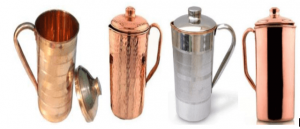 Copper Gift Sets
Copper gift sets available as a set of one bottle with either 1 or 2 glasses.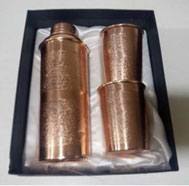 Water storage products are without any coatings which ensures that the water you consume remains in direct contact with copper. Please replace the water stored in your copper container every 12 hours and avoid storing any liquid apart from water as it is unsafe to expose copper to food acids. Clean your copper utensils daily with a soft cloth with detergent or metal cleaning agent and avoid using abrasive cleaning pads. Please wipe dry immediately after washing which will help retain the coppery shine on your product and will also prevent the build-up from the natural oxidation process of copper when it is exposed to the atmosphere. It is also unsafe to have wet food in direct contact with copper.
[ninja_forms id=1]