Keychains Part 2: Acrylic keychains, Fabric keychains, Leather keychains, Metal keychains, Plastic keychains, Wooden keychains & Moulded Plastic keychains with Minimum Order Quantity.
In the earlier series of everyday use cost effective corporate gifts – keychains 1 we covered various choices available in ready stocks for very low quantity order of only 50 numbers. However, if you need larger quantities at cost effective prices with the sole function of the keychains only then the various choices in acrylic, fabric, leather, metal, plastic, silicone rubber and the wood are as given below: –
Acrylic Keychains: –
The advantages in acrylic is that you can do screen printing, pad printing, photo quality printing, paper insert or printing sandwiched inside to avoid fading etc. The branding is visible on both sides giving you higher space to convey your message prominently. Production is faster and price is low with light weight keychain in your choice of color of acrylic sheet.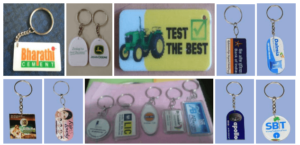 Fabric Keychains: –
Please decide the size, quality of the fabric and the key ring with or without the carabiner and single or double layered with embroidery as per your logo.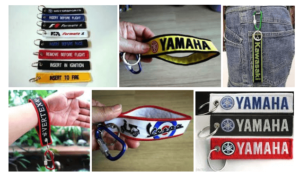 Leather Keychains: –
You can select the quality of leather, colour, shape and size to be embossed with your logo on one or both sides with cushioning and good quality stitching to impress the recipients.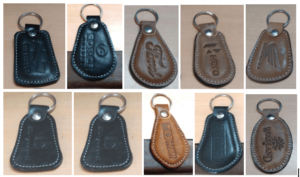 Metal Keychains: –
Please decide the shape and weight with logo embossed or debossed with highlighted surface and even choice of a bottle opener. The image can be of any sports related activity or of famous personalities or with impressions of god and goddesses. Please also select keychains with opener to increase the utility factor of the gift.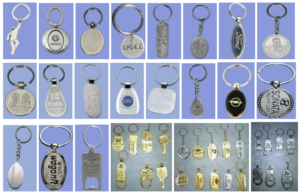 Plastic Keychains: –
Available in various shapes, size, colours and can be customised by making your own mould when quantities are large to bring down the cost per piece. The minimum order quantity for the available design is only 500 numbers.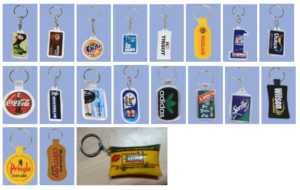 Moulded plastic keychains with minimum order quantity of 5000 numbers: –
Since the mould is made as per your artwork the minimum order quantity increases but depending on the design the cost per piece can be made more attractive. Customised design can be done for minimum order quantity of 5000 or more depending on the intricacies of the design.

Soft rubber or silicone keychains minimum order quantity will be 500 numbers: –
Since the mould is made for each design the price goes up for the lesser quantities and it comes down on higher quantities. The number of colours also increases the prices per keychain. The price for one side keychain is less whereas the double sided is much higher. You can also go for keychain with USB pen drive of 8 GB or higher to make it more appealing to the recipients.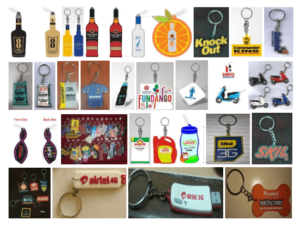 Wooden keychains minimum order quantity will be 100 numbers: –
Please select the shape and size and your logo can be laser engraved on the surface on both the sides.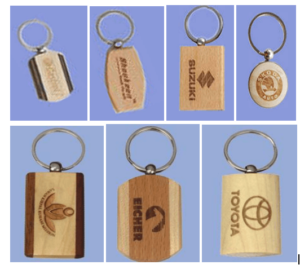 We have yearly rate contracts where we have picked up order on reverse auction to be delivered all over India for very large requirements. Please feel free to send your artwork with quantity and budget so that we can suggest various choices to help you achieve your end objective. In most of the cases we will provide you a finished sample to make it easy for you and your team to take an informed decision.
[ninja_forms id=1]