Which Came First The Chicken Or The Egg?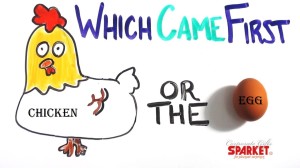 Sparket Corporate Gifts has been in existence for more than a decade out of almost 3 decades of their overall existence. During this period we experienced almost all branded products approaching us to sell their products to corporates to ensure more trial of their goods and services. Even corporates struggled with the dilemma of choosing between the branded goods which were very expensive or compromising with quality of unknown products and services. The challenge for corporates was much bigger with one man show companies where bandwidth was limited. To survive and flourish the lone warrior use to cut corners not only giving a bad name to the whole gifting industry but in process never becoming an organized player or helping the gifting industry to become more organized.
To crack this challenge we convinced a cosmetic company JOY with turnover of over 100 crores, with presence almost all over India in all formats and exporting to over 30 countries to give us a range of products to be trialled through corporates. We have full faith in the capabilities of the manufacturing company because they became this big through word of mouth publicity. They have strength in designing, excellent packaging, quality and ultimately high value for the money invested by the consumers in their products or services. Once enough trials are done through the corporates the final refined product will be placed on the shelves of the mass general trade.
We take pride in launching X-MEN grooming kits range in four variants at different price points to cater to various segments of the market. The kit has been designed as everyday utility product with Essentials containing razor, brush, shaving cream and deodorant talc at MRP of 236. Imperial kit contains deodorant soap and face wash at MRP of Rs.380. Supreme kit has body deodorant added at MRP of Rs.560. Finally fully loaded Signature has shampoo and after shave balsam at MRP of Rs.750. Branding for the corporates can be done at the box with extra sleeve or matching sticker. The pouch can be screen printed with the brand name as the usage life will be much higher reminding users of the brand. We strongly feel that a good experience for over few months / year will help users to not only connect with the X-MEN but even the brand which uses the utility products for free distribution as the overall experience will definitely rub on their brand too as the theory goes GIVERS GAIN!
This is our solution to the brands, corporates and gifting industry and in the process making it more organized.
Your comments and suggestions are welcome to take this initiative to the much higher level and to make gifting industry more organized!