Brief History of Sparket Corporate Gifts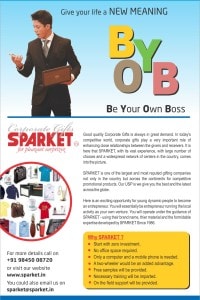 It was sometime during March 1984 that I came across an advertisement announcing earn Rs. 2000……, 3000…….. , 4000……. by walking in for an interview with Eureka Forbes Limited as their Sales Representative at Kolkata. I joined and learned my selling skills as door to door salesman. Within 3 months was promoted as supervisor and within a year was transferred to Mumbai as Head of Location. Next promotion came as Divisional Sales Manager and broke all existing records at the vacuum cleaner division to resign and start my own company Sparket Marketing Private Limited by October 1986.
A friend joined as partner and over almost 3 decades we two with the help of another 25 long settled colleagues are now looking to scale up the business beyond Kolkata and Bangalore to all over India. Many individuals has helped us reach where we are today and even now many well-wishers are planning and pushing hard for our greater success. We all are part of the human chain where success brings more success.
Luckily today we are in a position to offer scope to individuals to Be Their Own Bosses!
What we need is positive attitude, desire to work hard and smart, and the rest will be taken care by us in the form of hand holding, training and investment. Our business model is very versatile where as you grow and understand the business better you can even start planning to invest and scale up your operation to match your personal goals as per your desire. Our journey started as agent with many principals and over a period we have learned how to make it more interesting and meaningful for you without hurting our mutual interest. We have designed the whole model to make it WIN – WIN for everyone involved.
If interested then please send us an email with your brief profile to sparket@sparket.in with your contact details and why you should be given priority over the others?
If you would like to clarify and authenticate the offer before jumping in then feel free to give us a call at 09845008720.
You can also visit us at www.ocpindia.com for more details about us.
My name is Anil Kumar Gupta and we look forward to working together for a better future for all involved directly and indirectly to make it a better world.